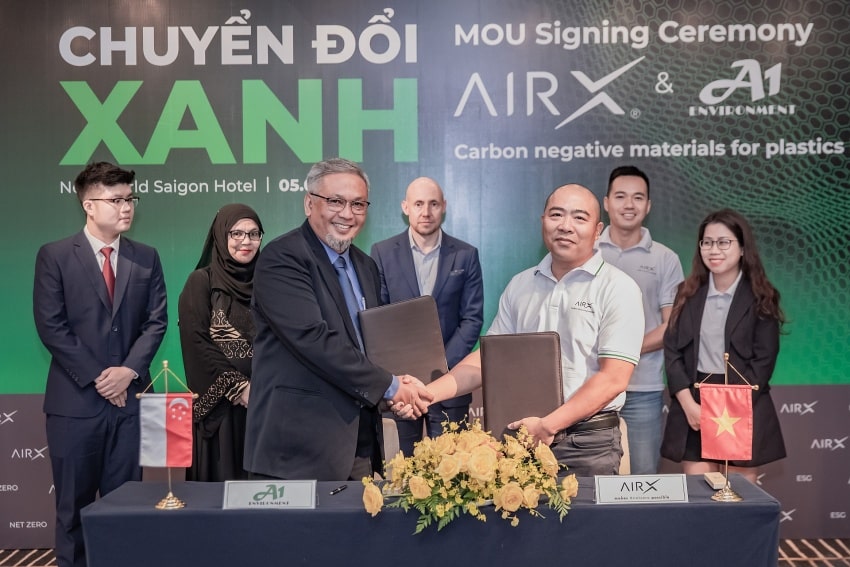 Announced by Prime Minister Pham Minh Chinh at the virtual Climate Leaders Summit hosted by the US in April 2021, Vietnam has undertaken to achieve net-zero carbon emissions by 2050 and has set sector-level targets as part of that objective.
In terms of this, Thanh Le, founder of Vietnam-based company AirX, has highlighted one of the world's most popular drinks – coffee.
Following the success of biodegradable materials using Vietnamese coffee beans to make masks, as well as a wide range of other applications, AirX continues to raise the aspiration of environmental protection with its world's first bio-based substance from coffee grounds.
Its innovative product that is set to reduce consumer concerns is a carbon-negative polypropylene (PP). A decade ago, bio-based materials were not known to have any real significance. However, recently, they have become an integral part of the global manufacturing market.
Rising consumer awareness about the planet has led to tremendous growth, driven by an increased willingness to pay for bio-materials over conventional products.
Vietnam is now ready to deliver high-quality manufacturing output, if the new environmental regulations are widely and strictly applied.
In addition, as many manufacturers in Vietnam are gradually losing factory orders from Europe, the US, and Japan due to plastic bans, this material will become a viable alternative. With the large scale of production, the cost of carbon-negative PP will even compete with primary plastics, and at the same time help factories reduce carbon their emissions.
Thanh said that the carbon-negative PP from AirX is suitable for both injection moulding and extrusion applications. It can be used in food contact applications or as master-batch solutions, which are preferred by many Japanese corporations in Vietnam.
This unique PP compound has a wide range of potential applications, including household utensils and tableware, automotive parts, personal care applications, office stationery, garden tools, and furniture, as well as office automation and consumer electronics products.
The zero-waste playground is currently attracting several global brands, such as New World Saigon Hotel from the Rosewood Hotel Group, which is implementing a campaign to collect coffee grounds and provide them to AirX for processing. High-valued cups made from this material can be purchased for use or as a keepsake at the hotel.
The material announcement ceremony also marked another milestone, as AirX also signed an MoU with its new exclusive strategic partner A1 Environment.
Established in 2012, it is the only coffee recycling company in Singapore. A1 Environment has been in the business of recycling for over 11 years, providing more flexibility and better services to organisations that aim to increase their food waste recycling efforts.
It provides door-to-door collection services of coffee grounds from food and beverage establishments, hotels, and offices on a subscription basis. A1 Environment will undertake the collection and supply of the coffee grounds to AirX for the creation of these carbon-negative materials.
Thanh said, "The strategy helps to reduce dependence on fossil fuels and other natural resources, and prevents competition issues in the food industry. A resilient future for people, for business, for society awaits."
Aside from the net-zero target, the use of this green substance can help foreign businesses gain benefits from tax policies to promote sustainable development.
This kind of eco-friendly project is eligible for the most favourable tax incentives in Vietnam, which include a preferential tax rate of 10 per cent for 15 years from the year the project generates revenue, 4 years exemption, and reduction of 50 per cent of the payable tax over the next 9 years. The current standard Corporate Income Tax (CIT) rate in Vietnam is 20 per cent.
Generally, if companies use bio-materials for their products in transactions with overseas entities, they do not have to pay any import or export duties, but still have to pay CIT on their gross profits.
Thanh added, "They can also consider the tax exemption from free trade agreements (FTAs), which aims to reduce or eliminate import tariffs on goods traded between member countries. Some FTAs may provide preferential tariffs for goods that meet certain environmental standards or are produced using green materials. For example, under the EU-Vietnam Free Trade Agreement (EVFTA), Vietnamese export processing enterprises using green materials may be eligible for reduced or eliminated tariffs when exporting to the EU, provided that their products meet the EVFTA rules on origin requirements. Many of these businesses are already AirX's customers or partners."
Thanh said that the idea of creating a green alternative came to his mind in early 2020. Bringing his coffee project to the next level to become carbon-negative PP took a lot of thought, $1.5 million, and real dedication from three material experts over three years.
For his new bio-based material, a life cycle assessment was essential. This serves the purpose of systematically recording the entire life cycle of his production route, analysing its impact on the environment, and implementing optimisations.
"Accredited evidence plays a key role in reaching international brands and influencing their purchasing decisions in such a promising circular bioeconomy," Thanh concluded.
However, before getting the licence and dealing with the ongoing challenges, his product had already become seriously attractive to entrepreneurs from Japan, Singapore, and Europe. At this point, the total coffee or agricultural waste ingredients account for about 30-80 per cent, and the remainder comes from recycled PP with certified global recycling standards.
Que Chi