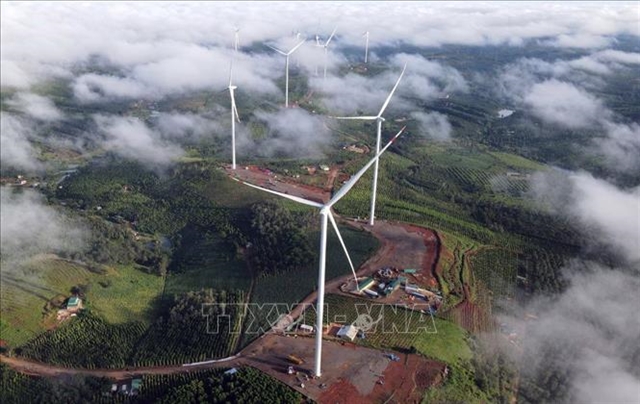 Green transition in Việt Nam would require new investments in at least 60 per cent of the country's infrastructure, according to PwC.
The country is digging deep into its pocket to finance new infrastructure, which is aimed to improve its people's living standards, bolster its green transition, and enhance its resilience against climate change.
With total spending of 5.7 per cent of GDP on infrastructure, Việt Nam has taken the lead in Asia in this regard.
Đặng Huy Đông, head of the Planning and Development Institute, revealed that the Government had taken active measures to promote investment in green facilities, including those supporting the production of renewable energies and electric vehicles.
The national master plan for the period of 2021 to 2030 with a vision to 2050, Đông said, had highlighted the need for a national development model, in which the development of infrastructure has been featured as a key factor.
Edward Clayton, partner at Capital Projects & Infrastructure, PwC Vietnam, said the development of infrastructure in Việt Nam would open up more opportunities for stakeholders and investors in the green sector.
He believed that green facilities would accelerate the country's transition to a high-income economy, reduce emissions, and contribute to a sustainable future for the Vietnamese people.
Adrian Box, national markets lead for PwC's Integrated Infrastructure, said the development of sustainable infrastructure in Asia-Pacific was facing various challenges.
One of the challenges involves the lack of experience and finance in local authorities, which has proved to be a big setback to high-quality infrastructural projects.
He underlined Public-Private Partnerships (PPP) as an effective mechanism to deal with the challenge thanks to its split of risks between public and private sectors.
According to PwC's Global Investor Survey, investors have become more sustainability-aware as they have incorporated ESG (environment, social, and governance) standards into their investment decisions.
Governments and financial institutions have tightened their cooperations to push for more environmentally-friendly portfolios, which would contribute to the target of limiting global warming to 1.5 Celsius set by IPCC.
Việt Nam's commitment to net-zero carbon emissions at COP26 has sparked global investors' interest in its sustainable infrastructure. To fully unlock this source of capital, the Government should focus on facilities that support the transition to a low-carbon economy.
Private finance is essential for the development of sustainable infrastructure, especially in sectors with tight public finance. Private economic players, with their deep pocket and considerable experience, are instrumental for narrowing the infrastructural gaps and accelerating the country's transition to sustainability.
(VNS)