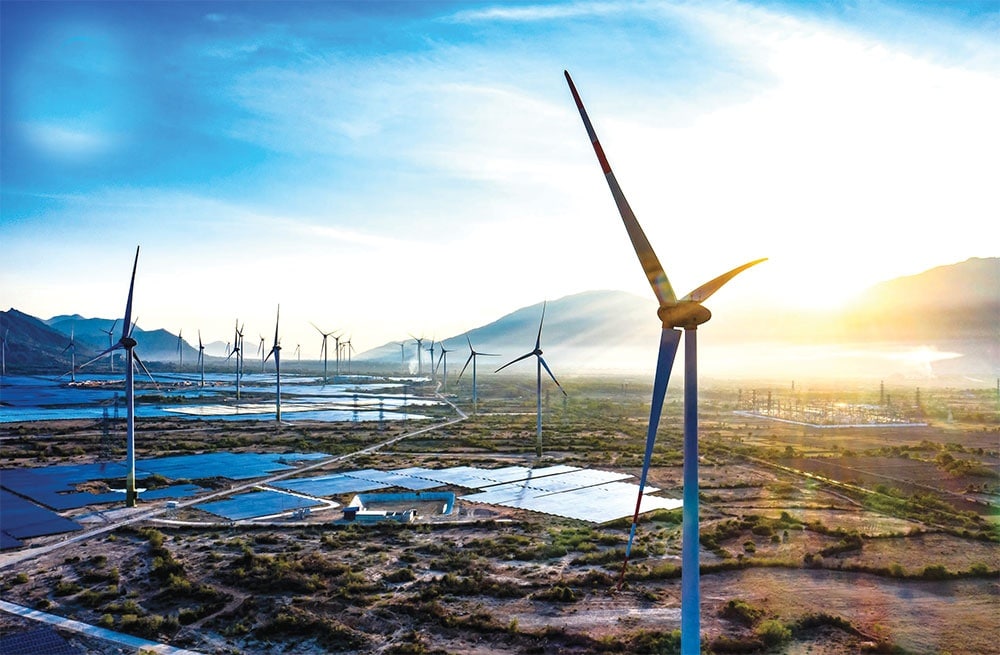 Luring investment into renewable energy in Vietnam will only happen if revised policies are crafted, industry leaders have insisted.
Stuart E. Jones, president for Regions and Corporate Affairs at Bechtel, visited Vietnam earlier this year with a proposal for a collaboration plan, technical assistance on green hydrogen, carbon sequestration from fossil energy sources, and promotion of inter-regional cooperation in electricity production and transmission of renewable energy in Vietnam.
He said that the American engineering, construction, and project management company has "the ideas and the potential to obtain investor funding for Vietnamese businesses".
Nguyen Van Toan, vice president of the Vietnam's Association of Foreign Invested Enterprises, said that some of the 52 US firms that came to Vietnam at the same time were engaged in the renewable energy area. ExxonMobil, Murphy Oil, General Electric, and Chevron are among the American energy giants that already have a presence in Vietnam.
"Additional US investment in renewable energy might increase the quantity and effectiveness of overseas funding for Vietnam's net-zero objectives," said Toan.
Throughout the years, Vietnam's growth in renewable energy has been astonishing. The nation has become a global leader in attracting and retaining international investment in the energy industry, thanks in part to net-zero pledges made in 2021. The Ministry of Industry and Trade (MoIT) reports that the total capacity of renewable energy in Vietnam amounts to 54 per cent of the country's installed capacity, comprising 20.6GW of hydroelectricity.
In the last three years, Vietnam has experienced a strong expansion of renewable energy, particularly solar and wind power, with over 16.5GW of solar capacity linked to the national grid. With 24.3 per cent of installed capacity and 44 per cent of potential consumption capacity in 2020, around 4GW of onshore and nearshore wind power is operational.
At present, the bulk of renewable power investments in Vietnam have originated from domestic sources, fuelled by attractive feed-in tariffs for a particular time period. Mekong Infrastructure Tracker data indicates that around 60 per cent of renewable energy projects in the country are produced solely by Vietnamese enterprises, while 27 per cent are built by a Vietnamese company together with an overseas partner. Only a handful of projects have been established without a Vietnamese collaborator.
"Vietnam, like many other growing nations, has the formidable problem of ensuring an adequate and reliable supply of power at a fair price," said Deputy Minister of Industry and Trade Dang Hoang An in March.
With the development of Vietnam's economy, the need for energy has skyrocketed. Over the past two decades, the annual growth rate of Vietnam's electricity demand has been in the double digits, typically 1.5-1.8 times the GDP growth rate, which was 13 per cent in 2000-2010 and 10.5 per cent in 2011-2019, according to figures from the MoIT.
It is not yet known how precisely the Power Development Plan VIII would outline solar and wind power production, but it is certain that this output has expanded to roughly 26 per cent of Vietnam's power structure by 2030 and may climb to 50.6 per cent by 2045. The draft estimates that Vietnam will need about $165.7 billion for energy development over this decade in order to meet this objective.
The topic of how to fund the massive amount of new renewable energy required to achieve net-zero emissions by 2050 is now a hot one. According to the Vietnam Country Climate and Development Report from the World Bank, investments in the clean energy transition might increase from $7-8 billion per year to $15-17 billion per year in the coming years.
Some energy producers believe that these benefits outweigh the disadvantages. Ørsted, the biggest offshore wind firm in the world, has launched an office in Vietnam in partnership with T&T Group to construct a series of offshore wind power projects in the south-central provinces of Binh Thuan and Ninh Thuan.
Two further large projects revealed in Binh Thuan demonstrate the province government's interest in wind energy: Enterprize Energy announced its Thang Long wind power project, and Copenhagen Infrastructure Partners proposed the La Gan wind power project.
In addition, Nexif Energy, a power firm located in Singapore, has formed a partnership to start a project in the Mekong Delta province of Ben Tre.
The energy industry has a direct impact on the economy and incomplete policy is now the greatest obstacle to the growth of renewable energy in Vietnam, according to the European Chamber of Commerce in Vietnam.
Presently, Electricity of Vietnam and investors have not agreed on the electricity purchase price for transitional renewable energy projects, and offshore wind power is awaiting the implementation of a system.
Hai Van