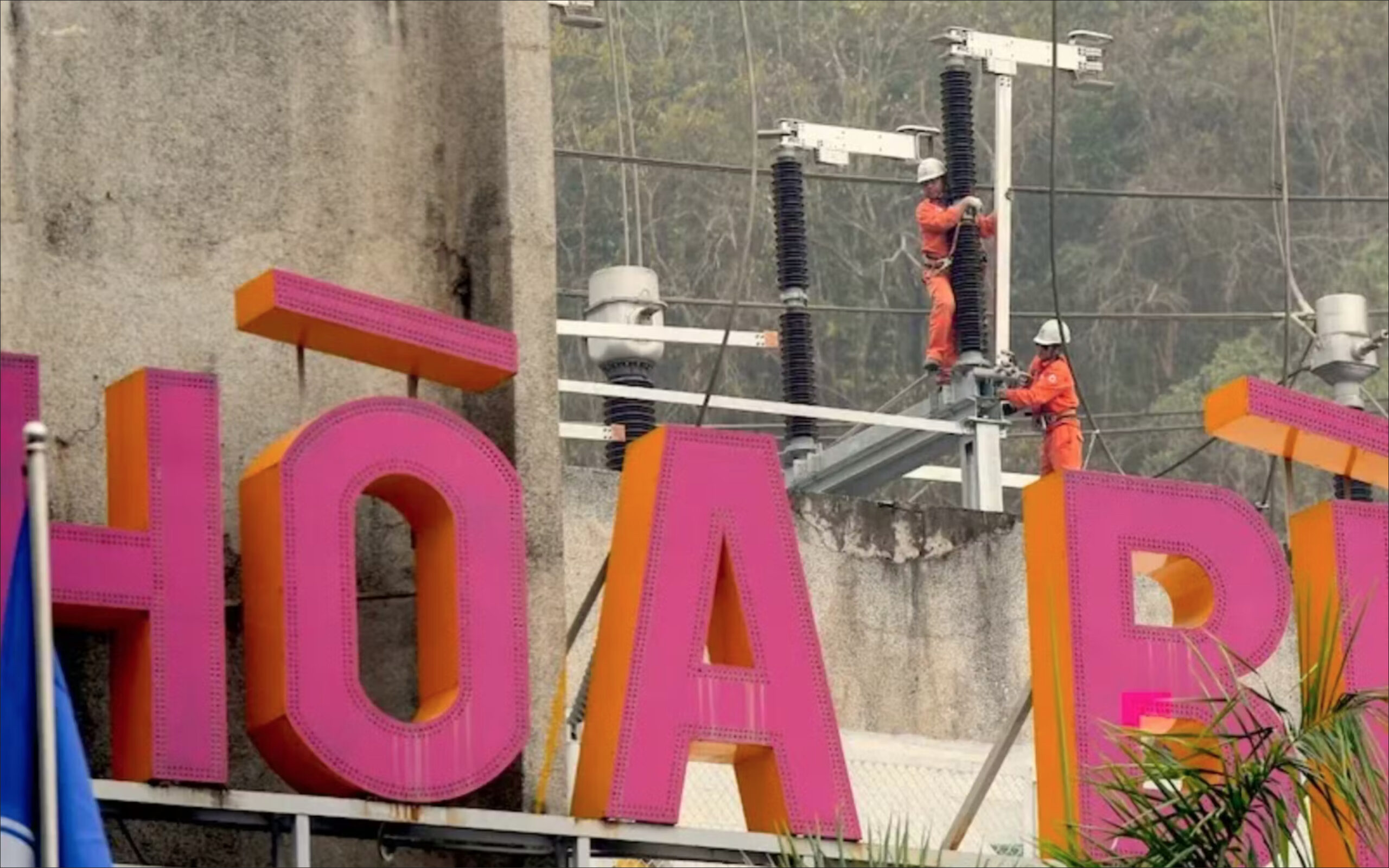 As the sweltering summer sun rose over Vietnam in early June, an unwelcome yet familiar scene unfolded: sporadic power blackouts. Even in Hanoi, usually insulated from such incidents, there is a four-page list of places to be put on rotational power cuts. With citizens seeking refuge in caves and factories pausing operations, Vietnam's power problem has resurfaced after a two-year hiatus due to the manufacturing slowdown during the pandemic.
Adverse weather conditions, including heatwaves that have spiked electricity demand and led to water shortages in major hydroelectric dams, coupled with the malfunctions of several key coal-fired plants, are the main reasons for the current situation. The blackouts highlight Vietnam's deep-seated reliance on hydroelectricity and thermoelectricity, which generate 91 per cent of the North's electricity needs. In the South, where solar and wind power contribute 40 per cent of electricity, the situation is considerably less critical. In addition, the risk of coal shortages presents further challenges, as Vietnam Electricity (EVN) expects a shortfall of 1 million tonnes by July.
The recent power shortages coincided with the release of the highly anticipated Power Development Plan 8 (PDP8), a blueprint mapping Vietnam's energy transition towards its ambitious goal of carbon neutrality by 2050. But striking a balance between clean energy development and producing affordable electricity remains a challenge.
The North's persistent electricity deficit can be attributed to a lack of comprehensive planning. While the Centre and the South have made considerable headway in harnessing renewable energy, the North's efforts have been noticeably slower. Renewable energy sources account for only 9 per cent of the North's electricity generation while sources such as coal and gas-fired power plants have not caught up with demand. By 2021, the development of thermal power stations reached 63 per cent of the target. Thirteen "strategic" electricity projects – seven destined to supply the Central North and the North – are delayed. As a result, the North's electricity production increased by only 4.7 per cent per year from 2016-2020, falling short of the demand growth of 9.3 per cent per annum.
Transmitting electricity from the South to the North is currently not a reliable option, as the existing infrastructure fails to support reliable long-distance power transmission. This underscores a more pervasive problem: chronic under-investment in Vietnam's energy infrastructure. Between 2016 and 2020, for instance, the expansion of transmission networks achieved only 80 per cent of the initial target mandated by Power Development Plan 7.
This investment deficit results from two main factors. First, many ongoing projects, predominantly state-funded, are lagging due to cumbersome administrative procedures and bureaucratic inertia, a potential effect of the government's anti-corruption campaign.
Second, the Vietnamese electricity market is not attractive to non-state investors. Electricity prices are tightly controlled to maintain social stability and stimulate industrial growth, while there is a lack of transparency and competition in the sector. Despite decades of restructuring, state-owned EVN continues to monopolise the buying and retail selling of electricity. In this context, it seems improbable that Vietnam will succeed in establishing a competitive retail market by next year, a goal set by the government in 2013.
This shortfall in investment is a grave concern, particularly considering the PDP8's ambitious projections. With an estimated financing requirement of a staggering US$532 billion by 2050, government funding will be insufficient and external sources including commercial loans and official development assistance would be necessary.
To navigate this multifaceted challenge, Vietnam needs to address key structural issues. Foremost, it must accelerate market reforms in the electricity sector that the government had committed to as far back as 2007. The initial phase of liberalisation in 2012, which allowed non-state entities to participate in the electricity generation market, was quite successful: non-EVN generators now produce two-thirds of Vietnam's electricity. However, subsequent phases have stalled.
To rekindle reform momentum, the government needs to make the wholesale and retail electricity markets more competitive. This will help to enhance transparency, improve efficiency through market mechanisms, and motivate more investment. This could be achieved by encouraging non-EVN wholesalers to enter the wholesale market, accelerating the liberalisation of the retail market, and enabling direct contracts between electricity purchasers and generators through Direct Power Purchase Agreements, or DPPA, as proposed by the Ministry of Industry and Trade in a pilot scheme. This approach could invigorate the sector by encouraging competition and investment, while promoting the adoption of renewable energy technologies, which carry higher production costs but are essential for achieving carbon neutrality as required by key export markets such as the EU.
However, for these reforms to be effective, the government must reduce its control over electricity pricing. Currently, Vietnam's electricity prices, averaging around 8 cents per kWh, rank among the lowest in Southeast Asia. Prices average 14 cents/kWh in Thailand, 9.5 cents/kWh in Indonesia, and 15 cents/kWh in the Philippines. The average cost of production in Vietnam sits around 9 cents per kWh, which means consumers are subsidised for their consumption of electricity.
A measured and gradual increase in electricity prices could spur much-needed investment without causing the social disruption that the government fears.
From a demand perspective, the government should reconsider its support for energy-intensive sectors. Current practice prioritises the manufacturing sector over household consumption and effectively encourages the continued use of inefficient and outdated technology. A shift towards more sustainable industrial practices could promote energy savings and contribute to the decarbonisation of Vietnam's industrial sector.
Striving for carbon neutrality by 2050 signifies Vietnam's commitment to a sustainable and environmentally conscious future. Nevertheless, Hanoi must undertake a realistic energy transition, mitigating potential impacts on economic growth and citizens' wellbeing. This entails sound planning, strategic electricity market reform, and accurate renewable energy capacity anticipation. Without such action, Vietnam risks kicking away its own ladder to prosperity. The recent blackouts serve as a stark reminder of worse outcomes if it fails to meet these pressing challenges.
Nguyen Khac Giang
Nguyen Khac Giang is Visiting Fellow at the Vietnam Studies Programme of the ISEAS – Yusof Ishak Institute. He was previously Research Fellow at the Vietnam Center for Economic and Strategic Studies.
This article was first published by ISEAS – Yusof Ishak Institute as a Fulcrum commentary.