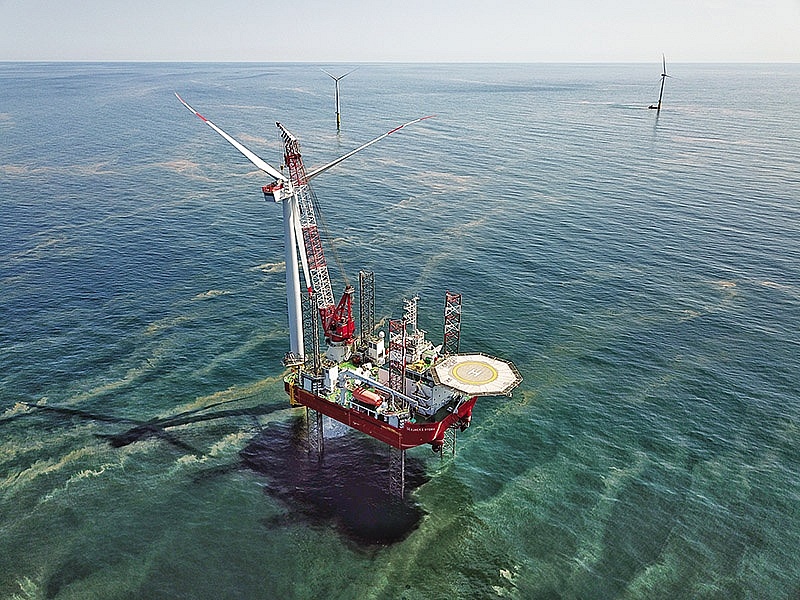 Local private company Xuan Cau Holding sent an official letter requesting a proposal to the government and ministries to build offshore wind power under the pilot mechanism and apply for a survey permit for its project.
The Con Co offshore wind power plant project was proposed by Xuan Cau Holding, with a capacity of 1,000MW, construction location in the waters off Con Co Island and Gio Linh district in the central province of Quang Tri.
The southern province of Hau Giang also wants to add the Long My 2 wind power plant project to the national power development plan VIII.
The project is invested by Hong Kong-based Envision Energy (Hong Kong) Limited and helps fulfill the power demand of the province and reduce dependence on electricity transmitted from other areas.
Sources from the Ministry of Industry and Trade (MoIT) said that to date, the ministry has received investment proposals for new power plants with a capacity of up to 550,000MW from localities. Notable among these is the proposal to invest in offshore wind power of up to 129,000MW.
Among the localities boldly proposing to build offshore wind power is the central province of Binh Thuan, with proposals for eight projects with a scale of more than 22,000MW. Not to be outdone, the central province of Ninh Thuan has proposed 21,000MW of offshore wind power.
In the north, we must mention the northern port city of Haiphong, with a proposed offshore wind power project of 3,900MW.
The northern province of Quang Ninh proposes 3,000MW of offshore wind power. The northern province of Thai Binh proposes about 8,000MW of offshore wind power from two projects. While the northern province of Nam Dinh proposed adding 12,000MW of offshore wind power in four phases.
Vietnam's Power Development Plan VIII set a target to ease the share of renewable energy to 31-39 per cent by 2030 and 67.5 – 71.5 per cent by 2050, in which onshore wind power to be developed to a capacity of 21,880MW by 2030 and offshore wind power to be developed to a capacity of 6,000MW.
Further development of offshore wind power will rise to a capacity of 70,000 to 91,500MW by 2050 – if technology capabilities and costs allow.
Previously, Bui Van Thinh, chairman of the Binh Thuan Wind Power Association, warned that the characteristics of wind power projects were large investment rates of about $1.8-2 million per MW for projects using equipment of European origin.
"Therefore, the risks of wind power projects are also much higher than other sources. If too much wind power capacity is introduced without a grid to release all the capacity, it will cause great damage to investors and society, especially banks that cannot recover debts," he said.
Nguyen Thu