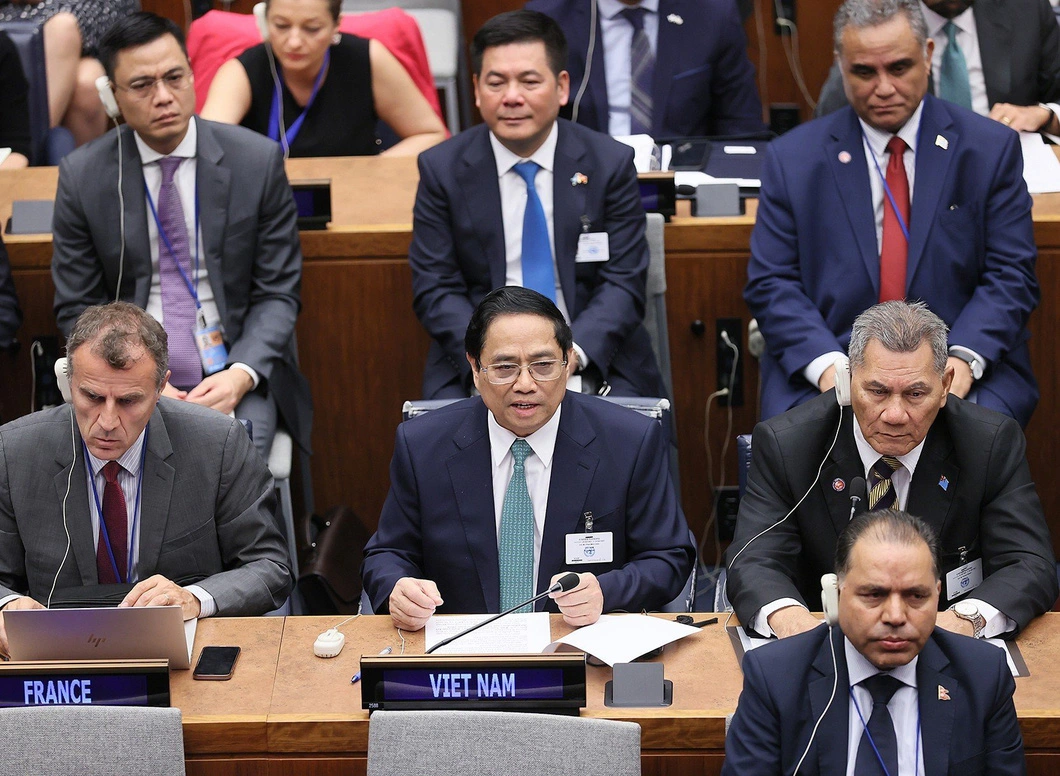 Vietnam is determined to meet its commitment of a net-zero emission target by 2050 and support global health security priorities, Prime Minister Pham Minh Chinh told two United Nations summits in New York, the U.S., on Wednesday.
The Vietnamese leader kicked off his first activities at the United Nations headquarters by attending two summits on climate change response and preparations for future pandemics, as part of his seven-day trip to the U.S. for the high-level General Debate of the 78th United Nations General Assembly (UNGA) session and other activities.
Cutting emissions by 43.5 percent by 2030
Speaking at the UN Climate Ambition Summit, where leaders of countries and international organizations expressed their concern about the severe impacts of climate change, PM Chinh stressed that addressing climate change impacts requires a global and all-people approach, with more urgent and stronger actions.
The PM proposed accelerating a fair and just green energy transition, which takes people as its center and leaves no one behind.
Developed countries and international organizations should put the Loss and Damage Fund into operation at COP28 as committed to supporting developing and underdeveloped countries to overcome the consequences of climate change, Chinh told the summit.
He also called for more assistance for developing countries and underdeveloped countries in developing green technologies, green finance, and renewable energy industries.
Many other delegates affirmed that responding to climate change is a shared responsibility, which requires every country to reduce the use of fossil fuels while making a fair green transition as soon as possible.
UN Secretary General Antonio Guterres called on high-emitting countries to take the lead in reducing greenhouse gas emissions, with developed countries and large emerging economies required to achieve net zero emissions by 2040 and 2050, respectively.
Sharing the same view, PM Chinh said Vietnam, with support from the international community, will strive to cut greenhouse gas emissions by 43.5 percent by 2030 and obtain a renewable energy ratio of more than 70 percent by 2050.
"Even though being a developing country still facing many difficulties, Vietnam, with the spirit of supporting a green Earth, is determined to fulfill its commitment, raised at COP26, to achieving net zero emissions by 2050," Chinh affirmed.
Supporting global health security priorities
While attending the UN High-Level Meeting (HLM) on Pandemic Prevention, Preparedness and Response (PPPR) on Wednesday afternoon, PM Chinh emphasized the extremely serious consequences of the COVID-19 pandemic.
He called on the international community to take action soon so that future generations do not have to suffer from similar terrible epidemics.
The PM proposed prioritizing increasing timely and equitable access to vaccines, improving the capacity of grassroots and preventive health, promoting transfer of vaccine and drug technologies, and providing financial support for developing and underdeveloped countries.
He affirmed that Vietnam supports making global health security a priority in all policies to help early detect, timely respond to and effectively drive back epidemics in the future.
From the COVID-19 experience, delegates called for increased international cooperation and coordination at the highest level to ensure equitable and timely access to pandemic-related medical products.
They also proposed removing trade barriers and strengthening supply chains to facilitate the transportation of vaccines, drugs and other public health products.
Delegates unanimously passed a political declaration on pandemic preparedness and response, and agreed to hold a high-level conference in 2026 to evaluate the implementation of the declaration.
This year's HLM on PPPR was convened by the UN based on an initiative raised by Vietnam and some other countries and was approved by the UN General Assembly in September 2022.
Vinh Tho – Duy Linh