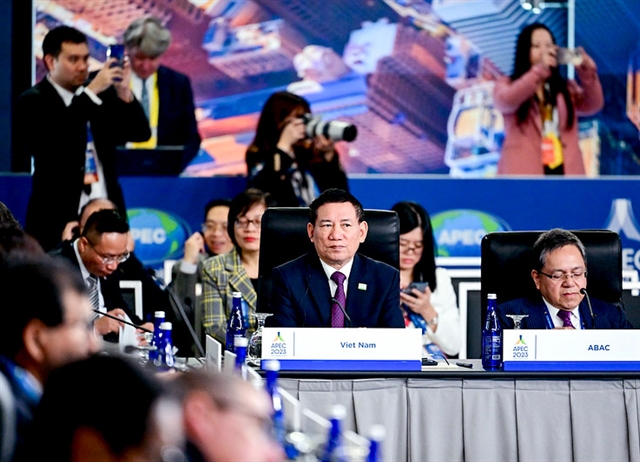 Minister of Finance Hồ Đức Phớc stated that the Asia-Pacific Economic Cooperation (APEC) Finance Ministers' Meeting will focus on four main issues, including sustainable development, finance for sustainable development, digital assets, and a resilient economic model.
In response to Vietnam News Agency reporters on Monday (local time) on the sidelines of the APEC Finance Ministers' Meeting at the Moscone Convention Center in San Francisco, US, Minister Phớc said that sustainable development issues will focus on sharing among countries and economies. It aims to control inflation, achieve fair energy transition, and combat climate change. These issues involve the carbon market and ensuring sustainability for the economy.
In terms of finance for sustainable economic development, Minister Phớc said it will involve connecting and creating conditions for financial institutions, organisations and banks to participate in providing funding for sustainable development. This includes funding for digital transformation, climate change mitigation, greenhouse gas emission reduction, and infrastructure development. This also involves in promoting carbon markets, ensuring fair energy transition, and mobilising resources for the country's sustainable development.
Regarding the resilient economic model, the Minister stated that the main topics for discussion will include investing in human resources, attracting and developing high-quality human resources, building infrastructure to support development, transferring science and technology to ensure sustainable development, promoting clean energy transition, creating an investment-friendly environment, especially attracting private investment to ensure sustainable development processes.
Representing Việt Nam in the discussion on climate change finance, Minister Phớc affirmed Việt Nam's commitment to achieving net-zero greenhouse gas emissions by 2050 and expressed support for the concept of the Joint Energy Transition Partnership (JETP). Việt Nam's approach requires a substantial financial source to implement a fair digital transformation, climate change mitigation, and greenhouse gas reduction.
For Việt Nam, the funding from JETP has been pledged at US$15.5 billion, and this amount must be secured within the next six years. Phớc said Việt Nam is calling for private investment into renewable energy projects and reduce fossil fuel dependence, focusing on renewable energy sources such as solar energy, wind energy, and hydropower.
In addition to private investment, he added, Việt Nam is also attracting funds from international financial organisations such as the World Bank (WB), the Asian Development Bank (ADB), European banks, and investment funds. These funds aim to invest in climate change mitigation projects, such as building levee systems to ensure the development of mangrove forests, ensuring future sustainable development, energy transition, and promoting the development of the carbon market.
The Government has assigned the Ministry of Finance to develop this initiative.
Regarding financial measures to address climate change, Việt Nam proposed that financial institutions expedite the disbursement of committed funds, and implement projects as soon as possible and in a specific manner.
Minister Phớc said Việt Nam suggests promoting projects and strategies so that they take a step ahead to facilitate fund disbursement and achieve project completion goals as soon as possible, impacting sustainable development, particularly in terms of capacity.
The Minister emphasised that the APEC Finance Ministers' Meeting has promoted cooperation to facilitate economic recovery and sustainable development, addressing common global and regional challenges. APEC finance ministers also discussed the increasing public debt costs, proposing medium and short-term solutions to ensure the effective handling of challenges related to public debt, including interest rates, the quantity of public debt, and measures to safeguard public debt without significantly impacting fiscal balances and promoting development.
Other topics were also brought up for discussion, such as issues related to funding for climate change, investment in energy transition, fair public investment, and infrastructure investment. The demographic aging issue's impact on finances, solutions to address this problem, and tax-related issues to enhance public finance resources were also discussed.
In the short term, after overcoming the COVID-19 pandemic, most countries are implementing expansionary fiscal policies such as tax reductions and increased spending. However, the Minister said, in the long term, these policies will affect public resources. If tax rates are not increased and the tax base is not expanded, public finances will be impacted.
Therefore, in the long term, the Governments will amend certain tax laws, raise tax rates, and expand some tax bases, such as Value Added Tax (VAT), where sectors not previously taxed will be taxed or new sectors taxed at 5 per cent may be levied at 10 per cent. Special consumption taxes on products affecting consumer health such ass alcohol and tobacco will be increased to prevent and limit consumption's impact on people's health, he said.
(VNS)