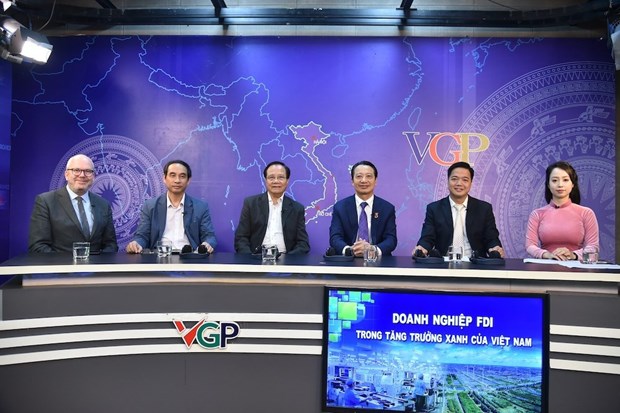 The corporate sector, including both FDI and domestic enterprises, has invested about 9 billion USD in fields related to green growth and green development, an official said at a workshop named "FDI Enterprises in Vietnam's Green Growth" held on April 27.
Nguyen Anh Tuan, Deputy Director of the Ministry of Planning and Investment's Foreign Investment Agency said that green growth and sustainable development are an indispensable requirement and common trend that every country in the world wants to achieve.
The Vietnamese Prime Minister made strong commitments at the 26th United Nations Climate Change Conference (COP26), affirming the country's desire to achieve economic prosperity, environmental sustainability, and social justice.
Vietnam has also exerted efforts to implement its green growth target to not only contribute to solving global problems but also continue to affirm its position and role as a responsible member for global issues, stated Tuan.
To achieve the green growth goal, it requires mobilising the full strength of both the political system as well as the business community, including FDI enterprises.
According to Tuan, foreign-invested firms play a very important role in economic recovery and growth, and realising inclusive sustainable development, including green growth.
They not only help create a change in perception, create resources and experience for management, and modern technology and equipment to realise the green growth goal in production; but also cooperate with domestic ones to contribute to this common green growth cause, he added.
Also affirming the important role of enterprises in implementing green growth strategy and the national strategy on climate change response and sustainable development, Nguyen Quang Vinh, Vice Chairman of the Vietnam Chamber of Commerce and Industry (VCCI) said that in order to achieve the goal of net zero emissions by 2050, it is necessary to focus on science and technology.
Vinh stressed the need to "require" the highest technology from foreign businesses so that when they invest in Vietnam, they will have a basis to invest in the most advanced science and technology to reduce greenhouse gas emissions.
He quoted statistics from the Vietnam Business Council for Sustainable Development as saying that each year, the circular economy generates about 4-5 trillion USD and creates a lot of new jobs through new business models.
Therefore, it is necessary to seek ways for both domestic- and foreign-invested firms to seize opportunities brought by those new models of the circular economy./.
(VNA)