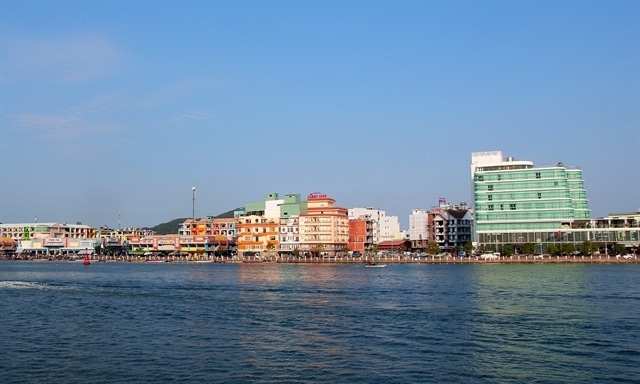 The Cửu Long (Mekong) Delta needs more than VNĐ94.3 trillion (nearly US$4 billion) to improve its road infrastructure in order to boost its inter-provincial connectivity while mitigating the impacts of climate change.
Of the figure, foreign loans would be more than $2.8 billion and the rest (reciprocal capital) from the State budget.
The region needs to invest in 16 projects to build coastal roads and freshwater reservoirs to improve water storage and mitigate coastal erosion, among other goals.
The proposal was made by the ministries of Transport and Agriculture and Rural Development and 13 localities (including 12 provinces and Cần Thơ City) at the first meeting of the Steering Committee for Sustainable Development Projects in the Mekong Delta to respond to climate change organised in Cần Thơ last weekend.
The projects include one which requires large investment such as the 415-km long coastal road system passing through seven provinces: Tiền Giang, Bến Tre, Trà Vinh, Sóc Trăng, Bạc Liêu, Cà Mau and Kiên Giang with a total investment of up to VNĐ43 trillion.
Other projects will build Măng Thít river embankment (second phase) costing more than VNĐ4.15 trillion in Vĩnh Long; expand the 37-km National Highway 61C for VNĐ3.9 trillion in Hậu Giang; and build roads in the southern part of Tiền (Front) River for VNĐ4.26 trillion in Đồng Tháp.
Another project will build freshwater reservoirs and irrigation infrastructure in the Long Xuyên Quadrangle worth more than VNĐ2.66 trillion in An Giang.
Cần Thơ City authorities want to invest nearly VNĐ9.8 trillion in expanding National Highway 61C (by 10.2 km), building the 22.5-km Ô Môn – Thới Lai – Giồng Riềng connecting road system, and building Ô Môn bridge across the Hậu (Rear) River to connect it with Đồng Tháp Province.
In addition, the Ministry of Transport has proposed upgrading 46km of National Highway 53, 77km of National Highway 62, and 142km of Nam Sông Hậu road, with a total investment of nearly VNĐ7.16 trillion.
The Ministry of Agriculture and Rural Development has proposed developing three projects with a total investment of nearly VNĐ6.62 trillion.
Those include projects to renovate the canal system to transfer water from Hậu River to Cà Mau peninsula; renovate the inter-provincial canal system between Tiền River and Hậu River; and build the Bảo Định – Gò Công – Tân Trụ irrigation system (in Long An Province).
The Ministry of Planning and Investment has proposed the Government allocate 90 per cent of the investment needed to implement those projects. The rest (10 per cent) will be sourced from loans.
The projects are part of a Government master plan for the region (published last June) to respond to global warming by 2050.
The Mekong Delta, which is the country's largest agricultural production hub, accounts for 12 per cent of the country's total area and 19 per cent of total population.
Located on trade routes with ASEAN countries and the Greater Mekong sub-region, the region has a dense network of rivers and canals, which has advantages in agricultural development and the food industry.
It has, however, faced a number of challenges due to the impacts of climate change with sea levels rising much faster than expected, affecting livelihoods and lives of people.
Due to the impacts of climate change, the region has suffered from serious ecological imbalance, land subsidence, water level decline, coastal encroachment, natural forest areas, over-exploitation of sediment and increased risk of erosion.
(VNS)