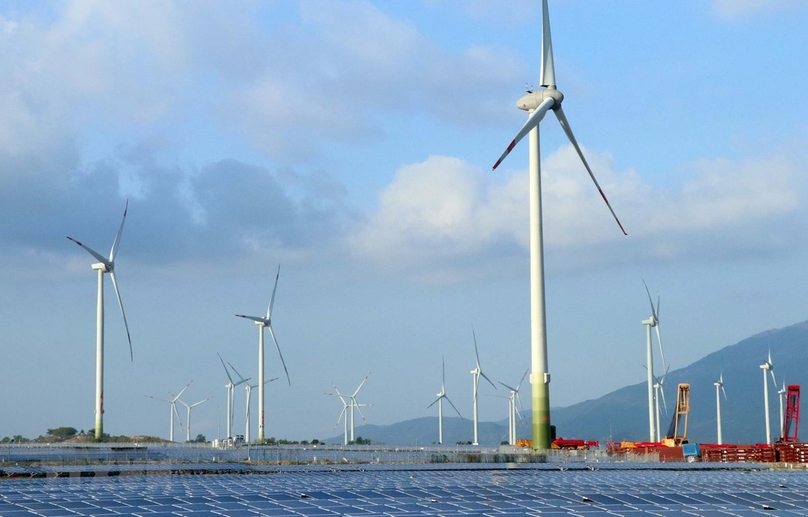 State utility Vietnam Electricity (EVN) said that by August 11, nearly 93% of transitional renewable power projects had submitted documents to its Electric Power Trading Company to negotiate prices and power purchase agreements (PPAs).
Among them, 67 projects, with a capacity of nearly 3,850 MW, proposed temporary prices equal to 50% of the ceiling levels set by the Ministry of Industry and Trade (MoIT). That means VND754-908 per kWh ($3.2-3.85), excluding VAT, depending on the type.
EVN and the investors negotiated prices and initialed PPAs for 59 projects, and 58 of which, with over 3,181 MW, had their temporary prices approved by the MoIT.
At present, six projects, with a total capacity of nearly 285 MW, have not yet sent their documents to the company for price negotiations, the utility added.
The cumulative power output of transitional renewable energy projects as of August 10 was about 268 million kWh, nearly double the figure nearly a month ago. On average, these projects' contribution to the national electricity system accounts for about 0.4% of the total daily mobilized power output.
Eighty-four solar and wind power projects with a total capacity of more than 4,600 MW missed deadlines for commercial operation. These projects do not enjoy FiTs for 20 years as they missed out on the government's power generation deadline and have to negotiate prices with EVN at 20-30% lower than FiTs.
The 20-year preferential FiTs are 9.35 U.S. cents per kWh (Decision 11/2017) and 7.09-8.38 U.S. cents per kWh (Decision 13/2020) for solar power projects that became operational by December 31, 2020; and 8.35-9.8 U.S. cents per kWh (Decision 39/2018) for wind power projects that became operational by November 1, 2021.
In May, the MoIT had said that several transitional renewable energy projects were not allowed to negotiate temporary prices with EVN because they lacked the necessary legal documents.
It said many developers have been unable to complete legal documents to obtain an electricity generation permit – a necessary procedure under the Electricity Law for a power project to be utilized – because they had violated regulations on planning, land and construction.
"This is the main reason for delays to the preparation and submission of documents to the authorities," a ministry statement said.
Huong Dung