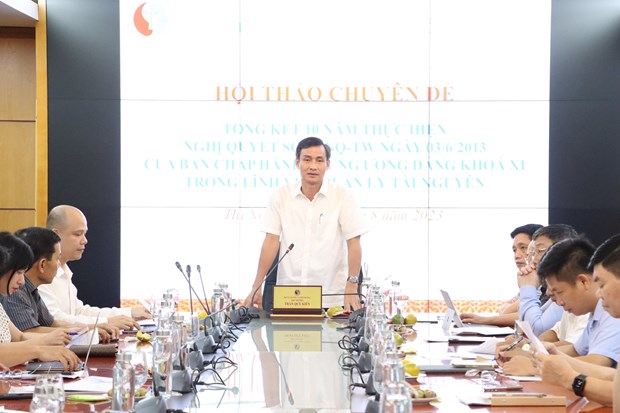 The Ministry of Natural Resources and Environment held a conference in Hanoi on August 14 to review the 10-year implementation of Resolution 24-NQ/TW on natural resources management issued by the 11th Party Central Committee.
Addressing the event, Deputy Minister of Natural Resources and Environment Tran Quy Kien said that in order to complete a report summarising the 10-year implementation of the resolution, localities should submit their full and comprehensive reports on the results of management activities over land, water, geological, mineral, environmental, sea and islands resources.
They should point out shortcomings and problems during the implementation of the document, he said, stressing the need to give proposals on new viewpoints, mindset and awareness amid the world situation until 2030 with a vision to 2050, Kien said.
The official underlined the need to clarify prioritised issues to focus on, including the development of green, circular and low-carbon economy; matters related to global climate change, just energy transition towards net-zero emissions in 2050; digital transformation, innovation and application of th fourth Industrial Revolution's achievements; the recovery and development of natural ecosystems; and access of market and economic tools for climate change response, and sustainable, effective and fair management of natural resources and environment.
Tran Phuong, Deputy Director of the General Department of Minerals of Vietnam under the Ministry of Natural Resources and Environment, highlighted the practical outcomes from the implementation of the resolution, with the increasing completion of the policy and law system regarding natural resources and environment.
He noted that the survey and assessment of potential, reserves, economic values, current status and trends of national resources have been strengthened, along with the planning, management and exploitation of national resources, the development of new and renewable energy, and new materials and fuels.
In order to promote the effective implementation of the resolution in the coming period, Phuong proposed the Politburo approve the report on the reviewing of the document and issue a conclusion on its continuous implementation.
At the same time, it is necessary to promptly complete relevant policies and regulations, strengthen communications to encourage the community's engagement in realising the resolution, and supervise environmental protection activities of State agencies and businesses, he said./.
(VNA)