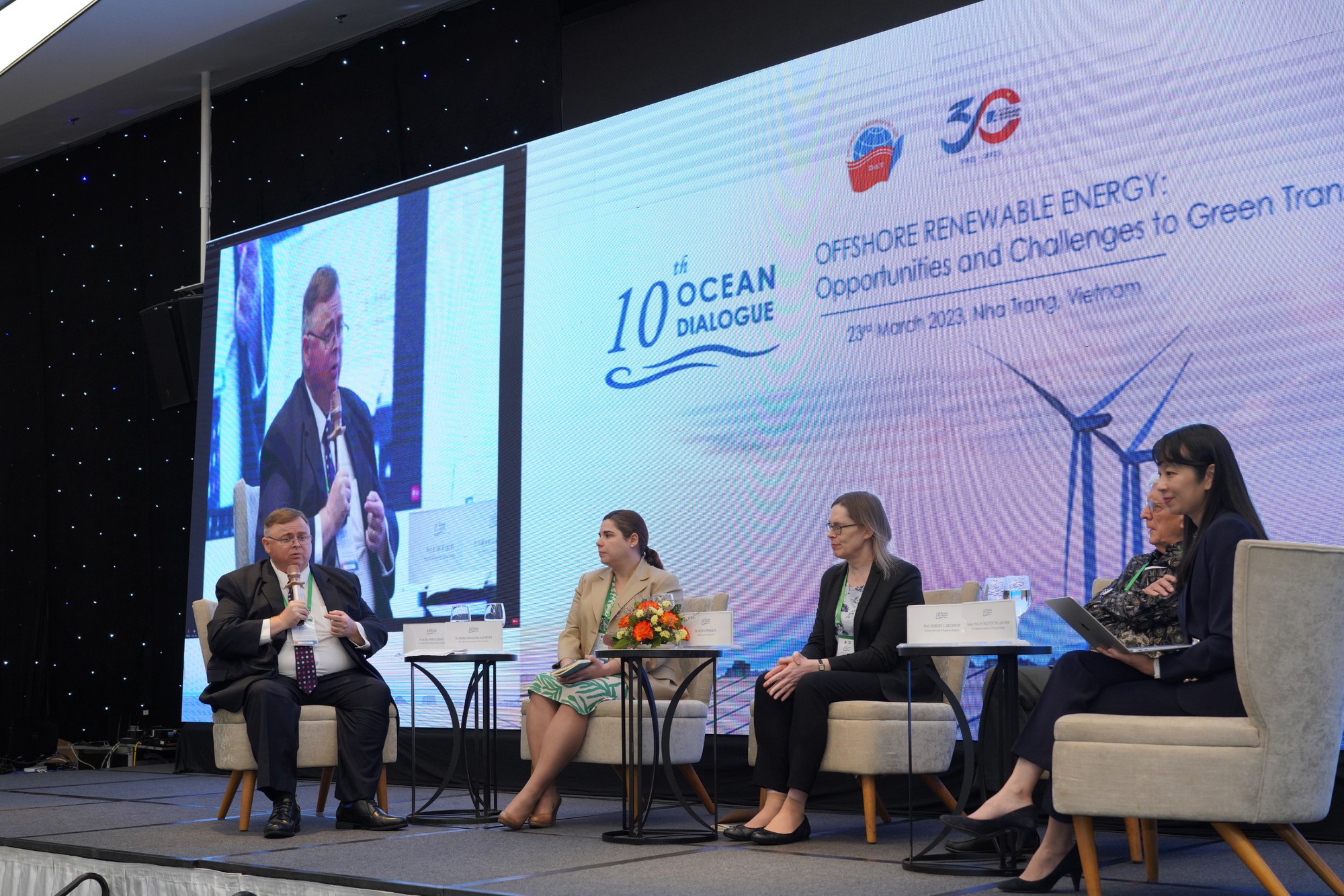 The event, entitled "Offshore Renewable Energy: Opportunities and Challenges to Green Transition", drew the virtual and in-person participation of more than 200 domestic and foreign experts. It was jointly organised by the Diplomatic Academy of Vietnam (DAV) and the Konrad Adenauer Stiftung Foundation (KAS).
In his remarks, Assistant to the Foreign Minister Nguyen Minh Vu expressed optimism about the development of renewable energy in general and wind power in particular.
In the long term, offshore wind power will be cheaper than current fossil fuel-based energy sources, he said, adding that other types of offshore renewable energy are also becoming indispensable elements of the modern, blue economy.
Vietnam is committed to joining the common effort of mankind to promote clean energy, as demonstrated through its commitments at the 26th UN Climate Change Conference of the Parties (COP26) and the Just Energy Transition Partnership (JETP), the official said.
Vietnam is an attractive market for investment in this field and hopes to attract the participation and support of foreign partners through investment, technology, finance and capacity building to realise the goal of building a low-carbon and climate-resilient economy, he went on.
The dialogue, which consisted of four sessions, focused offshore renewable energy and geopolitics; the United Nations Convention on the Law of the Sea (UNCLOS) and offshore renewable energy; regional and international practice on offshore renewable energy; and policy recommendations on offshore renewable energy development in the East Sea (internationally known as South China Sea).
Participants said that while offshore renewable energy plays an increasingly important role in the world and regional economy, it still faces a lot of challenges such as pandemics, conflicts and trade disputes which adversely affect the development of offshore renewable energy in particular and the transition to greener and cleaner energy in general.
They also discussed the legal framework governing the exploitation of offshore renewable energy, particularly wind power.
Giulia Cretti, a research fellow at the EU and Global Affairs Unit of Clingendael – the Netherlands Institute of International Relations, said that the East Sea has abundant offshore wind energy potential.
The region can serve the Association of Southeast Asian Nations (ASEAN) in its ambition to increase the proportion of renewable energy to 23% by 2030, she said.
Some speakers said that transnational cooperation is the "key" to the development of offshore renewable energy in the East Sea.
They suggested that countries should have policies to encourage the use of new technologies, support infrastructure development, train high-quality human resources and launch appropriate financial support packages for the development of offshore renewable energy in general and offshore wind power in particular, contributing to the region's efforts to reduce emissions to zero.
(VNA)