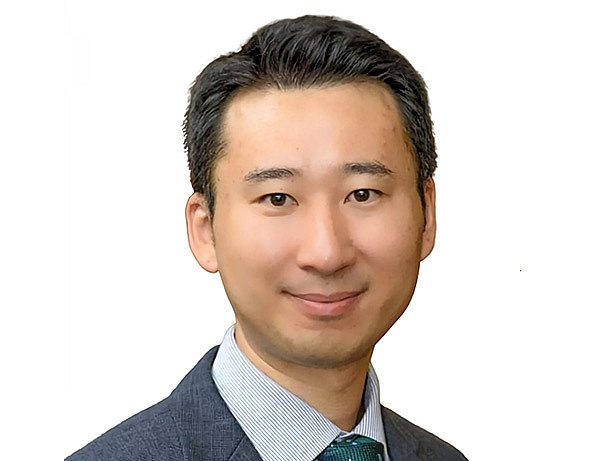 PDP 8: Energy transition
The Vietnamese government, through Power Development Plan VIII (PDP8), is prioritising renewable energies like wind and solar. Though coal and hydropower dominate today, by 2050, coal will be phased out in line with net-zero goals.
Wind and solar are projected to constitute 62.8 per cent of power by then. Gas, while expected to be a major source at 25 per cent in 2030 during the energy transition, will diminish to just 3 per cent by 2050. The projected investment reaches $135 billion by 2030 and between $400-$523 billion from 2031-2050. Global investors are needed to meet these costs, and while opportunities abound, potential risks and the current investment climate should be considered.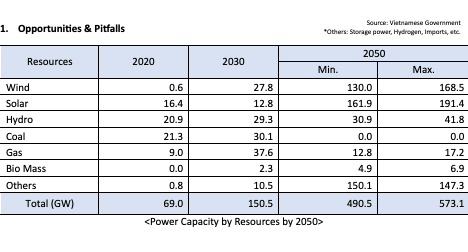 Wind
By 2030, onshore wind power in Vietnam is projected to rise from 4,118 MW in 2021 to 21,880 MW, while offshore capacity will jump from 0 MW to 6,000 MW. These expansions offer vast investment opportunities due to Vietnam's prime wind quality in Asia. However, the legal framework for offshore wind power is still underdeveloped.
Most viable wind speeds are found in southern Vietnam. Transmitting power from south to north is challenging due to unavailable grid infrastructure and delays in 500KV transmission lines from PDP7. Existing grid connections face issues like unclear policies, technical challenges, land rights, and the need for EVN's cooperation.
Investors should note that offshore wind farms fall under Vietnam's Law of the Sea and regulations concerning marine natural resources and the environment. The development process is laden with complex regulations and fees, including "sea area usage fees" for wind exploitation and cable installation, ranging from VND 4,000,000 ha/year to VND 7,500,000 ha/year. Additional infrastructure, like ports, entails extra costs, impacting project bankability.
Given the four to five year development time for wind farms, Vietnam's ambitious target of over 20GW in seven years necessitates clearer policies and legal guidance to draw in investors.
Solar
By 2030, solar power in Vietnam is expected to reach 12,840MW, soaring over 13 times to 189,300 MW by 2050, making it Vietnam's primary power source. PDP8 highlights rooftop solar for self-production and consumption with unrestricted capacity development.
This grid-independent solar approach will drive Vietnam's energy shift, though PDP8's definition of "self-consumption" remains unclear. If broadly interpreted, off-grid solar could be a viable resource, especially in industrial zones and rural areas.
Transparent pricing systems, set by the Ministry of Industry and Trade (MOIT), are essential for solar project financing and attracting private investors. A clear pricing mechanism is crucial for fostering a robust renewable energy ecosystem in Vietnam.
The surge in solar capacity, over 16GW between 2019 and 2020, was bolstered by government incentives. However, many solar plants aren't fully operational due to grid constraints. Establishing pricing mechanisms must also address fee collection for direct power purchase agreements (DPPA), benefiting both the government and investors.
Hydro
In 2020, the second-largest power resource in Vietnam was Hydro power, but its proportion will be decreased gradually from 30.3 per cent to 7.3 per cent by 2050. But Vietnam will continue to maximise the potential of hydropower sources as much as the economic and technical conditions allow up to 36,016MW (total potential of Vietnam is about 40,000 MW).
This year, 11 hydropower plants were shut down due to water shortage, and the northern area suffered an electricity shortfall of almost 5GW. It indicates that Vietnam needs more diverse power resources in the northern area.
Coal and others
By 2050, Vietnam will not have any coal power generation, completely converting fuel to biomass and ammonia, even if it is the largest power source currently. Vietnam continuously tries to meet its commitment towards net-zero emissions by 2050 encouraging this transition. But Vietnam should develop more details because there are still no clear legal framework and policy for new energy resources such as hydrogen, ammonia, bio-mass and others yet.
Gas
Gas will be the largest power resource in 2030 and perform as a major power resource during the energy transition from fossil to renewable. There are many opportunities during this period. Vietnam is planning to reduce the proportion of coal-fired thermal power gradually, prioritising the development of domestic gas power and developing imported liquefied natural gas (LNG) gas power sources if the domestic gas production is not sufficient. By 2030, the maximum total capacity of LNG power sources will reach 22,400 MW and the total capacity of domestic gas-using plants will reach 14,930 MW.
Transmission grids
In Vietnam, the northern area generally needs more power than its current, its generation capacity. And wind and solar qualities in the south are better to generate electricity. So, transmission grids between the south and north are very critical to achieve the development.
PDP8 estimates costs of $15.0 billion (average $1.5 billion/year) by 2030 and $34.8 billion – $38.6 billion (average $1.7-1.9 billion per year) by 2050, for this transmission.
Electricity of Vietnam (EVN) had been responsible for these transmission grids almost exclusively, but since 2022, the Vietnamese Electricity Law has allowed non-state economic sectors (private sector) to operate the transmission grid if built by themselves.
PDP8 also provides a policy for socialisation of investment in the transmission grid, and EVN is not capable for all transmission grids financially because it lost more than 1.12 billion in 2022. So, the private sector and investors' role is important in developing the transmission grids.
Conclusion
PDP8 is a milestone for the energy transition in Vietnam. But, without foreign investment and private sector involvement, it is impossible to achieve such massive development. Vietnam needs to establish a better environment in terms of legal frameworks and regulations, including Public Private Partnership (PPP) law in 2021, green credits, project financing, foreign direct investment, and transparent pricing mechanism to secure bankability and feasibility for foreign investment and the private sector. These developments are important to create a sustainable market itself by balancing public and private players.
Kang Seungho