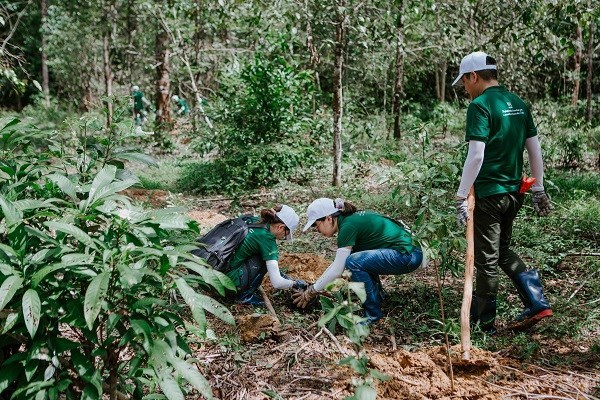 Nestlé Vietnam in coordination with the Ministry of Agriculture and Rural Development (MARD) has launched a project on sustainable coffee farming under the agro-forestry model in Vietnam, aiming to plant more than 2.3 million trees by 2027.
The project is expected to provide additional income to farmers and improve coffee farms' conditions in the long term, especially by increasing resistance to pests and adapting to climate change.
It will help absorb and store about 480,000 tonnes of CO2 over the next five years, contributing to the transition to ecological agriculture in coffee cultivation in the Central Highlands.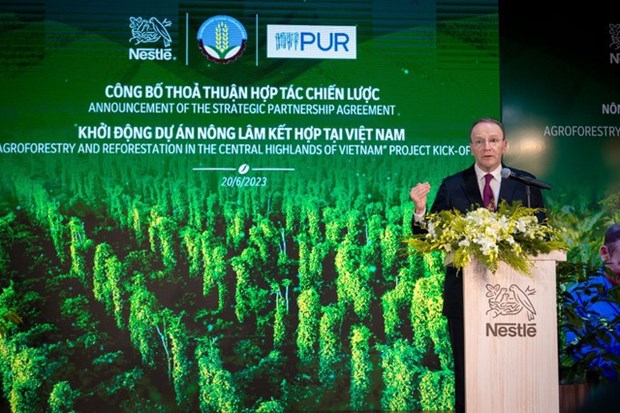 Mark Schneider, Chief Executive of Nestlé Group said that in Nestlé's supply chain, agriculture accounts for more than two-thirds of total greenhouse gas emissions and is one of the key coffee sources for Nestlé. The group is committed to helping coffee farmers transition to regenerative agriculture to improve their livelihoods and respond to climate change through its Nescafé Plan.
He went on to say that Nestlé Group has implemented the agro-forestry initiative in eight countries. Vietnam is the fourth country in Asia to apply this initiative which aims to protect agricultural land, reduce the effects of climate change, promote biodiversity and increase farmers' incomes.
The Nestlé group intends to plant 200 million trees globally by 2030, contributing to reaching the goal of net zero emissions by 2050.
Nestlé Vietnam and the MARD have just signed a memorandum of understanding (MOU) on strengthening public-private partnership to promote the development of sustainable agriculture, regenerative and low-emission agriculture through the Partnership for Sustainable Agriculture in Vietnam (PSAV).
Under the MoU, Nestlé Vietnam will work with the MARD within the framework of the PSAV programme to share and advance regenerative farming practices, promote technology transfer, research, development and digital transformation, and enhance multi-stakeholder cooperation.
Minister of Agriculture and Rural Development Le Minh Hoan said that low-emission agriculture is one of the ministry's top priorities, contributing to the realisation of Vietnam's commitments to achieve zero carbon emissions by 2050./.
(VNA)