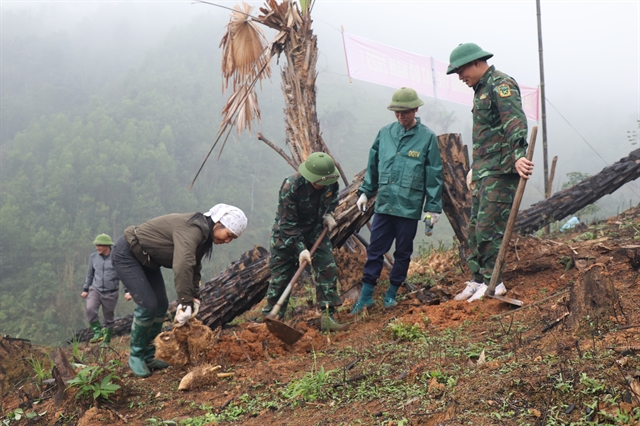 Việt Nam is well-positioned to contribute to the EU's efforts in fighting global deforestation.
This remark was made by Member of the European Parliament (MEP) Daniel Caspary in an interview with Zingnews on Tuesday.
He said the EU's regulation on deforestation-free products (EUDR) is instrumental in achieving climate-neutral targets. Việt Nam would have no trouble complying with EUDR thanks to the similarity between the country's legal framework and the EU's.
He also said Việt Nam and the EU shared the same target for net-zero carbon emission by 2050. The Just Energy Transition Partnerships concluded at the EU-ASEAN Summit last year would help both parties move one step closer to the remarkable feat.
The MEP also mentioned the EU-Vietnam Investment Protection Agreement (EVIPA), the ratification of which had been sped up in the European Parliament. Most MEPs had ratified the agreement and were pushing others to follow their steps.
According to Caspary the slow ratification of EVIPA in some countries has nothing to do with the EU-Việt Nam relations, but comes from their specific parliamentary procedures, which require time for a seal of approval.
He expressed his hope for an early ratification of EVIPA, which would help cement bilateral relations and unlock more commercial opportunities for both parties. He said EVIPA would hold the key to the EU's diversification of supply chains in which Việt Nam always plays an important role.
The EU official also underlined the role of the EU-Vietnam Free Trade Agreement (EVFTA) in bilateral trade. He said EVFTA had raised certain Vietnamese exports to the EU by around 30 per cent in recent years.
What both parties have to do now is to ensure their legal frameworks work in line with the agreement to remove barriers to bilateral trade, according to Caspary.
European Ambassador to Việt Nam Giorgio Aliberti said an EU high-level delegation would visit Việt Nam next week to keep the country well-informed about EUDR.
The ambassador also said the transition to green energy in Việt Nam could not do without the involvement of the public sector. The Government thus should take measures to incentivise more companies to engage in the green transition.
Twenty-seven countries were in the EU rubber-stamped EUDR on April 19. The ratification can be seen as a historic moment in the global fight against agriculture-induced deforestation.
The EU has been among the largest importers of Vietnamese agricultural products, consuming around 13.7 per cent of the country's exports annually. Their staple imports include coffee, cashews, rubber, and pepper.
(VNS)