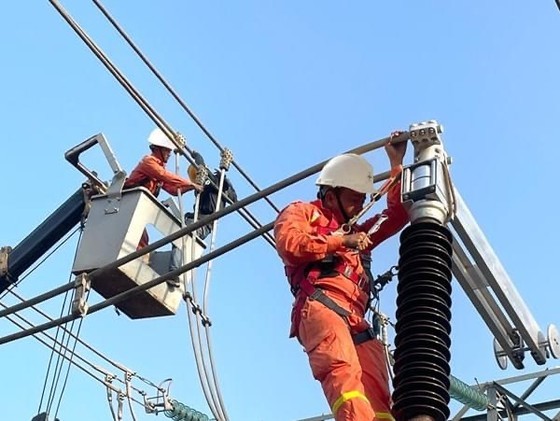 Some areas have already received rainfall, leading to temporary relief from the scorching heat. Based on the survey conducted on June 10, power outages and scheduled rotational power cuts in the Northern region have been reduced.
According to the quick report from the Industrial Safety Techniques and Environment Agency under the Ministry of Industry and Trade, on June 10, the water inflow into hydroelectric reservoirs increased compared to June 9 but remained at low levels. The reservoirs in the Northern, North-Central, and Southeast regions have surpassed the dead storage level by over 1 meter but are still at a relatively low water level.
Therefore, several hydroelectric power plants have resumed operations, but they are generating electricity conservatively due to limited water levels and low capacities, such as Son La, Lai Chau, Huoi Quang, Ban Chat, Thac Ba, Tuyen Quang, Hua Na, Trung Son, and Thac Mo.
In order to assist the hydropower plants in the Northern region in dealing with severe drought conditions, the National Load Dispatch Center has announced an increase in the short-term transmission capacity threshold to 2,600 MVA on the 500kV Nho Quan – Nghi Son No.2 – Ha Tinh transmission line, in the South-to-North direction, during specific peak hours, aiming at prioritizing water conservation for multi-purpose hydropower reservoirs in the Northern region.
Following the directives of the Ministry of Industry and Trade, the thermal power plants that have experienced recent malfunctions are currently undertaking urgent repairs to restore electricity generation and provide timely support to the challenged hydropower system.
On June 10, Mr. Vo Manh Ha, Director of Nghi Son Thermal Power Company – the entity responsible for operating Nghi Son Thermal Power Plant No.1, reported that Unit 1 of the plant encountered a malfunction on June 5. The repair and equipment inspection work is projected to be completed by June 13 to ensure readiness for operation. Once operational, it is expected to contribute an additional supply of 7 million Kwh per day to the power grid in the Northern region, thus alleviating the ongoing electricity shortage pressure in the area.
As for Thai Binh Thermal Power Plant No.2, Mr. Nguyen Huu Vinh, Deputy Head of the Management Board of Thai Binh Oil and Gas Thermal Power Project No.2, announced that after a temporary shutdown for repairs, Unit S2 had been successfully restarted on the morning of June 10. The power plant is expected to provide an electricity output of 13 million kWh per day to the Northern region.
To ensure a steady fuel supply for operating thermal power projects amidst the challenging hydropower conditions, the Ministry of Industry and Trade has confirmed that the supply of coal and gas has been secured following the directives.
Van Phuc – Translated by Gia Bao