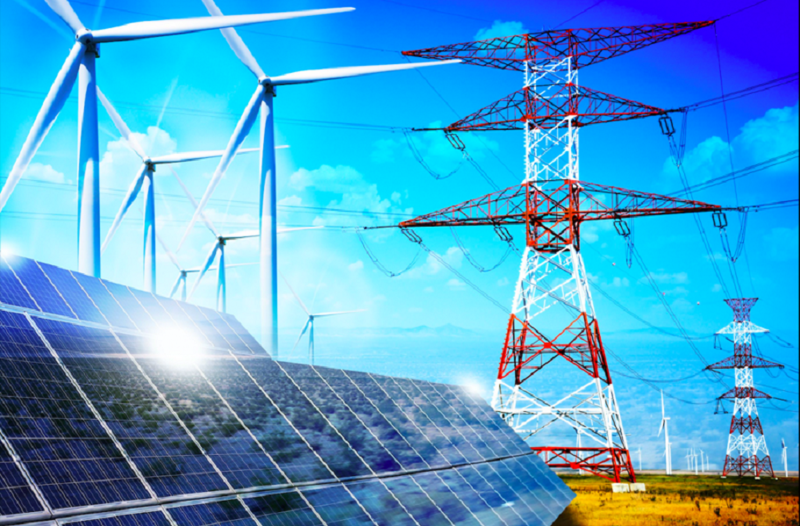 Although Vietnam has committed to reducing net emissions to zero by 2050, the country is still building thermal power plants such as in Nghi Son, Thai Binh 2, and Van Phong.
The country still has a dire need for electricity supply, as the Vietnam Electricity Group has to import electricity from China and Laos to make up for the shortfall.
On the other hand, some wind and solar power projects with a capacity of thousands of MW are still lying on hold even though they are ready to close the circuit breakers to the grid. In this situation lies a serious paradox.
Reason for paradox
Vietnam is one of the few countries that is located favorably for the development of renewable energy which could provide a clean and pollution-free electricity supply across the country.
Any province in Vietnam is capable of developing wind power or solar power energy. The Northernmost provinces such as Ha Giang and Lao Cai do not have much sunshine but do have a lot of wind. The Central and Southern provinces have sunny days all year round with constant wind.
Seeing these advantages, a number of investors had jumped into this potential new energy market since 2015. But after nearly 10 years, the production of renewable electricity shows signs of slowing down, and many investors have over time lost their enthusiasm for the projects and some have even given up altogether.
So far, only 27 percent of renewable energy has been purchased by Vietnam Electricity (EVN) to connect to the national grid. Statistics show that at the beginning of 2023, there were 87 projects with a total capacity of 4,200 MW of wind power and 700 MW of solar power that still cannot be connected to the national grid. This has caused unreasonable waste and has also pushed businesses into a state of high debts and bankruptcy.
The reason for this paradox is that renewable electricity producers must sell electricity to EVN, and this generated electricity must then be imported into the national power grid which is then distributed to various regions of the country.
Accordingly, the Ministry of Industry and Trade has issued a price bracket for electricity generation for solar and wind power projects, but only about 23 percent of projects have submitted documents to negotiate a power purchase agreement with EVN until March 2023.
Investors are hesitating because the EVN electricity purchase price is lower than their production cost, and the more they produce, the more they lose.
It is difficult to just blame EVN because the company also has to bear many high costs for the construction and development of the power grid.
Therefore, by buying electricity at a high price to provide a profit for renewable energy investors, EVN will suffer a huge loss.
EVN is also carrying a huge debt of up to VND36,300 bln. On the other hand, without selling to EVN, investors do not know who to sell to as there is a monopoly for the current energy supply.
Local power networks
The option could possibly lie in renewable energy investors selling directly to consumers. This is absolutely possible. Across the world, many countries advocate the development of local power networks, also known as regional power networks.
Accordingly, wind or solar power producers sell electricity to residential areas, towns, industrial zones, and even big cities.
They build wind power plants, and solar power plants, distribution networks, operate a system to sell electricity to one or a few wholesalers, and then these secondary units retail to consumers. Sometimes the manufacturer even sells directly to a buyer depending on the need and scale.
One of the most successful countries doing this is China. Since 2002, when wind and solar power appeared in China, the government of China seized the opportunity to fulfill its goal of modernization, urbanization, and electrification of remote areas. When it comes to reforms and opening up, China had extreme difficulty when developing remote areas.
Policymakers could not develop towns and villages in the northernmost provinces because electricity was not available, and if it was available then the costs were too high.
By 2012, wind and solar power projects had served more than 1 million households and thousands of factories in high mountains, deserts, and savannas, where the population density was very low at 30 to 40 people per square kilometer in the provinces of Qinghai, Gansu, Sichuan, and Yunnan, and the autonomous regions of Inner Mongolia, Xinjiang, and Ningxia.
The Chinese government created the most favorable conditions for private companies to implement wind and solar power projects, such as by offering tax exemption, free land, legal support, and convenient transportation.
Because of this development of regional electricity, the lives of millions of people have changed, and there is now more economic development, health care, education, and even entertainment.
The regional power grid model was not only developed in poor and middle-class countries but also widely developed in Europe and North America. In 2000, Babcock Ranch was the first town in America to be fully solar-powered. Now there are thousands of towns and residential areas using solar and wind power in France, the US, Canada, Sweden, and the Netherlands, produced by private companies and sold directly to the people.
The EU member states have planned that by 2030, the 27 member states will receive 42.5 percent of their energy needs from renewable sources such as wind and solar power.
Vietnam can also successfully apply the model of regional and local electricity networks producing energy and reaching out directly to the people. Besides EVN, there can also be many smaller electricity suppliers across the country.
In addition to the production of energy, they must form their own electricity distribution network independent of the national grid, as long as they operate in accordance with the law and contribute to the local budget.
This will form diversity in electricity supply and purchase and create a competitive and transparent energy market.
(Source: VIR)