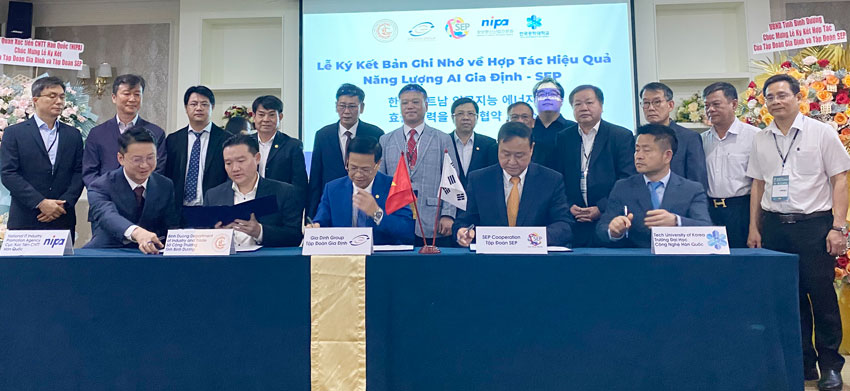 The flow of foreign investment capital (FDI) with high technology content serving sustainable growth has tended to increase to Binh Duong for many years, SEP Group (Korea) cooperating with Binh Duong to develop a carbon-neutral industrial cluster in Phu Giao district has opened up more green and sustainable development pathway of the province.
Transformational expectations
Professor Dong Hoon Hyun, Chairman of SEP Group and lecturer at Korea University of Technology, said that Gia Dinh Group (Vietnam) and SEP Group (Korea) have just signed a memorandum of cooperation to implement the agreements to currently build Net Zero – a carbon neutral industrial cluster in Phu Giao district. The SEP Group is based on a carbon neutral model being piloted by the Banwol-Sihwa Industrial Complex in Korea.
"Currently, big corporations like Samsung, LG, and Hyundai are all focusing on converting to carbon-neutral production. SEP wished to invest more than USD 200 million to establish the first carbon neutral industry cluster specializing in the shoes and carbon reduction infrastructure in Vietnam on an area of 180 hectares in Phu Giao district. Accordingly, about 20 member enterprises of SEP will participate and invest in carbon neutral solutions. The project will contribute to reducing greenhouse gas emissions, protecting the environment, and making a positive contribution to the province's green and sustainable development orientation," said Professor Dong Hoon Hyun.
Deploying the Net Zero industrial cluster model in Binh Duong, SEP will bring carbon neutral technology including 3 items of using solar energy, building waste and wastewater treatment systems, and industrial waste recycling technology. Gia Dinh Group and SEP hope that Binh Duong and ministries will continue to create conditions for the project to be implemented by the end of 2023 as expected.
Mai Hung Dung, Standing Member of the provincial Party Committee, Standing Vice Chairman of provincial People's Committee, highly appreciated the interest of SEP Group and Korea University of Technology for Binh Duong. The province always prioritizes projects with high technology, advanced, environmentally friendly, less labor intensive or creating high added value in order to meet the requirements of green and sustainable development. SEP's project implementation proposal is in line with Binh Duong's development orientation.
"Trying to bring net emissions to zero by 2050 is the goal of the whole economy. Not only FDI enterprises but also Vietnamese enterprises must participate. Binh Duong will try to invite green projects to the locality and will create maximum conditions for investors. The provincial People's Committee is committed to promoting the project to soon be formed while the departments, agencies and branches will guide and create all conditions for investment procedures so that SEP Group can soon deploy the project," said Mai Hung Dung.
Export tax reduction
Talking to us, Nguyen Chi Trung, Chairman of the Board of Directors of Gia Dinh Group in Thuan An city, said that the signing of cooperation agreement with SEP is part of the group's green development strategy and the orientation of the province. "We have been doing our best to upgrade and develop the leather shoe industry in a green trend. The establishment and development of Tam Lap 2 industrial cluster is a turning direction of domestic enterprises. We want businesses in the leather shoe industry and domestic enterprises to have the conditions to develop a green production model to meet the world's consumption trends."
According to Nguyen Chi Trung, the immediate benefit that can be realized is that if investment is made in carbon-neutral industrial clusters, small and medium-sized enterprises will have the conditions to be granted a standard carbon neutral certificate which enables them to be reduced tax up to 25% on exporting to the specified countries.
"Currently, Gia Dinh Group is being supported to carry out land procedures according to current regulations. As the lead unit to develop industrial clusters, we have been coordinating with relevant departments to guide land procedures. It is expected that the province's first carbon-neutral industrial cluster will be started by the end of this year, opening the direction of sustainable development in industrial production, especially domestic enterprises," said the Director of Department of Industry and Trade, Information.
In February 2023, Becamex IDC Corporation and Sembcorp Development LTD Company from Singapore signed a memorandum of understanding to cooperate to develop 5 green, smart and sustainable oriented industrial parks in Vietnam within 3 coming years including some industrial parks in Binh Duong. Currently, VSIP III in Binh Duong is being built according to the green criteria, which has now attracted a project of LEGO Group from Denmark with an investment capital of USD 1.3 billion.
Tieu My – Translated by Vi Bao