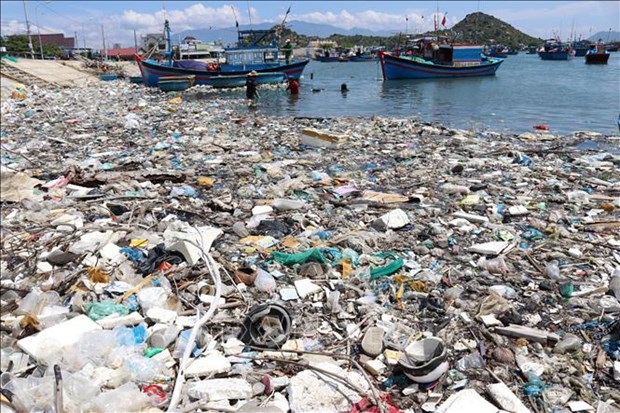 Vietnam has been a pioneer in the implementation of "green" commitments and praised by the international community for making significant contributions to the "common home" of humanity, said an official.
Dr. Ta Dinh Thi, Deputy Chairman of the National Assembly's Committee on Science, Technology and Environment made the statement on the occasion of the World Earth Day on April 22, themed "Invest in Our Planet". It stresses the urgent need for governments, businesses and individuals to invest in a better future for the planet.
According to Thi, Vietnam is one of the six countries most vulnerable to climate change. At the 26th United Nations Climate Change Conference of the Parties (COP 26) in Glasgow, Scotland in late 2021, Vietnam pledged to develop and implement measures to reduce greenhouse gas emissions by its own resources with the cooperation and support of the international community to achieve the net-zero goal by 2050.
In order to realise commitments at COP 26, the Vietnamese Government and the International Partners Group have officially approved the Political Declaration on establishing the Just Energy Transition Partnership with Vietnam (JETP).
To achieve this goal, Vietnam needs to promote the development of renewable energy, improve energy efficiency and focus on energy transition with an appropriate roadmap, while ensuring environmental protection and climate change response, minimising costs, and improving productivity, quality, and efficiency of the economy.
According to the Ministry of Natural Resources and Environment, the country currently has 1,322 domestic waste treatment facilities, including 381 solid waste incinerators, 37 fertilizer production lines and 904 landfills. The main sources of emissions come from landfills, accounting for 50.3%, and from wastewater treatment, 43.2%.
The National Plastic Action Partnership Program in Vietnam (NPAP) and the World Wide Fund for Nature (WWF) in Vietnam have provided technical support to a group of scientists at the University of Natural Sciences, Vietnam National University, Hanoi to make a report on the status of plastic waste in Vietnam in 2022.
The initial findings show that on average, the composition of plastic waste in domestic solid waste in Vietnam accounts for about 12%. The total volume of plastic waste produced was 2.9 million tonnes in 2021 and rose about 5% per year. The volume of plastic waste released to the environment was 0.42 million tonnes and only about 0.07 million tonnes went to rivers, lakes and seas.
Environmental experts said this is a great source of input materials for the fields of plastic waste recycling. However, the composition of plastic waste in domestic solid waste in Vietnam is mostly thin plastic bags, food packaging, and disposable plastic utensils.
According to Vietnam's updated Nationally Determined Contributions (NDCs) 2022, the country has set a target of reducing greenhouse gas emissions from the waste sector to 29.4 tonnes of CO2 (63%) by 2030 with international support./.
(VNA)