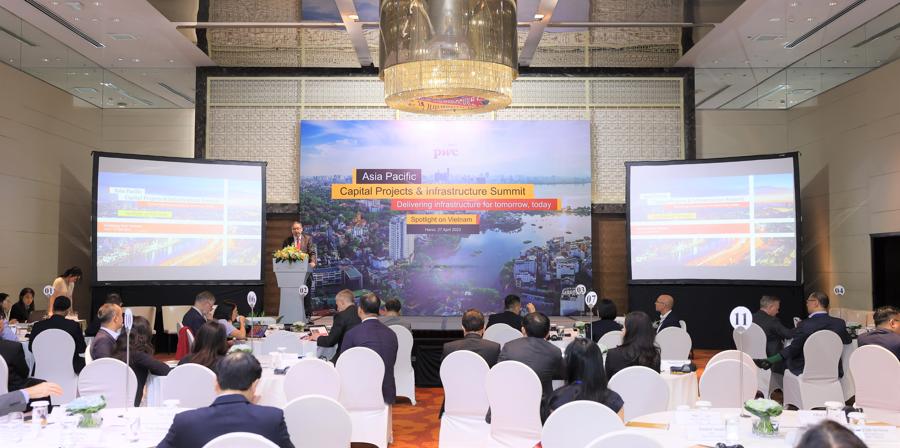 The Asia Pacific Infrastructure and Investment Project Conference, organized by PwC Vietnam, took place on April 27 in Hanoi. The conference focused on the topic of "Building infrastructure for today and tomorrow" and the journey of sustainable infrastructure development for Vietnam.
Asia Pacific is lacking resources for green transformation
PwC's latest research on infrastructure shows that the middle- to low-income countries of the Asia Pacific (TBD), including India, Indonesia, the Philippines, Thailand and Vietnam, need to invest up to 60% of new infrastructure to serve the goal of green transformation. However, these countries lack the financial capacity to promote green growth, demonstrating the need to access foreign direct investment capital and international investment funds. Meanwhile, developed countries are falling short of their commitment to support 100 billion USD to help poorer countries cope with climate change by 2020, according to a report by the Organisation for Economic Co-operation and Development (OECD).
However, investors are showing positive signals as they pay more attention to sustainable investments, and Environmental, Social, and Governance (ESG) factors are becoming increasingly important in the future. investment decision-making and analysis process, according to PwC's Global Investor Survey. In addition, the government or international financial institutions are also strengthening their cooperation relationships, pushing financial institutions to adjust their investment portfolios to serve the goal of limiting global warming. demand at 1.5 degrees Celsius, following a call from the Intergovernmental Panel on Climate Change (IPCC) at the end of 2018. Commitment at COP26 (Conference of the Parties to the United Nations Framework Convention on Climate Change) 26th United Nations Climate Change) and net zero emissions by 2050 have increased investor interest in sustainable infrastructure, increased investment in renewable energy sectors, and increased investment in renewable energy. construction, green building and other sustainable infrastructure projects.
To access these sources of finance, governments should prioritize green infrastructure elements and encourage infrastructure projects that support the transition to a low-carbon economy in an equitable and inclusive manner. while enhancing resilience to climate change. The development of renewable energy sources is very important, requiring capacity building and skills in this area.
Private sector participation is also essential in developing sustainable infrastructure, especially in areas with limited public resources. With their financial resources, expertise and capabilities, the private sector can help bridge the infrastructure gap and support the transition towards sustainable development.
The Asia TBD Infrastructure and Investment Projects Conference is an opportunity for global infrastructure leaders, as well as infrastructure stakeholders in Vietnam, including A panel of financial institutions, the public and private sectors discuss how to effectively implement innovative solutions for sustainable infrastructure development. The conference exchanged experiences and initiatives in infrastructure development, discussed the impact of smart technologies, energy transformation and social inclusion.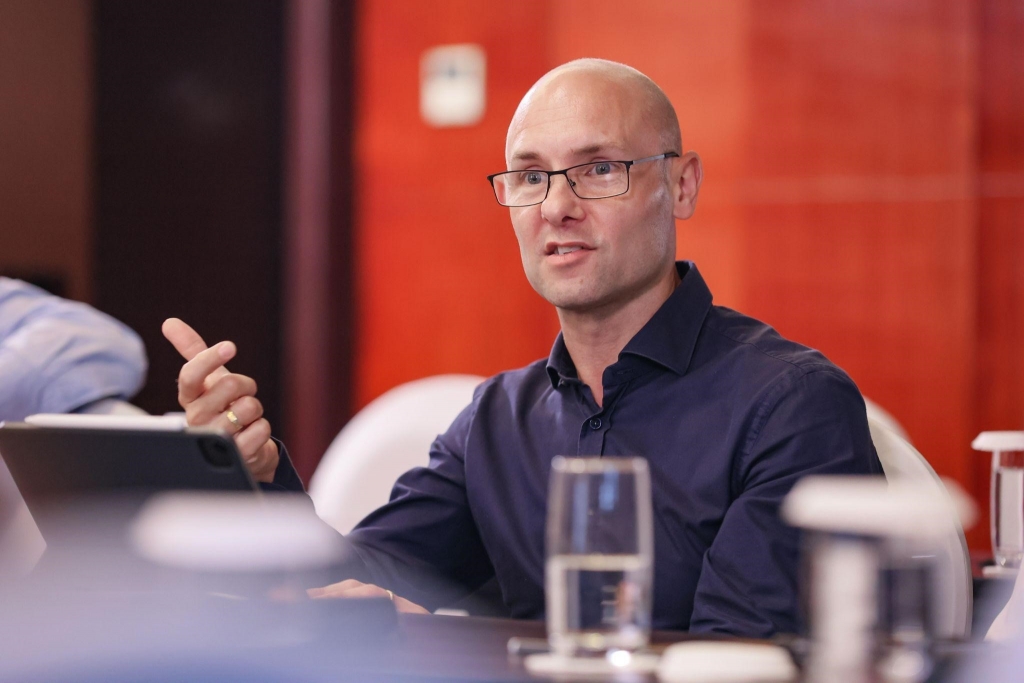 Adrian Box, Deputy General Manager, Asia Pacific Infrastructure Consultant, PwC Australia commented: "PwC sees significant challenges to building sustainable infrastructure. in the Asia Pacific region. We are committed to fostering public-private partnerships to jointly find effective solutions to these challenges. Through this, we can create innovative policy solutions and ensure the success of a sustainable infrastructure project that benefits communities and supports economic development."
Accelerating sustainable infrastructure transformation in Vietnam
Vietnam is Asia's leading country in infrastructure investment and is spending about 5.7% of GDP on this sector. The country is in transition towards a high-income economy, and infrastructure development plays an important role in achieving that goal. Vietnam is investing heavily in infrastructure to drive economic development, improve living standards, support energy transition, and strengthen resilience to climate change and natural disasters.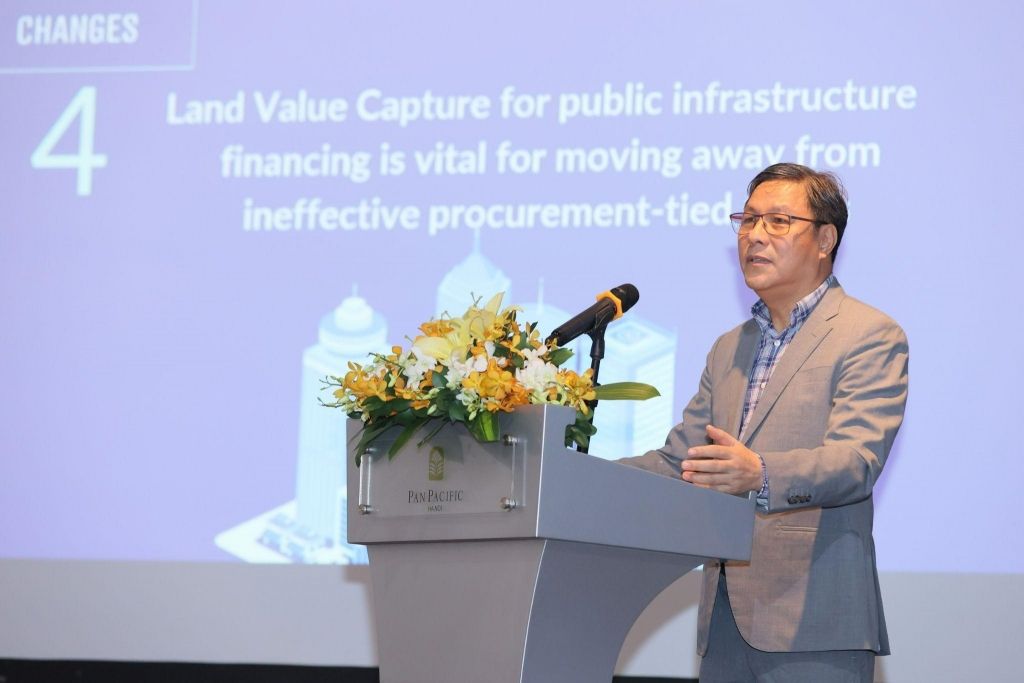 Dang Huy Dong, Director of the Institute for Planning and Development Research, former Deputy Minister of Planning and Investment, said: "The national master plan for the period 2021 – 2030 with a vision to 2050 emphasizes the need for on a spatial development model of the country, accelerating the modernization and synchronization of infrastructure. The government has implemented many policies and initiatives to develop sustainable infrastructure, such as investing in renewable energy sources, encouraging green buildings and electric vehicles. We are delighted that this conference is a collaborative effort from stakeholders including the public sector, private sector and investors towards a common goal of sustainable development."
Also at the Conference, the delegates discussed the challenges that investors and the Government face in infrastructure investment in Vietnam, including emerging issues such as: lack of vision. infrastructure needs are clear, multi-stakeholder coordination during the project is not tight, public investment implementation capacity is limited, legal system and organizational mechanism are complicated, as well as challenges. limited time and capital resources.
To deal with these challenges, experts say long-term planning, clear project roadmaps, and integration of strategic and local regulatory frameworks with national policies are needed to attract investors. private investment and development partners. Local governments may not have the capacity, experience and financial resources to prepare high-quality infrastructure projects, so support from governments and international organizations is needed. The allocation of project risk between the public and private sectors is also important, for example when the government shares a portion of the risk from the need to pay the road and bridge costs of the public to construct a transport facility. In areas where infrastructure has not been developed, private investors will have more favorable conditions for project implementation.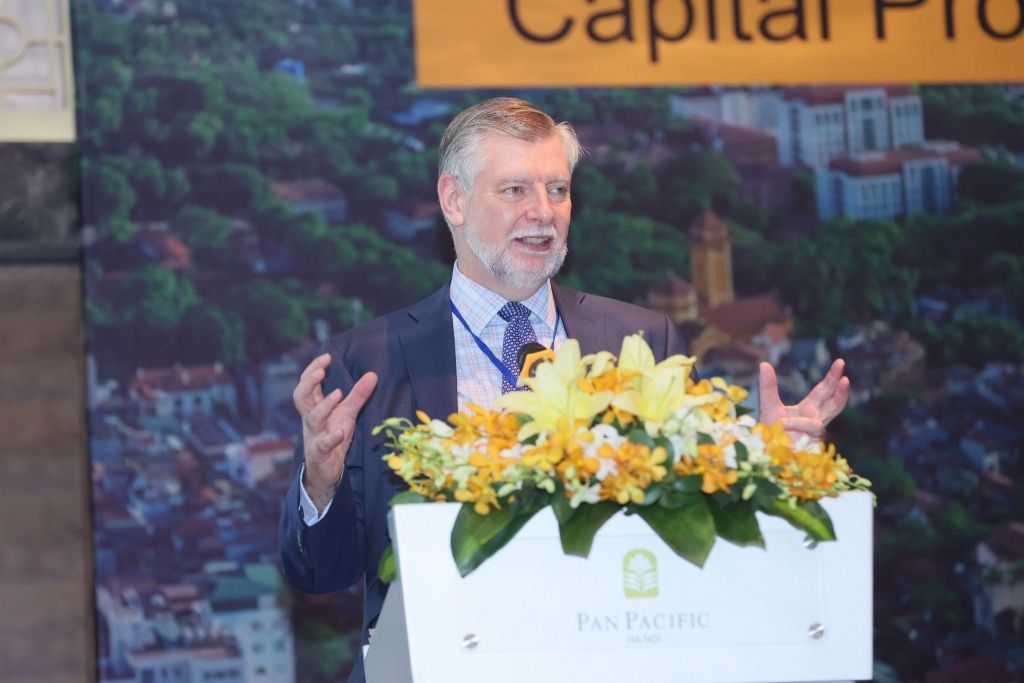 "Developing the infrastructure to promote sustainable growth in Vietnam is a challenge, but at the same time opens up significant opportunities for stakeholders and investors. We believe that by prioritizing green, sustainable and inclusive infrastructure projects, we can help accelerate the transition to a high-income, low-emissions economy, contribute in creating a sustainable future for the Vietnamese people," said Mr. Edward Clayton, Deputy General Director, Head of Infrastructure and Investment Project Consulting Services, PwC Vietnam.
Hieu Phuong