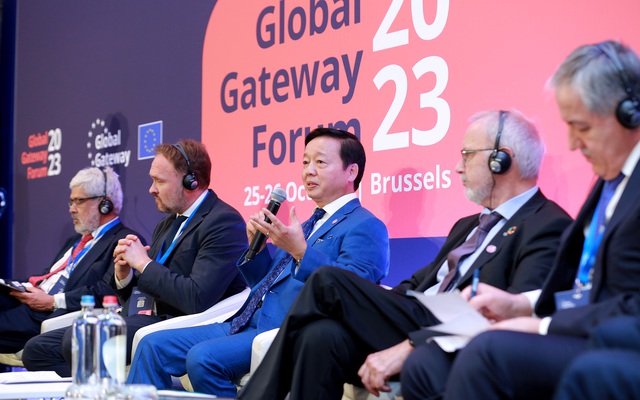 Deputy Prime Minister Tran made the above remarks at the opening ceremony of the first Global Gateway Forum in Brussels, Belgium on October 25.
Tran emphasized that challenges caused by climate change require concerted efforts by countries, through such concrete acts of sharing resources and experience, and providing support for narrowing development gap.
He called on developed countries and private sector to strengthen the sharing of technology and green finance, and to support human resource training so that the whole world could achieve the goal of net-zero emissions by 2050.
In her opening remarks, President of the European Commission Ursula von der Leyen stressed that climate change causes tremendous instability and suffering but it is also an economic opportunity if right thing is one.
From that perspective, the European Union has made clean tech and clean energy a priority of Global Gateway investments.
Inspired by the fact that more and more developing economies are joining the clean energy race, she said that developing economies can be a crucial part of the solution to climate change.
The first Global Gateway Forum brings together over 40 high-level Government representatives, financial institutions and business representatives to discuss the world's investment needs, debate solutions and seal new deals.
The panel discussions on the first day focused on green energy and hydrogen, research and education, critical raw materials and transport corridors.
During the first day of the Forum, several announcements in the field of the green energy transition were made:
€500 million for the Just Energy Transition Partnership (JETP) in Vietnam, to foster the renewable energy transition in the country. €400 million to foster renewable energy in Bangladesh under the partnership for Green Energy Transition. €246 million package in support of a greener and more sustainable future for Cabo Verde, including an energy sustainability loan, support for the Cabeólica wind farm expansion project, upgrades to the country's port infrastructure and more accessible and affordable internet connectivity across the country. €146 million to the construction of the Kakono hydropower plant in Tanzania, contributing significantly to both economic development and climate change adaptation. €60 million for the Green Economy Programme with the Philippines, to assist the country in transitioning towards a sustainable economy. €20.4 million for the Green and Blue Pact in Comoros to boost the country's environmental and food resilience.
Additionally, the EU and Mauritania launched a new Team Europe initiative to support investment in the energy transition and decarbonisation of Mauritania's economy, by developing its green hydrogen industries. Complementing this initiative, the EU has also signed new cooperation actions in 2023, including €13.7 million to promote sustainable food systems and access to quality and affordable food and €10 million to promote blue economy in Mauritania.
Huong Giang