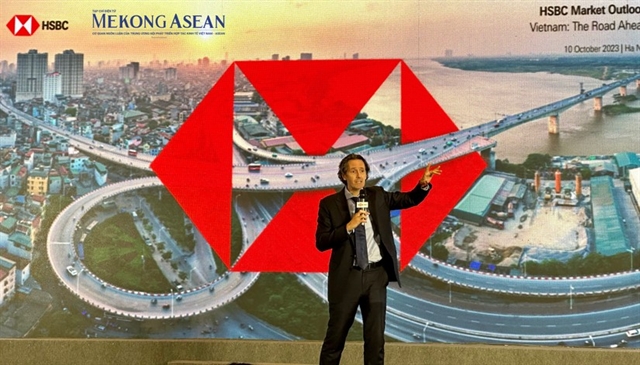 Việt Nam's economy is expected to experience the highest growth rate in the region in 2024, said Frederic Neumann, Chief Asia Economist and Co-head of Global Research Asia at HSBC.
His comment was made at a seminar on business prospects titled "The Road Ahead" held in Hà Nội on October 10.
Neumann forecasted a growth rate of 6.3 per cent for Việt Nam in 2024, which is higher than the projected growth rates for the world (2.3 per cent) and China (4.6 per cent), as well as other regional economies such as Malaysia (4.5 per cent) and the Philippines (5.2 per cent).
Neumann also cited several factors that will contribute to Việt Nam's economic growth in 2024. One of the driving forces is domestic spending, including consumption and government purchases, which is forecasted to increase.
Việt Nam's domestic consumption growth is currently ranked in the top 10 globally, and the number of adults with significant assets is increasing, indicating the potential for stronger spending.
The second driving force is the expected increase in exports in 2024 as global demand returns. While Việt Nam's export turnover has experienced a decline in recent months, it is anticipated that as the structure of global economic growth changes, demand for goods will increase, leading to a recovery in production and an improvement in exports.
Foreign direct investment (FDI) is identified as another crucial driving force for Việt Nam's economy. Despite trade challenges, Việt Nam continues to attract quality FDI, particularly in the manufacturing sector.
The country is expected to remain an attractive destination for FDI inflows, not only in traditional fields but also in areas related to the green economy, clean energy, industries supporting exports, and sectors related to domestic consumption such as healthcare, accommodation, retail and finance.
However, Frederic also highlighted potential risks to Việt Nam's economy in 2024. The main threat comes from external factors, particularly the possibility of global economic growth falling short of expectations, which could significantly impact Việt Nam's export recovery. Additionally, while inflation is not identified as the main risk, global factors such as energy and food prices could pose challenges.
Speaking at the forum, Tim Evans, CEO of HSBC Vietnam, said despite these challenges, HSBC believed that Việt Nam's economy is resilient to global fluctuations and has positive indicators for future growth. The country has signed numerous free trade agreements, attracting FDI and diversifying its economic model beyond cost-efficient manufacturing.
The consumer market is growing rapidly, supported by the digital economy, and Việt Nam is committed to transitioning to a net-zero emissions target by 2050, which will drive investments and have significant implications for the economy.
Megan Lawson, general director and country manager of ERM Vietnam told participants that there has been a significant change in awareness regarding sustainable development topics, particularly environmental, social, and corporate governance (ESG), over the past 12 months. There is a growing awareness in both international and Vietnamese businesses about the value of changing strategies related to ESG.
She advised individuals to be curious and learn about ESG, as there are plenty of resources available to acquire information. Effective use of this information can enhance the competitiveness and adaptability of businesses.
According to Lawson, the carbon credit market is not limited to Việt Nam but is a global phenomenon. She also saw an opportunity for a carbon market in Việt Nam due to the global trend towards achieving Net Zero requirements. The carbon market plays a vital role in providing important solutions for countries and driving breakthroughs in the economy. Many businesses worldwide are relocating their supply chains to places with clean energy sources.
Brook Taylor, CEO Asset Management of Vinacapital, said he believed that Việt Nam's market offers diverse options and shows promising growth potential, particularly in terms of consumer growth. He mentioned that industries such as industrial real estate, commercial real estate, and exports are expected to experience growth. The government has implemented various policies to restore the real estate market, which Taylor believed will contribute to a market recovery. He emphasised the importance of investing in businesses with potential for technological development and the need for skilled technology personnel to succeed in Việt Nam.
(VNS)