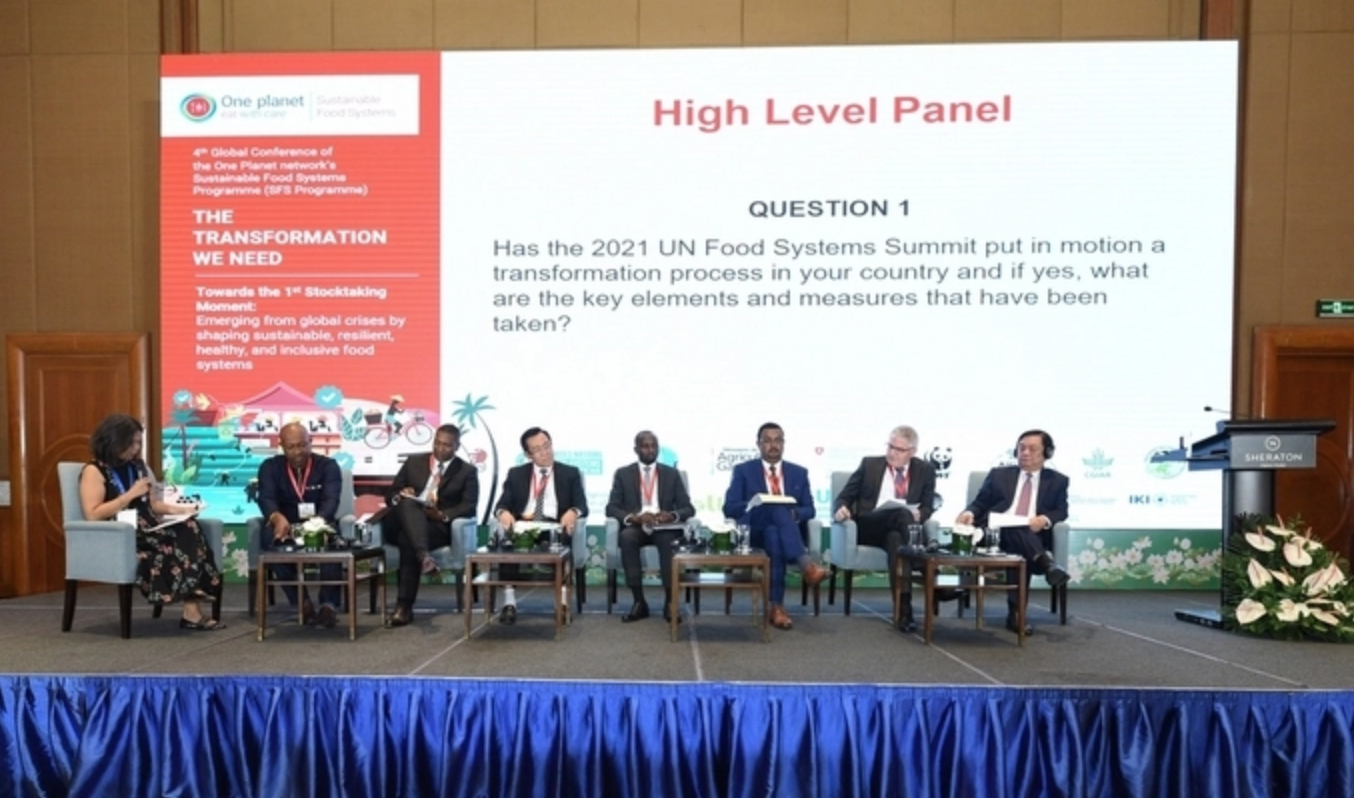 Within the framework of the 4th global conference of the One Planet Network's Sustainable Food Systems Programme, ministers and national leaders dicussed at length about food security.
Ms. Dada Bacudo, a representative of the organizing committee, raised three questions to various sector leaders of the nations present at the 4th global conference of the One Planet Network's Sustainable Food Systems Programme.
First question: How has the UN LTTP System Summit 2021 encouraged the transformation in countries? What elements and measures have contributed to this process?
Mr. Le Minh Hoan, Minister of Agriculture and Rural Development of Vietnam, said that Vietnam has made great progress in poverty reduction. The remarkable poverty reduction index has been highly regarded by the United Nations as well as many international organizations.
Vietnam acknowledges that agriculture is the backbone of its economy. However, Vietnam's agricultural production faces multiple challenges such as small-scale production; Vietnamese farmers are susceptible to global events and limited in terms of following international trade trends.
Vietnam's rice industry utilizes many resource-intensive farming methods at the expense of the environment and biodiversity. This is another serious issue in light of the increasingly rigorous consumer demand.
Vietnam pledged to achieve net zero emissions by 2050 at COP26. Additionally, Vietnam made two other commitments with regards to the agricultural sector, namely: "Reducing Global Methane Emissions" and "Glasgow Declaration on Forests and Land Use".
The Ministry of Agriculture and Rural Development is currently developing a plan to reduce greenhouse gas emissions in agriculture and rural development between 2021 and 2030, with a vision towards 2050, including the Plan on "Reducing methane emissions in agriculture by 2030".
Minister Le Minh Hoan affirmed that Vietnam needs to take drastic action to ensure that its food processing system adapts to the increasingly severe impacts of climate change, pandemics. Moreover, the food system must promote effective and sustainable use of natural resources, improve and diversify livelihoods for farmers, implement safeguard measures to ensure social and environmental sustainability.
The transformation of the food system is crucial in achieving all of Vietnam's 17 Sustainable Development Goals.
The Government of Vietnam issued the "National Action Plan to establish a Transparent, Responsible and Sustainable Food System in Vietnam until 2030" dated March 28, 2023. Accordingly, the National Action Plan sets out several fundamental taks: Transforming the food system is an interdisciplinary task requiring the participation of the government, ministries, local branches, organizations, as well as actors in the entire food system.
The transformation must be associated with the advancement of agro-ecology, the integration of multiple values, increased competitiveness, increased resilience to shocks, improved product reputation, and brand building. Furthermore, the transformation aims to increase income for producers as well as ensure food safety for consumers.
According to the action plan, the application of digital technology and innovation will be promoted to achieve higher efficiency, productivity, food safety and better distribution. The plan will directly connect producers with consumers; minimize food loss and waste; integrate resources and mobilize domestic and foreign capital sources through support mechanisms and policies.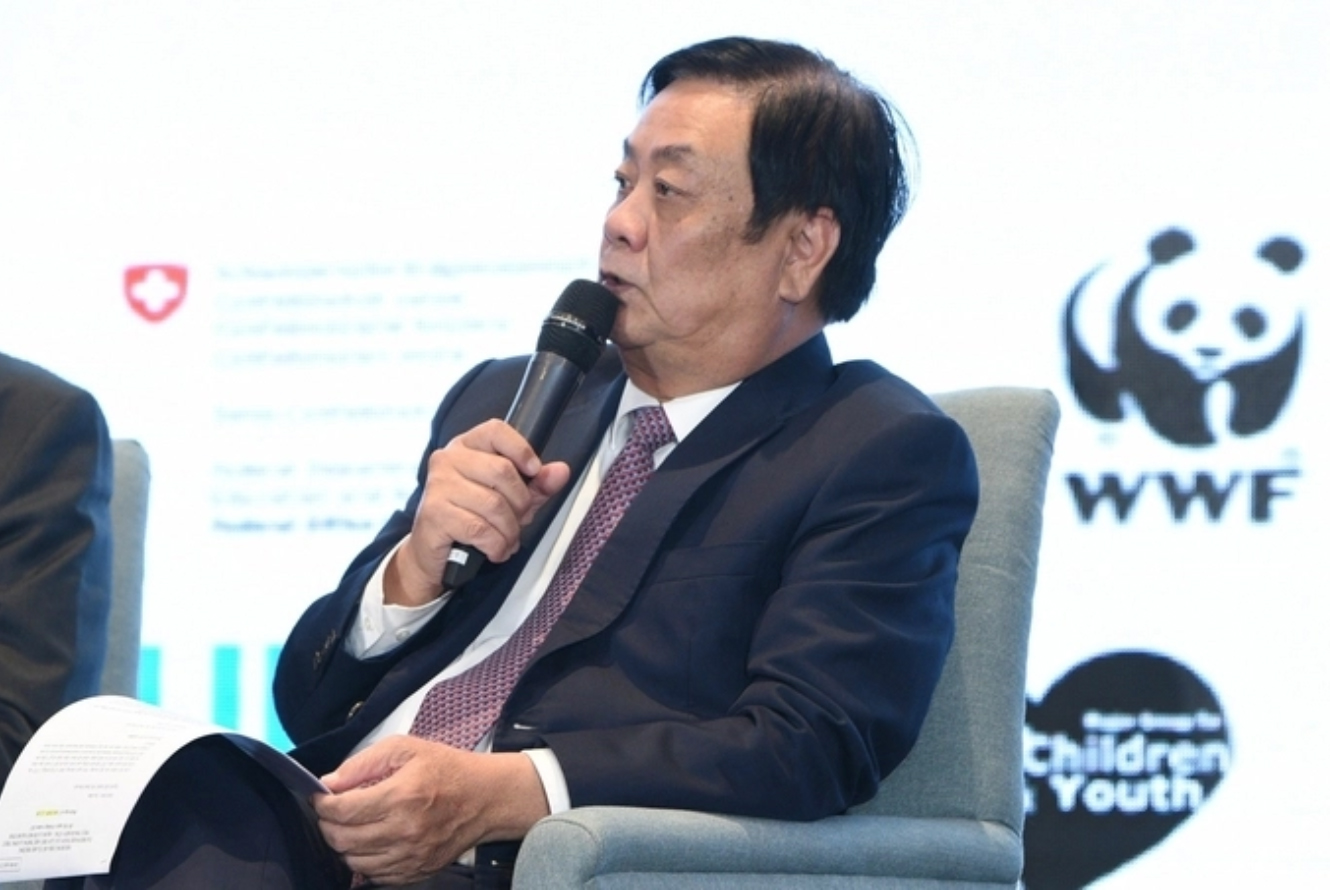 Subsequently, Vietnam's agricultural sector sets out five groups of tasks and solutions:
Firstly, review, evaluate and enhance mechanisms, policies, processes, standards and regulations for food production, processing and consumption with emphasis on transparency, responsibility and sustainability.
Secondly, develop the input supply system for agricultural production towards transparency, responsibility and sustainability.
Thirdly, develop agricultural production towards transparency, responsibility and sustainability.
Fourth, develop a food processing and distribution system towards transparency, responsibility and sustainability.
Fifthy, promote food consumption practices towards transparency, responsibility and sustainability.
Vietnam is in the process of restructuring the agricultural sector towards sustainable development and increasing added value. On the other hand, the country must take into account emerging factors including trade liberalization, climate change, smart agriculture and food loss.
With support from the United Nations agencies (FAO, UNDP, UNIDO, etc.), international organizations and the donor community, the Prime Minister was proposed to establish a "Food Innovation Center". Other ongoing projects include: "One million hectares of high quality and low emission rice Program"; "Agreement to reduce emissions in the North Central region"; a pilot model of carbon footprint calculation for rice, coffee, dragon fruit and shrimp chains.
Vietnam aims to become a transparent – responsible – sustainable food producer and supplier, meeting the food security and nutrition requirements of nearly 100 million Vietnamese and contribute to global food security.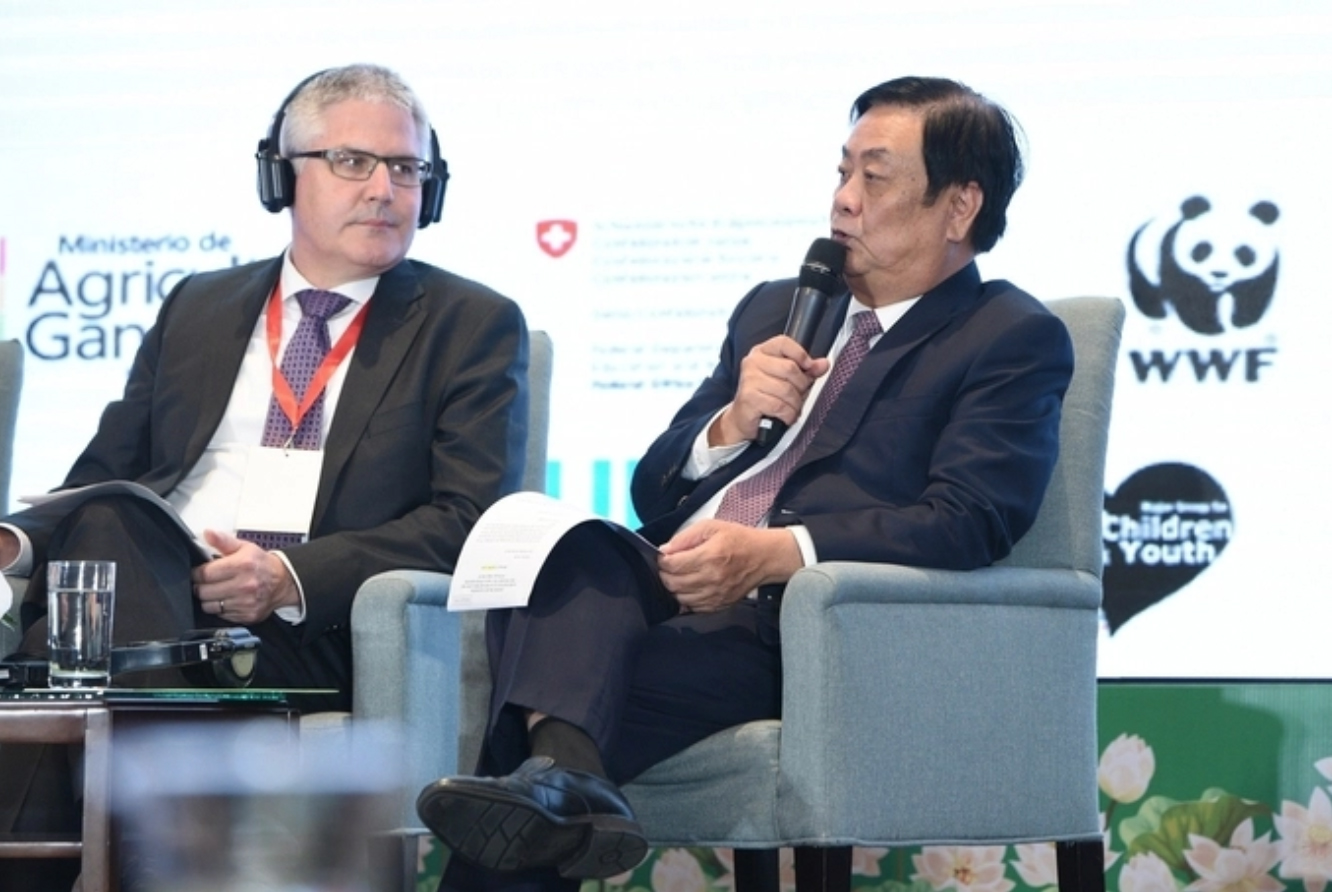 Mr. Christian Hofer, Minister of Agriculture of Switzerland shared that Switzerland has always been active in the transformation of the food system as well as organizing conferences to discuss the issue with participants of the One Planet Network. In addition, Switzerland is preparing for dialogues on the global food system.
The Minister said that local training courses play an important role in the aforementioned transformation. However, the United Nations Summit has tasked state members with accelerating the transformation at the national and regional level.
"After discussing with stakeholders, we agreed to establish a sustainable development strategy. Moreover, relevant governments need to contribute to the Summit in July 2023", said Mr. Hofer.
The Swiss Minister of Agriculture said that several driving factors affect the transformation: the increased availability of nutritious food; reduced food loss; increased participants in sustainable food production.
Switzerland has organized many workshops to familiarize its population with the latest policies on food safety. A National Evaluation Council will be established in the immediate future to perform joint assessment on this issue.
Last year, Switzerland compiled a report on the development orientation of agriculture towards 2030. The report included forecasts of the impact of climate change, growth of added value, and improvements in food production.
At the UN summit on Food in 2021, we acknowledged the need to transform the food system, but the momentum of national development must be maintained so that individual country can chart their own development course.
Mr. Meles Mekonen, Ethiopia's Minister of Agriculture, reported that based on the transformation results of 2021, Ethiopia has identified poverty reduction as one of its main tasks. The nation's success in reducing poverty has significantly improved.
Ethiopia has issued a national strategy from 2021, where a roadmap for food system transformation was deatiled with 5 key principles based on UN recommendations. Accordingly, suitable solutions based on indigenous knowledge of specific country were the highlights.
Ethiopia determines that the transition of the food system cannot be delayed. Instead of waiting for comprehensive solutions, we need concrete solutions that have immediate impact. The Government of Ethiopia plays an indispensable role in its food system transformation and the process is designed by the stakeholders.
Accoring to the Minister, Ethiopia's 10 priority programs will help diversify production programs through the diversification of food products, food safety certification, financial support, etc.
However, Ethiopia acknowledges that no industry or country can fully realize the goals of food system transformation alone. It requires the assistance of foreign partners to fully benefit from other nations' experiences.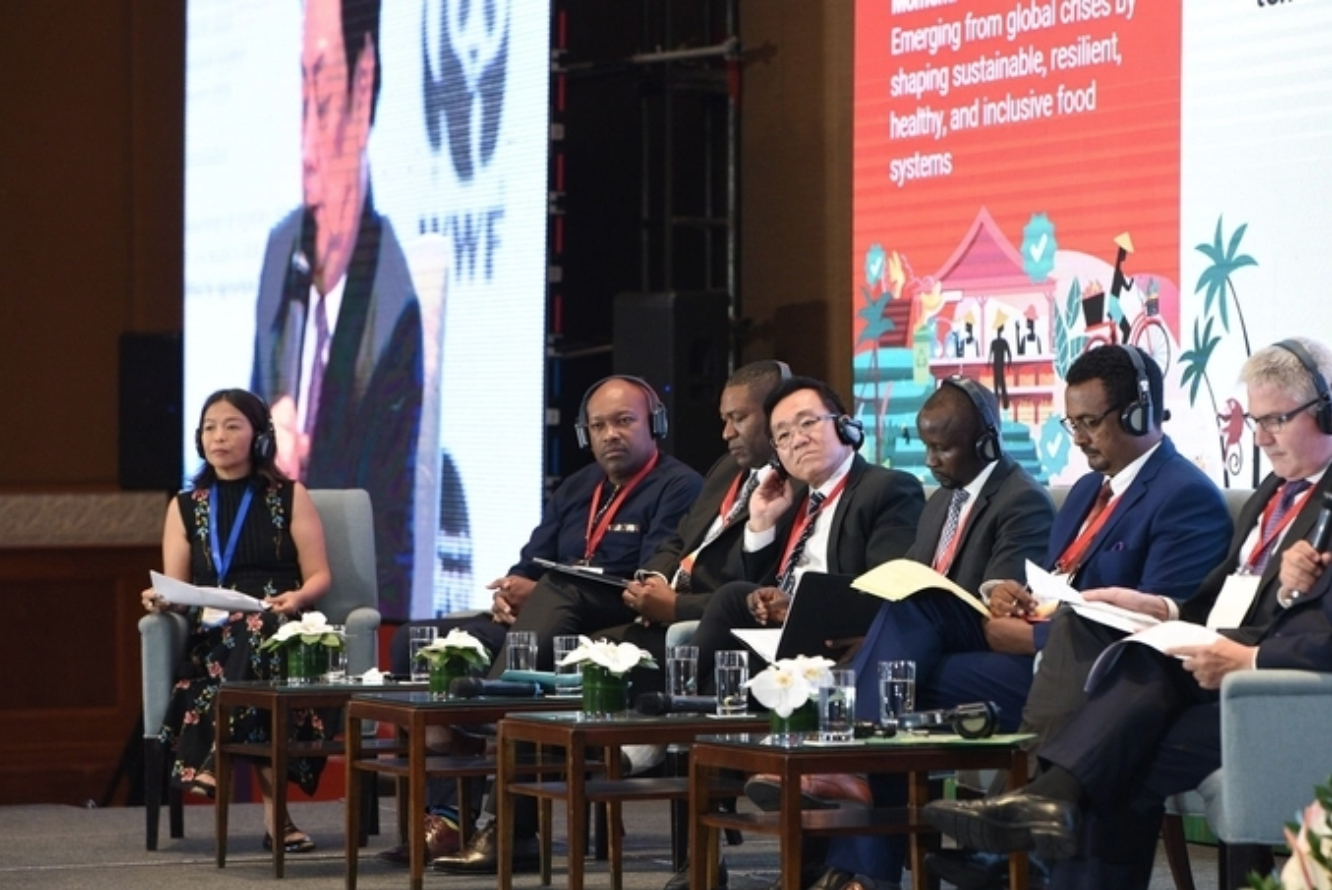 Second question: What have the countries accomplished in building and developing a sustainable food system?
Mr. Ildephonse Musafiri, Minister of Agriculture and Animal Resources of Rwanda, said that the country has developed a roadmap for food system transformation, including multiple measures to promote agriculture. For the next 5 years, Rwanda prioritizes implementing the commitments it made at the 2021 UN Summit.
However, Rwanda is facing major challenges in its food system transformation, including the need for multi-sectoral involvement. The Ministry of Natural Resources is required for environmental protection; the Ministry of Health is required for nutrition development and so on. In addition, they commended the Ministry of Education's efforts in raising people's awareness.
Rwanda held a "Agriculture Working Group Forum" with participation from the public and private sector, and farmers. With the help of the Forum, the agricultural sector has received feedback and discussed topics of sustainable agricultural development.
Additionally, Rwanda is focused on risk reduction. The country aims to minimize risks to the agricultural sector, including mitigating impacts from climate change.
Mr. San Vanty, Deputy Minister of Agriculture, Forestry and Fisheries of Cambodia praised the timely manner of the Global Conference in Hanoi.
The conference called for a joint transformation, but according to Mr. Vanty, we need to first pay attention to external factors such as climate change, the Russia-Ukraine conflict, etc. All of these events are affecting the global food system to a significant extent.
Consequently, many aspects are affected including transportation, energy, production costs, and input materials. Countries around the world have not focused on the development of science and technology, especially in the development of seeds. The agricultural sector also needs to pay attention to policies that regulate digitization.
The United Nations has many policies that focus on human issues. Nutrition is no longer the only requirement in food; products must also meet specific requirements such as healthy food, aimed at the needs of women.
Mr. Vanty also said that the challenge in transforming the food service system lies not only in the solution but also in changing the mindset of the people, especially the future citizens.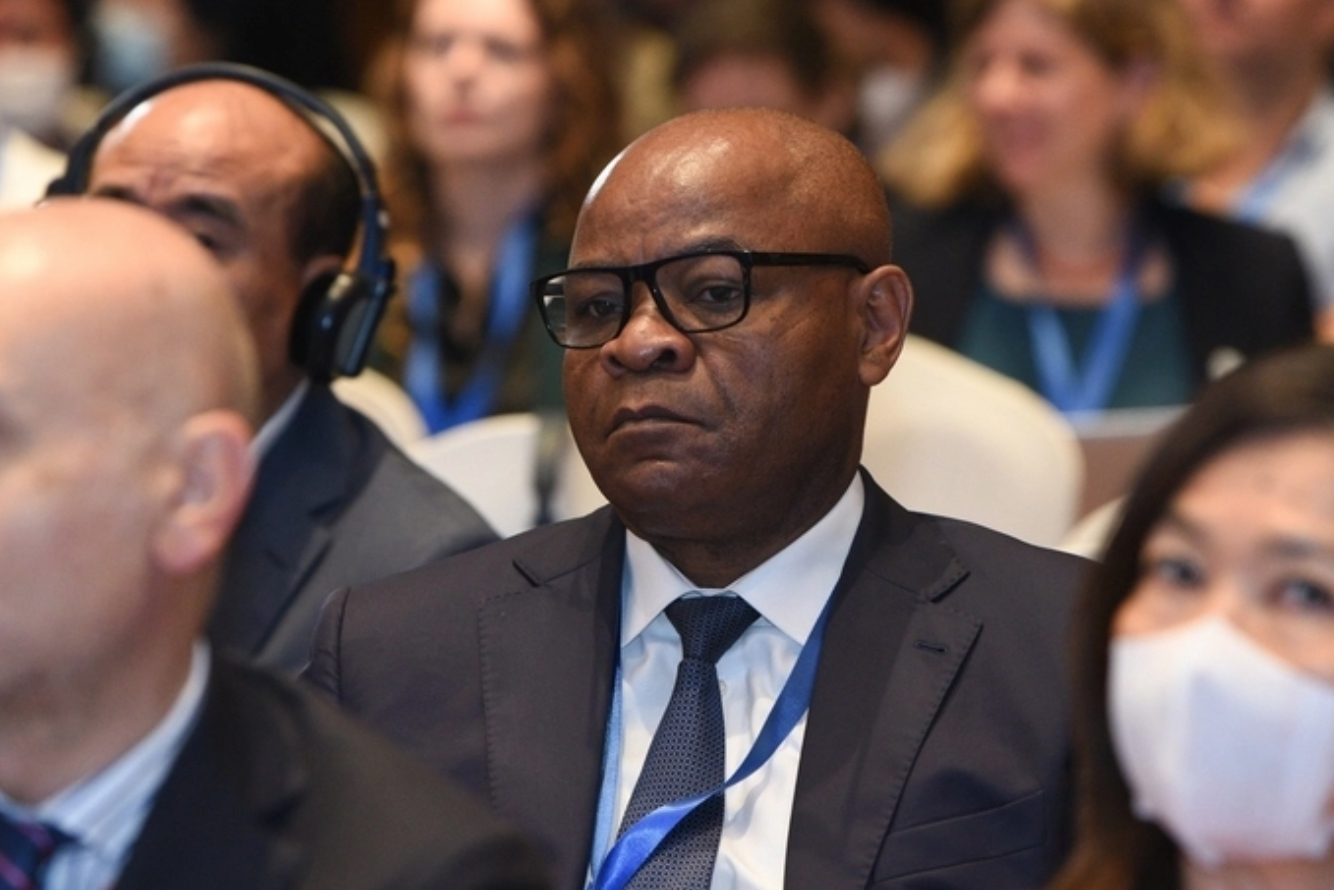 Third question: What are the difficulties, challenges and proposed solutions in sustainable food system transformation?
Mr. Samuel Kawale, Minister of Agriculture Malawi stated that Malawi has organized 16 different workshops on agricultural development. They realized that the needs of the people are different from those of organizations. The current consumption pattern has been assessed to be unsustainable and unhealthy; serious environmental degradation has also been reported at a national level.
Thanks to the workshops, Malawi had the opportunity to discuss solutions and establish a more suitable food system transformation path. Namely, the country will try to develop industrial promotion services.
A specific model is required for a different field to optimize efficiency. On the other hand, the country needs to determine the market structure to increase productivity and meet the needs of its people.
"We can't do it alone", emphasized the Malawian Minster. We need to participate in more international forums to identify our strengths and weaknesses.
Mr. Saboto Caesar, Minister of Agriculture, Forestry, Fisheries, Rural Transformation, Industry and Labor of St Vincent and the Grenadines stated as an island country,  they are interested in developing nutrition for the people and hope that the global conference can detail practical solutions for a healthier diet.
The Minister emphasized that with limited budget, it is difficult for them to fully allocate funds, and it is necessary to calculate both short-term and long-term goals.
The Latin American and Caribbean region currently aims to reduce hunger.St Vincent and the Grenadines emphasized believes that the future generation of agriculturists play an important role in building sustainable value chains.
Despite its problems, the Caribbean island nation is confident that it can overcome the effects of climate change, and unite to build a sustainable food system.
Bao Thang – Linh Linh / Translated by Nguyen Hai Long