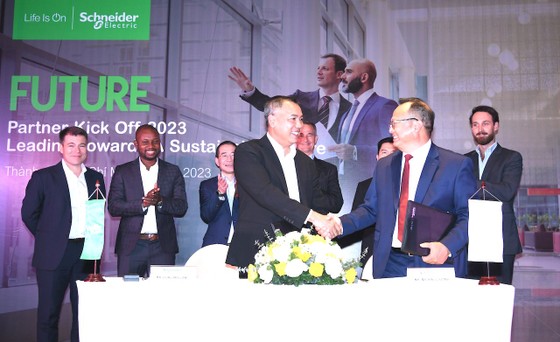 In the context that Vietnam is emerging as a dynamic economy with high growth rate in recent years with increasing demand for energy, especially electricity. Increasing demand for energy exposes energy operators and managers to sustainability and stability challenges, requiring coordination of both policy and technology to ensure control. carbon emissions during operation.
Schneider Electric Vietnam collaborates with ACCV to apply innovative technology solutions and breakthrough business models such as smart grid solutions and EV fast charging, to reduce carbon emissions in the operating processes of its plants. commercial and industrial buildings.
Specifically, the real-time distribution network model allows power companies to implement smart grid strategies such as demand management and integration of renewable energy sources. The development of flexible power sources that can respond quickly to changes in renewable energy generation capacity and power load evolution.
In addition, Schneider Electric provides EV fast charging solutions for commercial and industrial buildings. EV fast charging solution is a solution for charging electric vehicles such as electric cars, electric motorbikes, electric buses, etc. to become more sustainable and efficient. This technology solution of Schneider Electric can fully meet the increasing demand for environmentally friendly means of transport. In fact, a US study has found that adjusting EV charging appropriately can limit CO2 emissions into the environment each year.
Dong Mai Lam, General Director of Schneider Electric Vietnam & Cambodia shared about the importance of strategic partners in cooperating to reduce carbon emissions, limiting global warming to no more than 1.5 degrees Celsius. .
Mr. Dong Mai Lam emphasized: "Creating opportunities for cooperation with like-minded partners in promoting decarbonization is one of the key points in the strategy of building a partnership for a future. lasting. In Vietnam, we pioneer in our commitment to reduce carbon emissions in Commercial & Industrial Buildings, while connecting progress and sustainability with disruptive models and key technologies."
Representative of ACCV – Clean energy solution developer, Mr. Michael Viet Luong said: "I believe that, through this cooperation, we can help customers in particular as well as Vietnam in general to achieve this goal. Net-Zero goal by 2050."
P.V