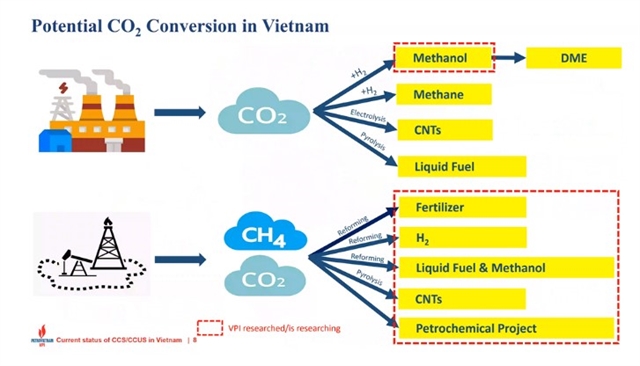 The application of carbon capture, usage and storage (CCUS) to achieve the goal of net zero emissions is still in its early stages, particularly in developing countries like Việt Nam, said Assoc. Prof. Phạm Huy Giao, director of the Smart Geophysics Solutions JSC (SGS).
The Việt Nam Petroleum Institute (VPI) and SGS have jointly held an international scientific workshop on CCUS experimentation and modelling in Hà Nội.
The workshop on Wednesday focused its discussions on various topics, including the demand, current status, potential, and solutions for CCUS projects in Việt Nam, as well as CO2 storage models, and the application of numerical modelling and dynamic simulation to assess the reliability of CO2 and hydrogen storage underground.
It also shared the latest technologies, challenges, and experience in carrying out CCUS projects elsewhere in the world, reviewed the necessity and benefits of CCUS networks, explored testing and modelling in the CCUS process, and proposed joint studies on CCUS with the participation of experts from Australia, Canada, Thailand and Việt Nam.
According to VPI Deputy Director Dr. Nguyễn Minh Quý Việt Nam has the potential to develop a complete CCUS value chain, including CO2 capture, transportation, utilisation and storage. In 2011, Việt Nam became the first country in Southeast Asia to successfully implement a CO2-enhanced oil recovery project at the Rạng Đông field, Block 15-2, in Cửu Long basin.
With a commitment to achieving net-zero emissions by 2050, Việt Nam recognises the importance of CCUS in reducing greenhouse gas emissions, as stated in the National Strategy for Climate Change to 2050, he said.
The VPI predicted that 6 per cent of current CO2 emissions will be removed by 2030 through the conversion of CO2 into other products such as urea, methanol, and ethanol, among others.
According to VPI's report, around 39 gigatons of CO2 could be stored in sedimentary basins in the northern and north-central coastal regions while nearly 10 gigatons could be stored in the southeast and southwest and roughly 22 gigatons in Nam Côn Sơn basin.
(VNS)