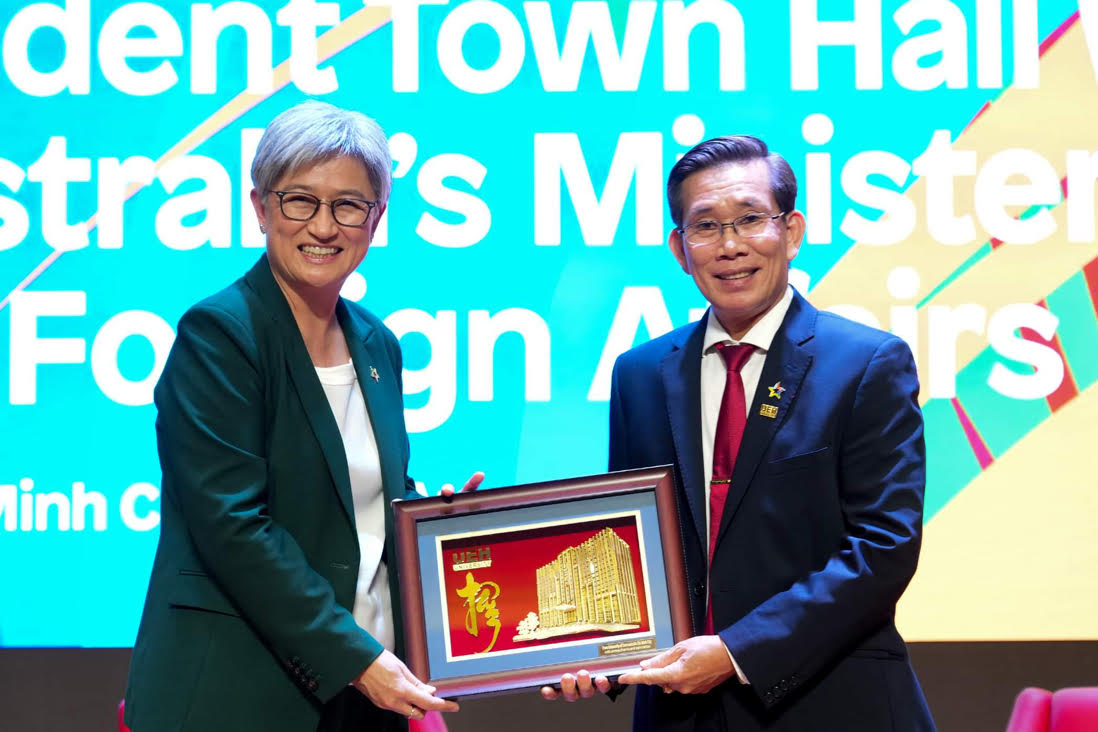 During his welcome speech, UEH president Su Dinh Thanh emphasized that events like Foreign Minister Wong's visit create bridges that connect the two nation's endeavors, ambitions, and futures.
"Minister Wong's visit [to UEH] serves as a confirmation of the critical role education plays in boosting ties," Thanh said.
Sharing Thanh's viewpoint, Minister Wong stated that she understands Vietnamese student's desires to access advanced education, and UEH is an example of the substantial connections between Australia and Vietnam.
Speaking of the relationship between the two countries, the minister pointed out that Australia sees Vietnam as a very important partner and friend.
"Perhaps some of the questions will go to some of the challenges we face, whether they are strategic competition, climate change, sustainability," Minister Wong said.
"The world is being reshaped and much of that reshaping is occurring in the region in which we live and share."
She suggested that nations should focus more on the provision of goods and services that bring related values in light of the fact that the majority of the world's economies have been committed to lowering emissions by 2030.
"Those countries that can actually take advantage of such values, as the world will increasingly ascribe to low emissions or clean-energy goods and services, will be the countries which will thrive in that world," the minister stated.
"What's the similarity, or what's the connection between sustainable development goals and trade? They are frameworks where the international community has come together to agree on common arrangements and common goals that all countries, regardless of size or power, can benefit from," Wong replied to a question from a UEH student.
"We are countries with influence, but neither of us is one of the superpowers. So we want arrangements internationally that enable us to prosper and to operate in the international sphere," the minister explained.
Wong was on a four-day working trip to Vietnam, scheduled for Monday through Thursday, at the invitation of her Vietnamese counterpart Bui Thanh Son.
Nghi Vu