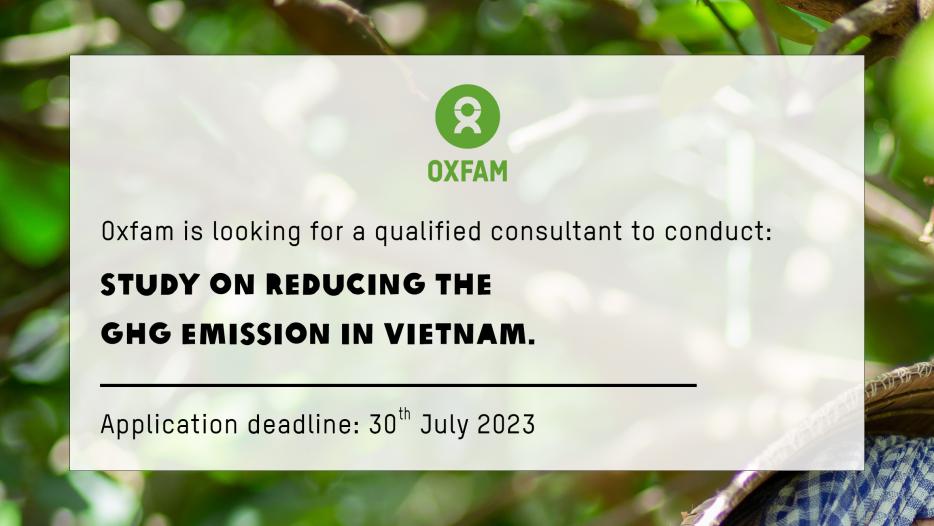 I. Rationale
In Vietnam, for achieving the net-zero roadmap, it is essential to engage the entire political system, central and local authorities, organizations, and especially responsibly joined business community.
The private sector accounts for 40% of the country's GDP, and employes 85% of the workforce, and plays an important part in mobilizing resources for socio-economic development and project investments. Therefore, the private sector and related stakeholders are key to reducing GHG. However, the role and the mechanism on how they are involved in the process is needed to further discuss and strengthened.
II. Scope of work and required outputs
The consultant is expected to provide: (1) a comprehensive national-level analysis of the situation and relevant policies to achieve the Net Zero target in 2050 which is focusing on the participation of private sector and relevant stakeholders in Vietnam; and (2) recommendations for mainstreaming meaningful participation of the private sector and relevant stakeholders into the roadmap development at provincial and national level.
The following activities are recommended to carry out:
1. Conduct research on the situation and relevant policies, roles, opportunities, and mechanisms of the private sector and relevant stakeholders to contribute to net zero road map.
2. Review the relevant and targeted policies for promoting the private sector and relevant stakeholders in the net zero roadmap development with in-depth analysis on green transition.
3. Organize technical workshop for engaging relevant stakeholders and mobilizing the contribution of the private sector to achieve the net zero targets.
4. Study the process of the roadmap development at provincial level. Two provinces will be selected as case studies.
5.Develop recommendations for mainstreaming meaningful participation of the private sector and relevant stakeholders into the roadmap development at provincial and national level.
III. Schedule of consultancy services
Required outputs include:
The first draft of a report to show the result of the related policy analysis at national level, and formulation and implementation of the net zero roadmap at selected provinces and recommendation to strengthen the involvement of private sector and other stakeholders, by 10 September 2023.
The final draft of the report will be delivered by 30 October 2023.
IV. Consultancy requirements
The ideal consultant is to have the following qualities:
Advanced degree (Master's or higher) in climate change, energy, natural resource management, environmental sciences, or a related discipline.
At least 8 years of experience in working on climate change mitigation in Vietnam.
Having experience in reviewing policies and processes related to climate change at different scales including the national and provincial levels.
Demonstrated ability to mobilize and facilitate dialogues between governmental authorities and other stakeholders in the field of climate change.
Demonstrated ability to write technical reports which can be readily understood by decision-makers and the public.
Strong work ethics, including commitment, responsibility, team spirit, and timely delivery.
Experience in working in/ with international organization(s) in the field of Climate Change is an asset.
V. Submission of proposals
Interested companies/consultants are required to submit proposals by 30th July 2023 via e-mail to hr.vietnam@oxfam.org. Kindly indicate the title of this ToR in the subject line when applying by email. Only shortlisted companies/ consultants will be contacted for interviews.
Application in English or Vietnamese should include the following:
A technical proposal that includes:

Methodology to conduct the assignment.
Work plan including proposed technical workshop schedule.
Description role of each expert (for a team/ company only).

CV(s) or profiles of the company/consultants to carry out the tasks.
Financial proposal for the service.
Please note, only short-listed candidates will be notified. Thank you!
All our work is led by three core values: Empowerment, Accountability, Inclusiveness. To read more about our values please click here.

Oxfam is committed to preventing any type of unwanted behavior at work including sexual harassment, exploitation and abuse, lack of integrity and financial misconduct; and committed to promoting the welfare of children, young people and adults. Oxfam expects all staff and volunteers to share this commitment through our code of conduct. We place a high priority on ensuring that only those who share and demonstrate our values are recruited to work for us.