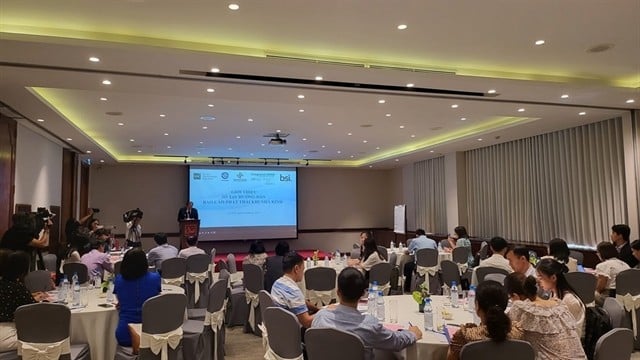 The manual was developed with technical support from the IFC, the Swiss Federal Economic Commission (SECO) and the UK National Standards Agency (BSI) in Việt Nam in an attempt to support businesses to make easier GHG emissions inventory and reporting while meeting legal requirements, towards net-zero emissions.
According to SSC Vice Chairman Phạm Hồng Sơn, the book is useful for businesses in implementing legal regulations on information disclosure about sustainable development.
The promotion of green and sustainable finance is a long-term priority of the SSC. The commission has called for active participation of the business community and investors in order to create a sustainable foundation for green growth and sustainable development, he added.
Việt Nam has achieved positive results in building a system of legal documents governing sustainable finance, improving standards of corporate governance and information disclosure associated with the Environmental, Social and Governance (ESG) criteria (a set of standards to measure factors relating to sustainable development and the impact of businesses on the community), capacity building and raising awareness of both regulators and market participants, investors about green financial instruments and sustainable development.
Through training programmes on GHG management and reporting, participants learned about the international context, causes and mechanisms of climate change, and sources of greenhouse gas emissions.
They were also guided on issues and contents to be included in the report, as well as the process and way of reporting greenhouse gases according to ISO 14064-1:2018.
ISO 14064-1:2018 specifies principles and requirements at the organisation level for quantification and reporting of greenhouse gas (GHG) emissions and removals. It includes requirements for the design, development, management, reporting and verification of an organisation's GHG inventory.
(VNS)