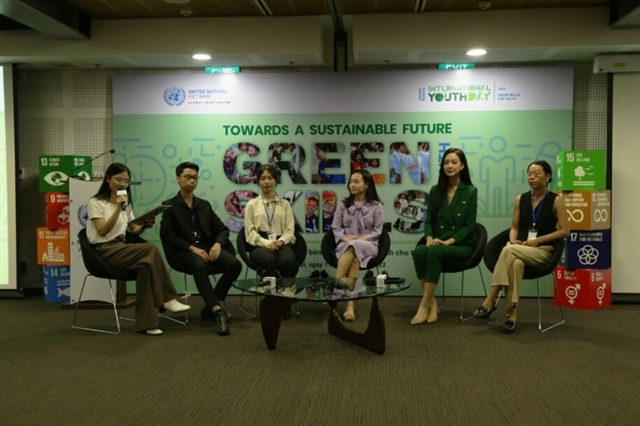 Young individuals engaged in discussions about green skills at an event on Friday marking the International Youth Day, set for the following day.
Hosted by the United Nations in Việt Nam, the event saw involvement from the HCM Communist Youth Union and the Department of Youth Affairs, part of the Ministry of Home Affairs.
The occasion centred on the theme "Towards a sustainable future: Green skills for youth", underscoring the potential of green skills in propelling the youth towards a more sustainable and greener future for Việt Nam.
During two panel discussions, the youth and associated stakeholders delved into insightful conversations about the education and hands-on application of green skills.
Given the global shift towards addressing climate change, a green transition is underway, presenting fresh economic prospects for the youth. By 2030, this green shift is expected to generate 8.4 million job opportunities for the younger generation.
The representatives confirmed that to shape their future and contribute to the green economy, young people need to be equipped with green skills – the practical tools and knowledge that allow them to utilise the power of eco-friendly technologies and to make environmentally conscious decisions in both their professional and personal lives.
United Nations Resident Coordinator in Việt Nam Pauline Tamesis said: "At this moment, the demand for green skills is outpacing its availability. By 2030, 60 per cent of young people may lack the necessary skills to thrive in the green economy."
"We must address this disparity and ensure that everyone, regardless of their background or gender, has equal access to these skills," she said.
United Nations Development Programme (UNDP) Resident Representative Ramla Khalidi said: "As Việt Nam steers its national efforts toward a just energy transition and a net-zero future, it is crucial to undertake substantial labour force transformations that fuel a green and low carbon economy."
She added that Vietnamese youth needed to be well-prepared and armed with green knowledge, skills and competencies to be part of these workforces.
"Embracing new opportunities to cultivate green jobs and future-oriented skills is more than an investment in their potential, it is a commitment to a sustainable world," she said.
On behalf of the youth at the event, first runner-up at Miss World Việt Nam 2022 Lê Nguyễn Bảo Ngọc, said: "Green skills opened new opportunities for young people to contribute to a more sustainable society. I am excited to see what Vietnamese young people can achieve by applying these skills."
(VNS)