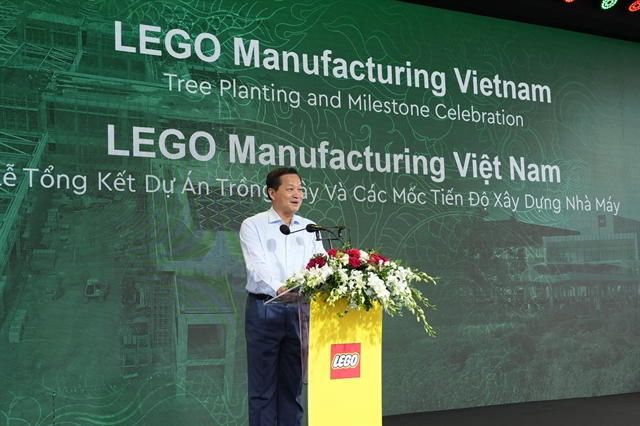 The LEGO Group on September 15 celebrated the planting of the 50,000th tree at its under-construction factory in the southern province of Bình Dương in the presence of Deputy Prime Minister Lê Minh Khái.
Speaking at a ceremony held to mark the event, Khái applauded the LEGO Group for its efforts to plant 50,000 saplings in place of trees that had to be cut down to build its factory in the Việt Nam – Singapore Industrial Park No.3 and use renewable energy for production.
He said Việt Nam and Denmark established a strategic partnership for the environment, energy and green growth and tackling climate change in 2011.
LEGO has made significant progress in the construction of its state-of the-art plant since it began in November last year.
The Vietnamese Government and local authoritities in Bình Dương Province are creating favourable conditions for the project to achieve its milestones, Khái said.
Preben Elnef, vice president of the LEGO Group, said more than 2,000 construction workers are building the plant and the number would double by the end of 2023.
"As construction is underway, we are grateful for the continued support from authorities and our partners, whose collaboration has ensured that we are on track to begin production in the second half of 2024, allowing us to reach even more children with learning through play and creating long-term growth in the Asia-Pacific."
The company completed its planting task with seven different species native to Việt Nam, he said.
The US$1 billion, 44ha factory is designed to be the company's most sustainable anywhere in the world and support its sustainability ambitions to reduce carbon emissions by 37 percent by 2032.
It will be achieved by installing rooftop solar panels and building a solar power plant on a neighbouring piece of land, which together could meet the factory's total energy requirements.
The plant will use the latest energy-efficient production equipment while buildings and manufacturing processes are being designed to minimise energy use.
The company plans to hire 100 employees this year and 500 by the end of 2024.
LEGO, founded in Billund, Denmark, in 1932 by Ole Kirk Kristiansen, sells its products in more than 130 countries.
(VNS)