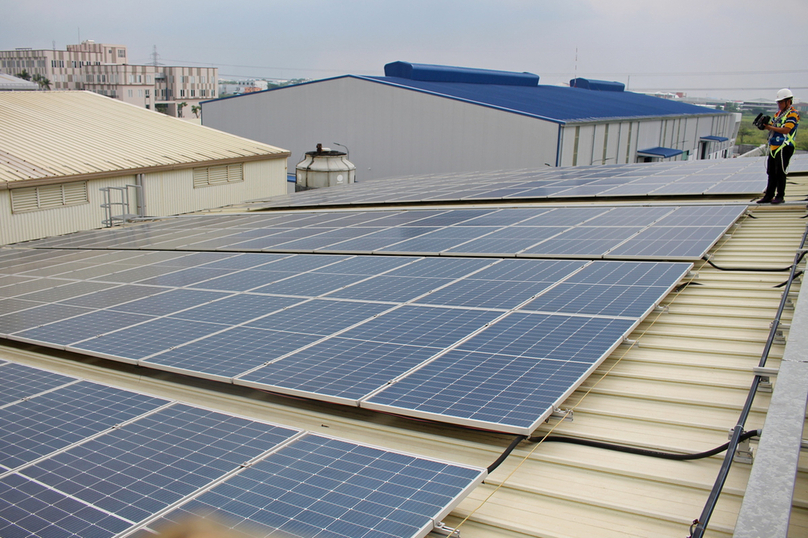 "Clean electricity" – one stone hitting many targets
To reduce costs in 2021, Power Engineering Consulting Joint Stock Company 2 (PECC2-MOC) invested in a 420 kWp solar battery system at its headquarters and a 750k Wp battery energy storage system (BESS).
"Although the self-produced solar was not enough to meet the needs of the entire building, it has helped the company save 50% of its monthly electricity costs," said Nguyen Quoc Van, deputy director of the firm's power plant management and operation center.
A representative of packaging producer Kim Duc Group JSC at Vinh Loc 2 Industrial Park in the Mekong Delta province of Long An, said that in order to save electricity costs and contribute to environmental protection, the company had decided to install a solar power system on the roof of its factory.
The solar system has been operational since 2021 with a total capacity of 2.22 MWp, using 4,937 solar panels, eight 110 kW inverters, and thirteen 75kW inverters.
In 2022 alone, the system generated nearly 2,600 MWh of electricity, helping to reduce emissions by about 1,900 tons of CO2, equivalent to nearly 31,000 trees planted over 10 years. Solar power generated from the system accounted for 12-13% of the plant's electricity consumption.
A mountain of barriers
According to Vu Anh Tien, another deputy director of PECC2-MOC's power plant management and operation center, because solar power plants only produce electricity when there is sunlight, the company has been forced to invest a huge sum in a BESS to ensure a continuous supply. Currently, a 2.5 MWh BESS is priced at more than $1 million. This is a barrier standing in the way of becoming self-dependent on solar power.
Meanwhile, Pham Dang An, deputy general director of Vu Phong Energy Group JSC, said current regulations on businesses generating solar power for sale are not specified, hindering this type of investment.
Dr. Nguyen Anh Tuan, former director of the center for renewable energy center under the Institute of Energy, said that according to the PDP VIII, Vietnam's solar power capacity will reach 20,591 MW by 2030 and 189,000 MW by 2050. However, due to the high prices under the government's preferential feed-in-tariffs (FiTs), solar power has become "overheated", accounting for 20.5% of the country's total power capacity or 16,567 MW.
The 20-year preferential FiTs are 9.35 U.S. cents per kWh (Decision 11/2017) and 7.09-8.38 U.S. cents per kWh (Decision 13/2020) for solar power projects that became operational by December 31, 2020; and 8.35-9.8 U.S. cents per kWh (Decision 39/2018) for wind power projects that became operational by November 1, 2021.
As a result, the national power grid has become overloaded, he noted. Thus, although investors have proposed many new solar power projects, they have not yet been added to the new plan.
However, to promote the energy transition process, the government has encouraged self-produced, self-consumed rooftop solar power, striving for 39,500 MW from this source by 2050, he added.
Nguyen Hoang Dung, head of the Renewable Energy Department of the Power Engineering Consulting Joint Stock Company 3 (PECC3), said the PDP VIII features a sharp increase in investment in renewable energy sources after Prime Minister Pham Minh Chinh committed to net zero emissions by 2050 at the 2021 United Nations Climate Change Conference (COP 26).
"However, to achieve this goal, the Ministry of Industry and Trade must complete a draft implementation plan to submit to the Prime Minister for approval. Once that plan is in place, relevant agencies can propose specific actions," he noted. Renewable energy investment and business activities are still waiting for these new regulations, he added.
As of May 2023, Vietnam's power network had a total installed capacity of 80,704 MW, ranking second in ASEAN (after Indonesia) and 23rd in the world. Of which, coal power accounted for about 26,087 MW, or 32.3%; hydropower 22,999 MW, 28.5%; solar power 16,567 MW, 20.5%; gas-fired power 7,398 MW, 9.2%; and wind power 5,059 MW, 6.3%.
Phu Khoi, Thanh Tra