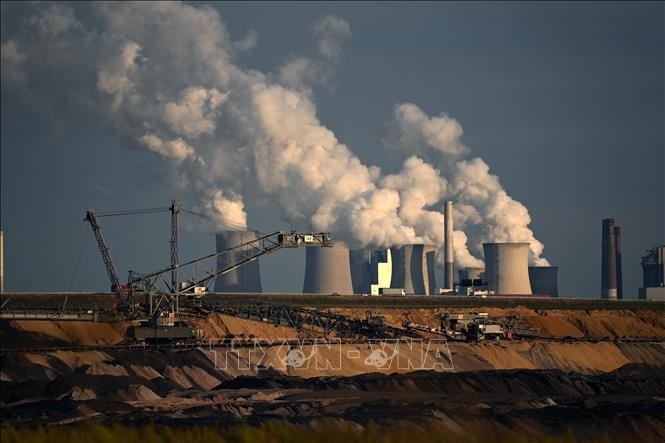 The European Union (EU) has officially launched the process of imposing a carbon tax on imported goods from early October 2023. According to the EU's Carbon Border Adjustment Mechanism (CBAM), all goods exported to this market of more than 500 million people will be subject to a carbon tax, based on the intensity of greenhouse gas emissions in the production process of the host country. As the world's first mechanism to impose a carbon tax on imported goods, CBAM has faced some mixed opinions.
WTO Director-General Ngozi Okonjo-Iweala said that some WTO member countries view cross-border carbon taxation as a protection measure. Meanwhile, many countries face difficulties without having carbon pricing tools for exported goods. Therefore, the WTO decided to develop a global carbon pricing method that all countries can apply, to ensure the competitiveness of developing countries, as the trend of cross-border carbon taxation gradually becomes popular.
This is not the first time global carbon pricing has been mentioned. At the 27th Conference of the Parties to the United Nations Framework Convention on Climate Change (COP27), Canada launched a global carbon pricing initiative. Through the initiative, member countries share information and experiences to support the implementation of carbon pricing tools, aiming to achieve net zero emissions by 2050.
So far, there have been nearly 10 countries participating in the initiative, such as Norway, Chile, New Zealand, Denmark, the UK, the Republic of Korea and Germany. General Director of the International Monetary Fund (IMF) Kristalina Georgieva emphasised, that global carbon pricing is a solution to ensure fairness in responding to climate change. High-emitting countries must contribute more to the fight against climate change while developing countries contribute based on their real greenhouse gas emissions.
Experts say that carbon pricing attracts the attention of many countries because it is considered a tool to control environmental pollution, and the potential of this market is huge. According to the World Bank (WB), in 2022 alone, countries collected 95 billion USD in carbon emission fees, up from 84 billion USD recorded in the previous year and also the highest level ever. European Commission (EC) President Ursula von der Leyen said, that the EU's carbon trading system has helped reduce the bloc's emissions by 35%, since 2005, while generating more than 152 billion EUR in revenue.
Carbon pricing is also an important tool to help countries balance environmental protection and economic development. In the recently published Fiscal Monitor report, the IMF said that by only relying on existing spending measures to implement climate goals, the world's public debt could swell to a level equivalent to 50% of Gross Domestic Product (GDP) by mid-century. Therefore, the implementation of a policy package, including carbon credit trading and carbon taxation, can significantly reduce the long-term impacts of the climate transition, on the public debt of governments.
Although it is a goal that many countries and international organisations are working towards, global carbon pricing also faces many obstacles. According to the World Bank, carbon prices in most regions of the world remain below the level needed to drive changes to meet the requirements of the 2015 Paris Agreement on climate change.
In addition, the difference in carbon prices between EU countries, the US and developing countries is still very large. The IMF recommends a global average carbon price of 75 USD per tonne, by the end of this decade. Meanwhile, the Organisation for Economic Cooperation and Development (OECD) estimates that, by 2030, a carbon price of 147 USD per tonne of new emissions will be enough to create the necessary economic momentum, to realise the target of net zero emissions by 2050.
The disparity in levels of development between economies is posing a major challenge for all countries to agree on a uniformly high global carbon price.
Climate experts say it is necessary to reduce carbon pollution levels by nearly half in the next 10 years, to achieve the goal of limiting global warming and avoiding extreme weather events. However, according to the Director at the Centre for International Climate Research in Oslo (Norway) Glen Peters, emissions are continuing their upward trend, expected to increase from 0.5% to 1.5% this year, reaching a new record. In that context, the development of a global carbon pricing method becomes more urgent than ever, helping countries accelerate green transition and reduce greenhouse gas emissions.
Tien Dung