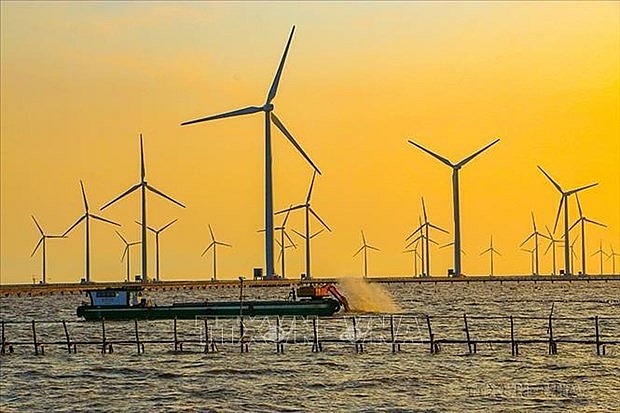 Science and technology, which has played a significant role in promoting socioeconomic development, is also the motivation and key for Vietnam to complete the net-zero emission commitment by 2050, which was given by Prime Minister Pham Minh Chinh at the 26th UN Climate Change Conference (COP26), according to experts.
Nguyen Tien Tai, Vice Director of the Department of Science and Technology for Economic Technical Branches under the Ministry of Science and Technology, said that recognising the significance of science-technology as the key for national socioeconomic development, the Prime Minister has issued a Decision approving a national strategy on science, technology and innovation promotion until 2030.
The strategy underlined the need for research and application and mastering of technologies in greenhouse gas (GHG) emission reduction, and the strengthening of application of green production and environmental-friendly solutions as well as waste treatment and recycling technologies at a reasonable price.
It also stressed the need for developing, applying and transferring advanced technologies and modern equipment for waste recycling as well as technologies to gather and store carbon released from thermal power plants and other carbon-causing production facilities.
In order to implement the assigned tasks, the MoST has approved a programme to research, apply and develop energy technologies, which has been implemented since July 2022.
The objectives of the programme include applying and mastering advanced technologies and technological equipment in effectively exploring, exploiting, producing and using primary energy sources, clean energy, bio-energy and renewable energy, contributing to reducing greenhouse gas emissions and realising the national energy development strategy and orientations.
It also aims to develop technologies in exploiting solar, wind, biomass, hydrogen and some other new forms of energy.
Alongside, the MoST Minister has also approved some other similar programmes in the areas of environmental industry, environmental protection, natural disaster prevention and control, and climate change response.
Tai said that the ministry is seeking partners to implement tasks in international cooperation in science and technology, while seeking financial support for the development, application and transfer of advanced solutions, models and technologies.
In the time to come, the MoST will continue to focus on implementing its tasks in high-tech application and development and mobilising resources for the work, he said./.
(VNA)