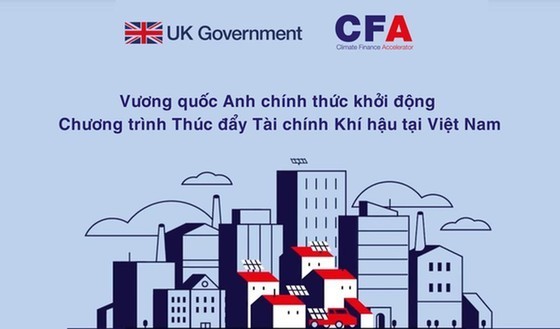 UK Minister of State for Energy Security and Net Zero Graham Stuart has just introduced the second phase of the Climate Finance Accelerator (CFA) program at a launch event in Ho Chi Minh City on August 2 with the presence of alumni from the CFA's previous cohort and investors from across the country.
After CFA in Vietnam's successful first phase, the British Embassy in Vietnam is now looking for projects at the pre-feasibility stage and seeking investment of at least US$5 million for the second phase. The call for proposals is now open and interested projects can apply online.
Launched in Vietnam in 2022, the UK government-funded CFA is a technical assistance program that responds directly to the urgency and scale of the climate crisis. It brings together project developers and financial experts who can develop and finance climate projects at scale, offering technical assistance and support with financial models and pitch materials, as well as advice about enhancing gender equality and social inclusion (GESI).
British Ambassador to Vietnam Iain Frew emphasized that the launch of the next phase of CFA Vietnam proved that the first phase was successful. The projects in the first phase have met potential investors through the program. He said that he was delighted that conversations between project owners and financial organizations are continuing hoping that these engagements will lead to investment and a positive contribution to tackling the climate crisis in Vietnam.
He added that the Embassy is very grateful to the financial organizations of the first phase that have supported the CFA so far. He revealed that they are continuing to work with the embassy for the following phase. He stressed that the UK is committed to supporting Vietnam to transition to a net zero, climate-resilient and nature-positive future.
According to the British Ambassador, the UK's low carbon transition has involved the active participation of the private sector and green finance. Low-carbon ventures can play a similarly important role in supporting Vietnam in achieving its net zero goals,
The Climate Finance Accelerator (CFA) is a £11.8 million technical assistance program funded by International Climate Finance (ICF), through the UK Government's Department for Energy Security and Net Zero (DESNZ).
The CFA is currently implemented in nine countries including Colombia, Egypt, Mexico, Nigeria, Pakistan, Peru, South Africa, Turkey and Vietnam and is working on low-carbon projects in each country. The CFA is part of the UK's efforts to support climate action on a global scale, facilitating access to finance and helping governments achieve climate targets under the Paris Agreement.
The CFA Vietnam's first phase has selected nine innovative low-carbon projects seeking a total of over £500m investment from sectors including renewable energy, energy efficiency, e-mobility, circular economy and waste management.