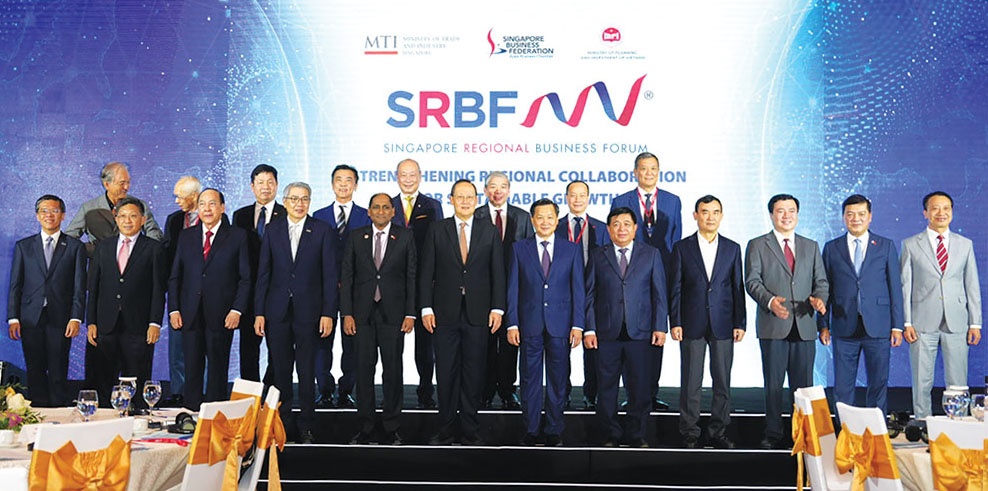 Visiting Vietnam last week to attend the Singapore Regional Business Forum (SRBF) on July 7, Ashleigh Toh, Strategy and Innovation manager at tech service provider NCS, said it felt different to her previous visits, and this time she expected to seek partners and business opportunities.
"It's great to see a bit more focus on building up capabilities within the country and the use of technology, and I was very excited," she said. "We want to continue to expand within APEC, with Vietnam being one of the markets."
NCS, which is a member company of Singtel Group, has a huge presence in Singapore. It also has a small team in Hanoi, serving various clients.
BIPO Service Singapore was also at the forum, and has had an office in Hanoi for six years. "We seek to collaborate with Vietnamese companies to go out into the wider global market to go beyond Vietnam," Albert Liew, managing director for Singapore and Indochina, told VIR.
"We hope we can serve as a catalyst to help drive this because we provide a piece of software that can be applied across multiple geographic domains."
Technology and digital transformation are among new growth areas Vietnam and Singapore are targeting to boost ties. The others are clean energy, sustainable development, and smart cities. This trend is being enforced by Singapore and Vietnam's Green Digital Economic Partnership MoU signed in February this year, and a number of MoUs and commitments made at the SRBF.
Twelve MoUs in sustainability, digitalisation, financial services, and human capital development were signed at the event between public and private sector organisations from Singapore and Vietnam, including between trade associations and business chambers, as well as higher education institutions and financial institutions. They will deepen collaboration opportunities between Singapore and Vietnam.
In the banking field, during the forum, the Singapore Business Federation (SBF) and UOB launched a joint corporate social responsibility initiative to nurture young talent in finance, technology, and innovation.
Kok Ping Soon, SBF CEO said, "The region is ripe for an acceleration of regional collaboration and growth. The agreements signed today are reflective of the keen interest in deeper collaboration to seize regional opportunities and build stronger businesses and economies. SBF will support our companies to be part of the region's growth."
As part of the event, 24 Singapore businesses in services, manufacturing, and lifestyle/consumer industries took a tour of key economic sites in northeastern province of Quang Ninh to learn about potential business opportunities there. They also learned about the emerging business landscape and investment opportunities in Haiphong, Hung Yen, and Nghe An.
Separately, the Singapore Furniture Industries Council also led a delegation of 20 business leaders from 15 member companies to explore potential collaborations with Vietnamese companies.
Singapore is the second-biggest foreign investor in Vietnam with a total number of 3,200 projects and accumulative registered capital of $73.4 billion, according to Vietnam's Ministry of Planning and Investment. Singaporean businesses have joined almost all of Vietnam's business sectors.
Meanwhile, Vietnamese investors have poured money into about 150 projects in Singapore with the total registered capital of $700 million, mostly focusing on professional activities and sci-tech.
Singapore is also a leading trade partner of Vietnam in the region, with total two-way trade turnover reaching $9.2 billion in 2022, up 11.6 per cent from 2021.
According to the Ministry for Manpower and Ministry for Trade and Industry in Singapore, the digital economy and green economy are two emerging areas presenting vast opportunities for Southeast Asia. The ministries have proposed three areas where Singapore and Vietnam can work hand-in-hand to seize the opportunities of the next decade and deepen bilateral cooperation: innovation, energy connectivity, and sustainability.
There is significant growth potential in green economic growth in Southeast Asia. An estimated $1 trillion of green economic opportunities is expected to be generated by 2030, and governments within the region have demonstrated increasing commitment to address climate change.
Minister of Planning and Investment Nguyen Chi Dung said, "Vietnam is promoting green growth and action towards achieving the net-zero commitment by 2050. And the country welcomes businesses who have strong expertise, and a powerful finance capacity to join the effort."
Similarly, Southeast Asia's digital economy is projected to reach $1 trillion by 2030. Southeast Asian countries are strengthening digital economy cooperation through regional agreements such as the ASEAN E-Commerce Agreement, the Regional Comprehensive Economic Partnership, and the proposed ASEAN Digital Economy Framework Agreement, in which negotiations will be launched later this year.
---
Deals signed at the Singapore Regional Business Forum:
– Singapore Business Federation and the Foreign Investment Agency (FIA) under Vietnam's Ministry of Planning and Investment
– Singapore Business Federation and Techcombank
– Techcombank, Kyriba Singapore, and Deloitte Touche Tohmatsu
– PSA Vietnam and Saigon Newport Corporation
– UOB Limited and the FIA
– UOB FinLab, Ngee Ann Polytechnic, Foreign Trade University, and Vietnam National Innovation Centre
– Keppel, Ngee Ann Polytechnic and Vietnam National Innovation Centre
– National University of Singapore and Vietnam National Innovation Centre
– Singapore Manufacturing Federation and Vietnam-Singapore Industrial Park
– Forte Biotech Vietnam and College of Aquaculture and Fisheries of Can Tho University
---
Le Minh Khai – Deputy Prime Minister: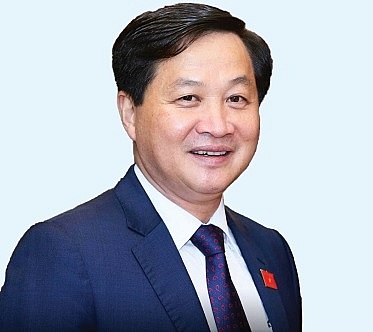 The Vietnam-Singapore relationship has never been as good and comprehensive as it is today, to be considered a typical example of a dynamic and effective relationship in ASEAN, becoming a model to promote cooperation mechanisms in the region and beyond. Specifically, 12 Vietnam-Singapore industrial parks across nine cities and provinces of Vietnam are operating effectively, becoming symbols of economic cooperation between the two countries.
This bilateral cooperation is good, but still not really commensurate with the cooperation potential of the two sides. A new development context includes some challenges, but also opens up great opportunities to continue to reach new heights.
Therefore, I suggest some orientations. Firstly, businesses of the two countries need to be more proactive, utilising the most of each other's capabilities and comparative advantages, dynamism, and creativity. Businesses should do all to deliver on commitments, performance and efficiency should be good, and legal regulations should be adhered to.
The government of Vietnam commits to create the best environment for businesses of the two countries to cooperate in favourable business, such as maintaining socio-political and macroeconomic stability; removing bottlenecks of the economy in terms of legal institutions, infrastructure, and human resources; developing supply chains and reducing transaction costs, especially logistics and administrative costs; and building an environment-policy stability with high predictability and transparent implementation.
Secondly, we are both members of new-generation free trade agreements, so I suggest businesses of the two countries to make effective use of the benefits brought by them, contributing to the multilateral trading system and to the economic recovery of the two countries and the region.
Thirdly, Singapore is known as the leading financial centre in the region. Vietnam welcomes the Singaporean business community to continue to support Vietnam in accessing shifting investment sources, green finance, and serving the needs of sustainable development in such emerging fields as innovation, smart infrastructure, green transport, startups, high-quality human resource training, and climate change response.
Fourth, the two sides should promote investment and cooperation in the areas that Singapore has experience and strengths, and Vietnam has needs and potential for development, especially eco-industrial parks in associated with smart cities, eco-urban areas, high-quality services to develop urban-industrial ecosystems, digital transformation, energy transformation, and training high-quality human resources.
Fifthly, we should continue to expand the scope of cooperation, and promote the role and effectiveness of the cooperation framework connecting the two economies of Vietnam-Singapore and the digital economy and green economy partnership framework, which was approved by the two countries in February.
In particular, it is necessary to maximise the effectiveness of the Vietnam-Singapore joint working group on innovation to strongly promote comprehensive cooperation in innovation and startup support.
---
Nguyen Chi Dung – Minister of Planning and Investment: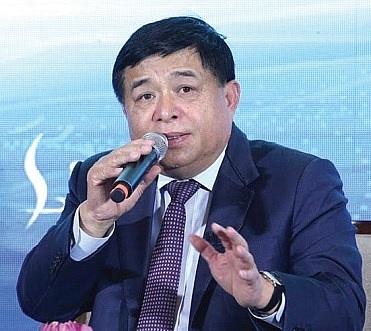 In the coming time, in order to take advantage of the opportunities of the global economic recovery and the Fourth Industrial Revolution, the two sides need to expand the cooperation space within the framework of the agreement to connect the two economies and the economic relationship in digital and green economy, focusing on areas such as innovation, digital transformation, energy transformation, green transformation, green finance, and sci-tech.
Regarding green growth and sustainable development goals, Vietnam realises that these are ambitious goals, but an inevitable development direction, requiring resources and a breakthrough development strategy, especially need the active support of the international community throughout the implementation process.
Vietnam wants Singapore and foreign partners to continue to cooperate and support Vietnam in policy consultation, transfer of modern technology and new economic models, and in attracting investment, funds, financial institutions, and especially multinational corporations.
Green growth is a general trend globally, and Vietnam is well aware of this issue. So we want to access specific experiences, solutions, and green financial resources.
Regarding the digital and green economy, the Vietnamese government is transforming the growth model to a sustainable direction, not only in terms of environmental sustainability and climate change adaptation but also covering culture, energy, food, and population.
In the field of energy, the MPI is advising the government on four priority areas for development in the coming years as a new driving force, including innovation, an international financial centre in Ho Chi Minh City, semiconductor chips, and hydrogen.
Innovation and entrepreneurship are among the important driving forces and resources in economic development in Vietnam. The National Innovation Centre under the MPI, which will be launched in Hoa Lac Hi-tech Park in October, expects to be one of the top centres in the region and welcomes Singaporean organisations and businesses to join, support, and cooperate.
We do hope that foreign enterprises, including Singaporean ones, continue to pay attention to Vietnam's investment environment.
The Vietnamese government has been making great efforts in the reform process, boosting competitiveness, and reducing costs to support businesses.
---
Edwin Tan – Deputy CEO Frasers Property Vietnam: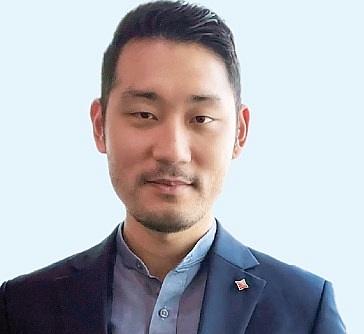 Singapore and Vietnam have strong bilateral ties, and Singapore has always been known as a strategic partner, the largest foreign direct investor in Vietnam.
It is understood that to date, Singapore's foreign direct capital in Vietnam has accumulated to exceed $73 billion. Much of these investments were riding on regional free trade agreements between both countries. Moreover, Vietnam has strong macro-fundamentals and a relatively stable political environment, which supports investment growth.
Frasers Property has been investing in Vietnam for more than 25 years and has viewed the Vietnamese market as a key one for our development and investment portfolio, including the Grade A office Me Linh Point in the central business district of Ho Chi Minh City, a mixed-use residential development in District 2.
More than 180 hectares of industrial land area, within strategic locations in both north and south of Vietnam, has been acquired and we expect that over the next 3-5 years, close to a million square metres of international grade and green certified industrial facilities will be developed to support the country's growing manufacturing economy.
The ramping up of our real estate portfolio and our focus on delivering quality products stand as a strong testament of our commitment to Vietnam for the long run. We are focused on placemaking to create value for the community and all stakeholders. Sustainability is at the core of our development strategy and we are very glad that Vietnam as a country is increasingly committed to the environmental, social, and governance agenda.
We have heard directly from Vietnam's leadership at international summits regarding the country's green targets, which aligns with our group-wide sustainability goal of attaining net-zero by 2050. With such alignment, we think we are in a good position to continue to grow our investments and support the country's growth.
---
Joseph Low – President, Real Estate Division Keppel (Vietnam):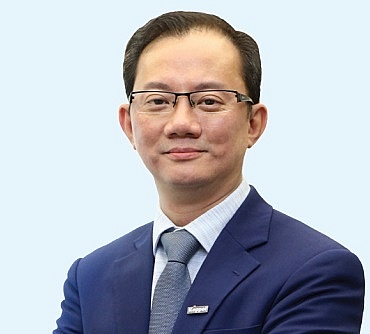 Singapore and Vietnam enjoy strong economic ties and bilateral trade continues to grow steadily. Since entering Vietnam more than three decades ago, Keppel has grown with Vietnam and is today one of the largest foreign real estate investors in the country.
As Vietnam continues to undergo rapid urbanisation, future investment flows from Singapore to Vietnam are expected to remain positive, underpinned by economic growth and an expanding middle class, as well as the government's efforts.
We are well-placed to continue contributing towards Vietnam's sustainable development. In particular, it can bring in investors to fund the creation of high-quality projects through our quality investment platforms and asset portfolios.
A good example is the Keppel Vietnam Fund, our private fund which combines capital from Keppel and global institutional investors to co-invest in residential developments, commercial properties as well as mixed-use projects and townships in Vietnam.
To date, the fund has invested in five high-quality residential projects in Hanoi and Ho Chi Minh City. When fully leveraged and invested, the fund will potentially have assets under management of approximately $1 billion.
---
Wee Ee Cheong – Deputy chairman and CEO, UOB: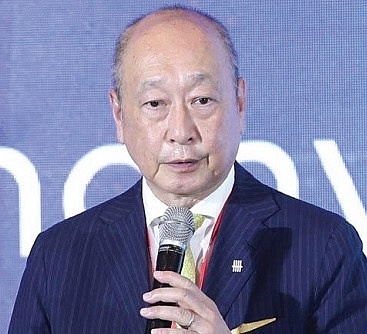 Vietnam's GDP growth in recent years has been one of the strongest in the region. With our extensive network in ASEAN, UOB is well-positioned to connect global companies to this fast-growing region. We are pleased to extend our MoU with Vietnam's Foreign Investment Agency to further facilitate overseas funding inflows, which will in turn create more jobs.
Since our first MoU with the agency in 2015, our foreign direct investment advisory unit has helped over 250 companies expand into Vietnam. With this MoU renewal, we will promote quality foreign funding into Vietnam, with a focus on technology, digitalisation, sustainability, renewable energy, semiconductors, and financial services.
Separately, we will also sign five MoUs between UOB FinLab Vietnam and several government agencies and higher institutes of learning in both Vietnam and Singapore. There will be regional internship opportunities for the students, as part of the Global Entrepreneurial Internship Programme.
In addition, UOB and the SBF will make a contribution to the University of Economics in Ho Chi Minh City. The contribution will equip their students with skills and hands-on experience so that they can be future-ready in the digital era.
---
Bich Thuy