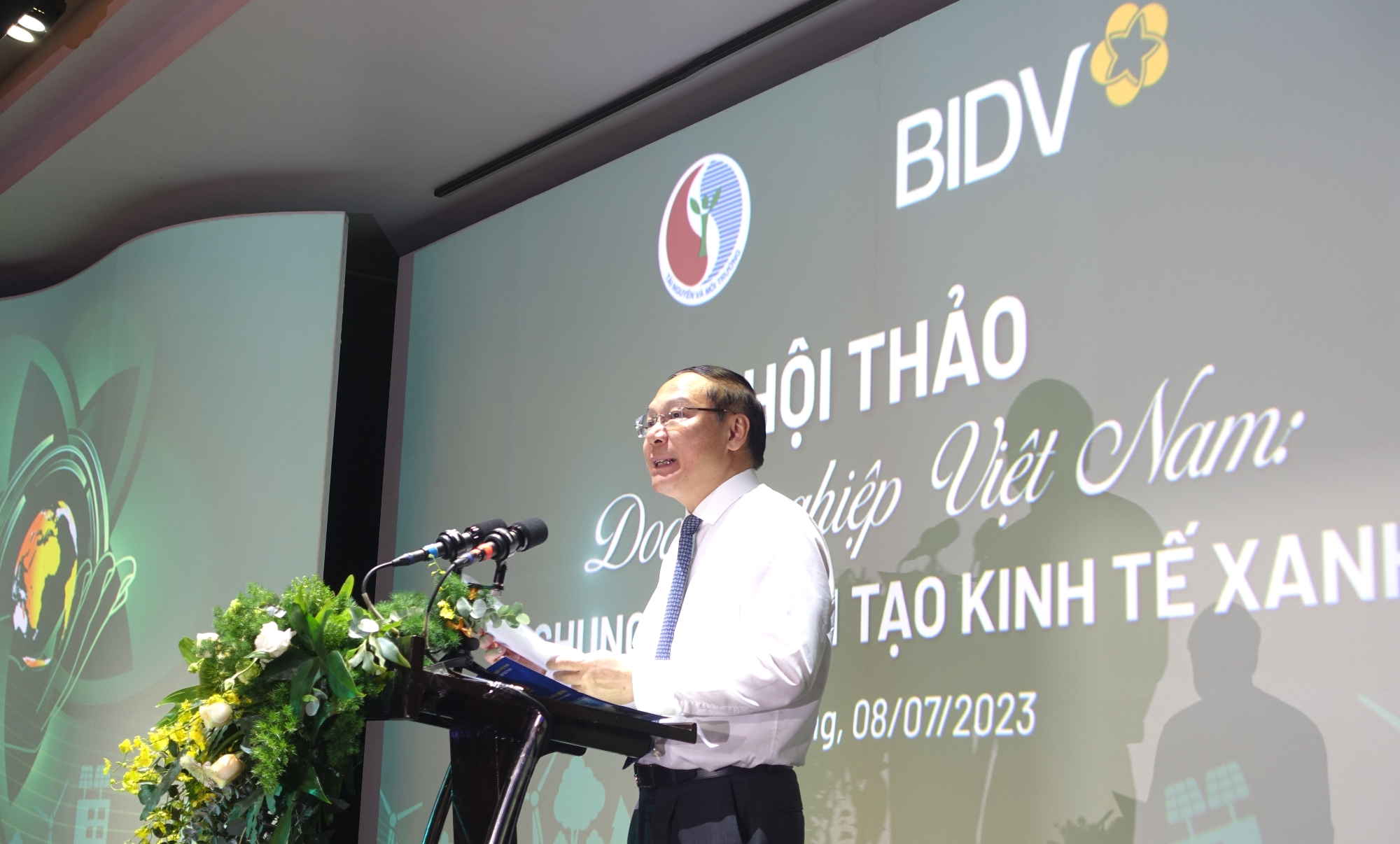 The Ministry of Natural Resources and Environment in collaboration with the Joint Stock Commercial Bank for Investment and Development of Viet Nam (BIDV) held a seminar entitled 'Vietnamese businesses join hands to create a green economy' in Da Nang on Saturday.
The event aimed to create a forum for experts, units, organizations and large businesses nationwide to discuss and share information about the goal of developing a green finance and a sustainable green economy, as well as ways to adapt to climate change.
Speaking at the seminar, Deputy Minister of Natural Resources and Environment Le Cong Thanh stressed the need for the country to switch the environmental protection and response to climate change to a new phase towards the building of a green and circular economy in the face of climate change trends and the new global context.
Previously, at the UN Climate Change Conference in Glasgow (COP26), many major economies had made new financial commitments. More than 450 banks, insurance companies, investment funds and financial companies had committed to use their funds to achieve net-zero emissions by year 2050.
Leaders of the countries all emphasised the important role of the private sector in green economic transformation, and climate change adaptation.
In that context, Viet Nam has recently accelerated the process of switching the development model from "brown" (highly dependent on natural resources, fossil fuels, causing environmental pollution) to " green" (using renewable, low-emission resources).
Viet Nam has participated in 100 multilateral cooperation frameworks, and signed nearly 20 international treaties on natural resources, environment protection and climate change adaptation.
In particular, in December 2022, the Vietnamese government and the International Partners Group (IPG) officially adopted the Political Declaration on the establishment of the Just Energy Transition Partnership (JETP). Accordingly, IPG will raise an initial amount of at least US$ 15.5 billion over the next 3-5 years.
"This is an opportunity for us to access knowledge, technology and financial resources to restructure the economy towards a green economy, digital economy and circular economy, as well as proactively respond to climate change" Deputy Minister emphasised.
The Ministry of Natural Resources and Environment has coordinated with relevant ministries and agencies to develop a project to implement the JETP Declaration and submit it to the Prime Minister for approval.
To promote green development, the Ministry of Natural Resources and Environment is finalising the Prime Minister's decision to issue environmental criteria and certification for projects that are granted green credits and issued green bonds.
These policies gradually institutionalise international commitments, create a legal basis for businesses and people to participate in environmental protection, respond to climate change, and promote green and low carbon economic development, he added.
He underlined the necessity for Vietnamese businesses, especially exporters, to well prepare conditions to be ready to compete in the new context, and update new guidelines and policies issued by the Party and State on green economic development and regulations on climate change adaptation.
Special attention should be paid to innovating production and business models, restructuring enterprises in association with development according to green economy and circular economy, and building and enhancing corporate brand and culture towards green and sustainable.
Also, the focus should be on updating information and improving production processes, enhancing capacity among staff to quickly respond to new trends and gain competitive advantages, and using green and sustainable financial sources for production and business activities in order to save capital costs and achieve high efficiency.
Meanwhile, BIDV Chairman Phan Duc Tu shared that with the role of a State-owned commercial bank, BIDV always determined its responsibility to be a pioneer in implementing the policies and directions of the Government and the State Bank in promoting the development of green credit and green banking, and being ready to accompany the business community in the implementation of the national green transformation strategy.
"BIDV's leaders are committed to creating the most favourable conditions for customers access sustainable financial products" he affirmed.
At the same time, BIDV was ready to act as a bridge between stakeholders, regulatory bodies, and domestic and foreign financial institutions and businesses to connect cooperation opportunities in green growth, environmental protection and climate change adaptation, thereby contributing to the development and improvement of the sustainable finance ecosystem in Viet Nam.
Hoang Hiep – Translating by M.Dung