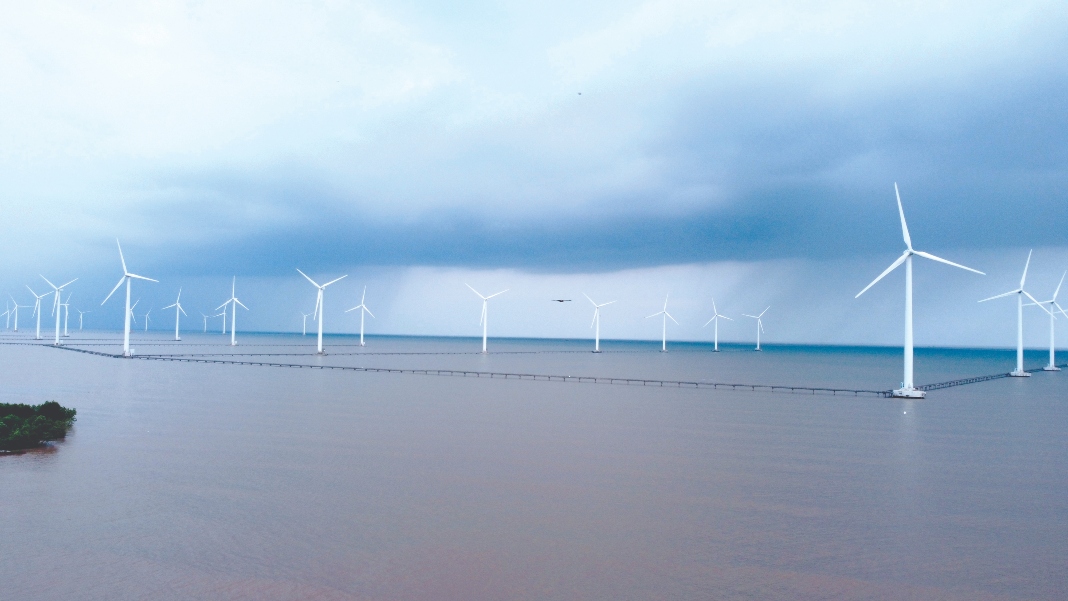 Greener owing to FDI?
The 2022 FDI report with the key topics of green growth and digital transformation released on March 10 gives ample clues on the green economy in Vietnam. The foreign direct investment (FDI) into green growth in 2022 increased by 70% against that in 2020. Since the end of 2021, several green projects have emerged, such as the first carbon-neutral toy factory, and a project using 100% of renewable energy for jewelry production. This trend is irreversible, but how far it will go is a different story.
First, in the global supply chain, Vietnam is a rising star in such industries as apparel, footwear, and consumer electronics, but green manufacturing has only been blinking rather than becoming mainstreamed in those industries. Uncertainties in the global economy and worries over an imminent recession will be major hurdles for greenization in these industries.
The most probable scenario is that enterprises tap niche markets, turning out environmentally-friendly products from a zero-emission process to target the better-off. Even if that scenario comes true, it is unlikely Vietnamese enterprises will take the lead.
Second, the report points to numerous objective difficulties that make FDI incentives in Vietnam and several other countries less appealing. The U.S. and major European countries have issued new policies to lure back important and high added value industries into their economies. The average profit margin at FDI enterprises has plunged from 11.5% to 7.8% in the 2011-2018 period.
Despite such setbacks, representatives of U.S. and EU investors at the launch of the FDI attraction report were bullish on new investment worth trillions of U.S. dollars expected to flow into green energy, logistics and infrastructure in Vietnam. The excitement with clean energy and Vietnam's sovereign commitment on achieving net-zero emissions by 2050 will expectedly usher in exports of clean energy technologies from the U.S. and the EU into Vietnam, as such economies are launching huge subsidies to maintain their leading technology positions in the direct competition with China. It looks like that given such promising visions, Vietnam is being viewed as a market with more potentials than challenges.
Third, it is unlikely the FDI flow into the green economy will change the status quo. As long as obstacles in terms of the economic structure, infrastructure, supporting industries and labor quality remain unchanged, Vietnamese enterprises can hardly partake in and benefit from the green economy. To be frank, the two green projects mentioned above are merely symbolic of a commitment to support Vietnam's greenization by Denmark, a leading country in this respect in Europe. Although this process will pick up speed in the coming time, Vietnam, as it were, is simply standing on the shoulders of giants.
Vietnam's approach seen from energy transformation
Vietnam has made considerable achievements in renewable energy. A report by the UK-based Ember in 2022 stated that Vietnam, alongside the Netherlands and Australia, has switched over 8% of its energy demand to wind and solar power in 2020-2021. To date, despite reliance on imported equipment and technology, Vietnamese enterprises are still dominant players in clean energy. Data released by HSBC in January show that investment into renewable energy in Vietnam is mostly locally sourced. Specifically, data from the Mekong Infrastructure Tracker platform showed that some 60% of renewable energy projects in Vietnam are developed by domestic companies, some 27% by partnerships between Vietnamese firms and international investors, and a mere 12% by outside investors.
Such a predominant role is poised to change. A report by the Ministry of Planning and Investment noted that in 2020, over US$5.1 billion of FDI was pledged into power generation and transmission, accounting for 18% of the total and 38 times higher than that in the five preceding years.
A question surfaces over whether regulations in the Investment Law and related by-laws are sufficient to govern a special industry like energy. Is it necessary to issue more prescriptive regulations to ensure energy security? Vietnam is still in the early stages of clean energy development, and is a fertile land for foreign investors, and as such, the building of a transparent legal corridor guaranteeing legitimate interests of investors will be beneficial.
First, apart from self-supplied energy projects, it is necessary to spell out the proportion of foreign-invested renewable energy in the total demand in each period. This should be the basis for licensing projects and for determining the proportion of local stakes in renewable energy joint ventures with international investors.
Regulations on FDI encouragement for specific localities should also be taken into prudent consideration, especially for offshore wind power, alongside the oversight of transfer of stakes to foreign partners.
It should be noted that there have been warnings over the rapid development of offshore wind power outstretching master zoning plans like what has happened to solar power.
This approach should also apply to other green economic sectors. Areas of investment priority must be established, and suitable to be lent to the country's development strategy so as to prep for infrastructure, manpower, and availability of domestic enterprises in the supply chain. In the green economic map, the position and the role of local enterprises must be envisioned with an aim to make the most of foreign capital and technology on one hand, and to create development space for domestic enterprises on the other hand so that they can grow and get their hands on new technologies, and to compete on level ground with FDI rivals. Greenization should be viewed as the means for the economy to achieve efficiency and sustainability, not the end to achieve at all costs by wooing foreign investors with strong incentives in order to have a green label.
More problems behind green energy transformation
Staying calm with the green economy, especially renewable energy like solar and wind power is not just an issue for Vietnam. We have been aware of waste from solar panels and wind turbine blades, but have not formulated treatment methods. Ecological impacts from solar and wind power have not thoroughly researched, partly because such impacts have not been seen clearly, and partly because the raptures at renewable energy have pushed aside worries over the exploitation of these resources.
More importantly, if renewable energy is tapped to increasingly satisfy a demand beyond the reasonable level, it cannot be a sustainable approach. The Renewables Global Status Report (REN21) issued in mid-2021 pointed out that the fossil energy ratio remained the same after a decade. Research published by the International Energy Agency in late February warned that the top one percent emitters release greenhouse gases 1,000 times higher than the bottom one percent, and 85% of the top ten percent emitters live in developed economies.
As such, a big question for rich countries and developing economies is how to change or choose a growth model. If the scale of each enterprise in particular and the economy in general is expanded via consumption promotion, which means higher energy demand and an increasing waste volume, then the future of this planet will be just lip's service via the wind blade.
Hoang Hanh