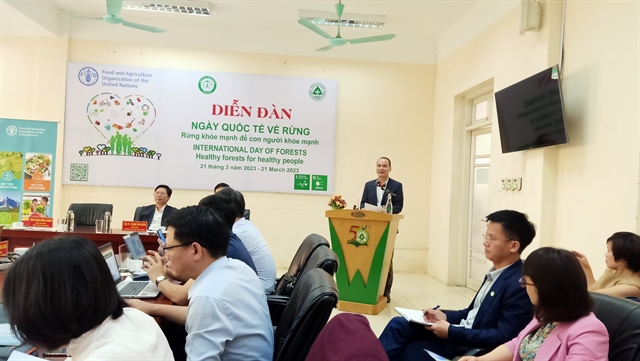 Việt Nam has been taking practical steps to manage, protect and promote the multi-use value of forest eco-systems and effectively respond to climate change, said Phạm Hồng Lượng, chief of office of General Department of Forestry.
The role forests play is clear in all aspects of our lives, from production to economy and society.
At a forum on the International Day of the Forest on Tuesday in Hà Nội, Lượng stressed the importance of raising awareness about the role of forests in human life to work together in forest protection and sustainable forest exploitation.
This year's International Day of Forest 2023 is themed "Forests and Health" with the message "Healthy Forests for Healthy People".
Planting new forests, preserving existing forests, and expanding forest coverage are signs that a country is achieving sustainable development in terms of natural resources, environment, and overall development.
Climate change, degradation of arable land, and unpredictable floods and storms tend to increase the risk of forest destruction.
The decreasing rate of the forest has been seriously affecting the rapid and sustainable global socio-economic development.
Every year, more than 13 million hectares of forests are lost worldwide, and Việt Nam is no exception.
Over the years, climate change's impact has become increasingly obvious.
The weather is complicated, and natural disasters have become more and more severe and frequent, significantly affecting forest resources and forestry activities.
"The forest cover has decreased to an alarming level," Lượng said. "The loss of forests is irreparable and causes great economic, jobs and sustainable development losses,"
According to scientists, the project of one billion trees, of which 690 million trees are in urban and rural areas and 310 million trees in protection forests, special-use forests and planting new production forests, is one of the important prerequisites for Việt Nam to move towards sustainable development, bringing environmental and economic benefits.
As a forestry management agency, the General Department of Forestry has advised the Ministry of Agriculture and Rural Development to submit to Government the Forestry Development Strategy for the 2021-2030 period; the Programme for Sustainable Forestry Development for the 2021-2025 period; and Action Plan of implementing the Glasgow Declaration on forests and land use, Lượng said.
While implementing the project of one billion trees, in 2021 and 2022, Việt Nam planted 450 million new trees, including 227 million trees, equivalent to 130,000ha of new plantations, and 223 million trees in urban and rural areas, 7.6 per cent higher than the plan.
According to the National Strategy on Climate Change for the period to 2050, Việt Nam sets a net emission target of "zero" by 2050.
Among five fields contributing to the national target of reducing greenhouse gas emissions, forestry is the only industry that emits negative emissions due to its huge capacity to absorb CO2, Lượng said.
By 2030, the forestry and land use sectors are expected to reduce emissions by 70 per cent and increase carbon absorption by 20 per cent compared to the normal development scenario, with total emissions and absorption reaching at least minus 95 million tonnes of CO2 equivalent.
By 2050, emissions will be reduced by 90 per cent while carbon absorption will increase by 30 per cent and total emissions and absorption will reach at least minus 185 million tonnes of CO2 equivalent, Lượng said.
Nguyễn Song Hà, assistant FAO-Việt Nam's Representative, said the Food and Agriculture Organisation (FAO) pledged to be a long-term partner of the Vietnamese Government, continuously supporting healthy forests in Việt Nam while ensuring equal opportunities for everyone and leaving no one behind.
Over the years, FAO has worked closely with the Vietnamese Government to support activities to promote a healthy and sustainable forestry sector, Hà said.
Since 2009, together with UNDP and UNEP, FAO has supported the reduction of deforestation and forest degradation through local-level planning to reduce emissions in the forestry sector, improve land use regulation, control carbon emissions, and carry out sustainable forest management through community forestry and forest certification and governance, especially in land allocation and land use rights, Hà said.
In addition, to help small-scale farmer households find ways to increase their incomes and use forest resources sustainably, the FAO Farm Forests Programme (FFF) has collaborated with the Việt Nam Farmers' Union (VNFU) to support farmers to establish life-changing co-operatives, Hà said.
(VNS)