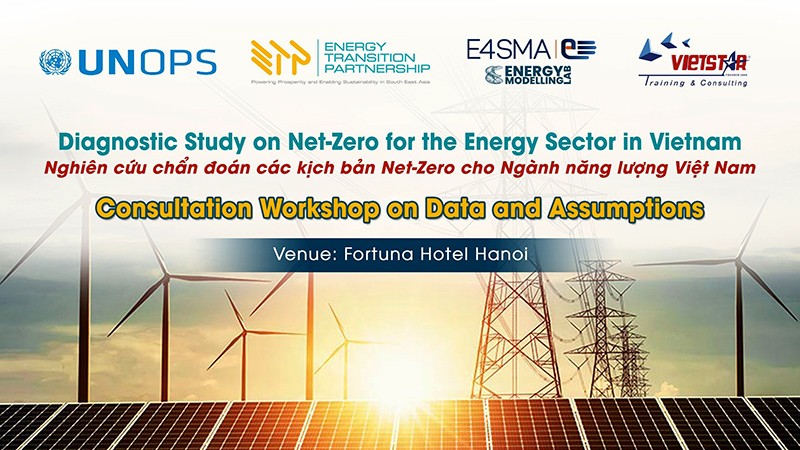 Vietnamese Prime Minister Pham Minh Chinh made a significant announcement at COP26, outlining Vietnam's strong commitment to address climate change and achieve net-zero emissions by 2050 through the utilization of its resources and international cooperation. A comprehensive and diverse analytical process is crucial to ensure sustainable energy security and positive economic outcomes.
As part of this effort, the Southeast Asian Energy Transition Partnership (ETP/UNOPS) is implementing a "Diagnostic Study on Net-Zero for The Energy Sector in Vietnam" aimed to conduct a thorough scenario assessment of Vietnam's energy system transition towards achieving net-zero emissions by 2050.
E4SMA – ITALY, VIETSTAR – VIETNAM, and EML – DENMARK are the consulting firms in charge of implementing the project.
A consultation workshop on data and assumptions was held on May 9th, 2023, in Hanoi, Vietnam, aiming to develop a shared understanding of the critical data and assumptions to be used in the analysis of the NZE scenario, gather additional inputs on data and assumptions from stakeholders, collect views on sensitivity analyses to be carried out in the study. Representatives from MOIT, MONRE, the United Nations Development Program (UNDP), international cooperation agencies, and critical energy sectors stakeholders, such as Vietnam Oil and Gas Group (PVN), Vietnam Electricity (EVN), and Vietnam National Coal and Mineral Industries Group (VINACOMIN), attended the workshop.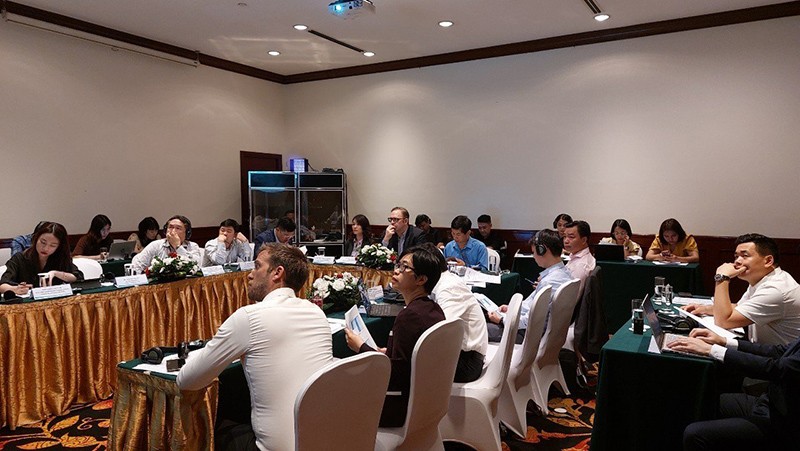 Mr. John Cotton, Senior Program Manager at ETP/UNOPS, stressed that the net-zero study was based on evidence-backed research, utilizing the quantitative analysis to achieve zero emissions.
At the workshop, local and international experts presented and exchanged information and gave comments on the project's assumptions.
Mr. Maurizo Gargiulo, Project Leader from E4SMA, said: "The technological mitigation options like electrification, synthetic fuels, energy efficiency, carbon capture and even direct CO2 removal from atmosphere are possible."
Mr. Rasmus Munch Sørensen from the Danish-Vietnamese Energy Partnership Program emphasized the importance of the electricity market and suggested that it was necessary to analyze the uncertainties, such as the absorption capacity of renewable energy.
According to Mr. Pham Van Tan, Deputy Director of the Climate Change Department (MONRE), the Nationally determined contributions (NDCs) measures differed from the measures that must be followed. Still, the suggested steps for businesses/agencies to refer to and consider for implementation, so if the Diagnostic Study on Net-zero for Energy Sector in Vietnam had better suggestions, they would also be precious.
Mr. Pham Hoang Luong, Local Project Leader, highly appreciated the comments of international and local experts and stakeholders about the data and assumptions for scenario analysis. "We have been able to completely follow the project approach that all data and assumptions have been supplemented, commented, and edited by the representatives of international organizations as well as stakeholders to make the data and assumptions both up-to-date and feasible," he said.
The workshop facilitated active and productive discussions on the net-zero study, focusing on socio-economic aspects and available technologies. The mini-workshop was successful, and the ETP will conduct further research on the Net-Zero scenario based on the valuable comments and insights gathered during the workshop.
The following mini-workshop is scheduled for June 2023. "In the coming periods, we hope to continue to receive the companionship, support, and suggestions from the relevant ministries, departments, and agencies for effective and timely study implementation," said Ms. Pham Thu Hang, CEO of VietStar Training and Consulting.
---
The "Diagnostic Study on Net-Zero for The Energy Sector in Vietnam," funded by the Southeast Asia Energy Transition Partnership (ETP), will assess the transition of Vietnam's energy sector to net-zero scenarios by 2050.
The study is conducted by the consulting firm E4SMA (Italy), which specializes in energy and climate modeling and support to a decision; Energy Modelling Lab (Denmark) for modeling; VietStar Training & Consulting (Vietnam) for stakeholder engagement and local experts for data, policy and results analysis.
(The World and Vietnam Report)