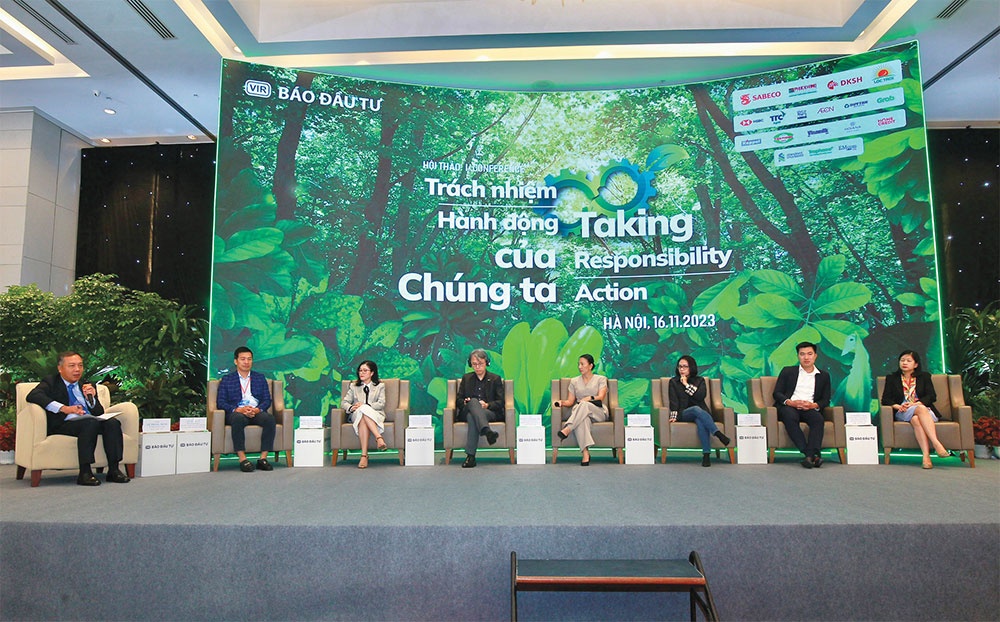 At VIR's conference on sustainable development held on November 16 in Hanoi, a myriad of business representatives, government figures, and industry insiders came together to delve into the unique issues Vietnam is dealing with in terms of sustainable development. As a developing country with many challenges, it was agreed that the nation needs a business community with high awareness of responsibility and proactive action.
While high costs might be the biggest deterrence for businesses on the sustainable path, according to Dao Xuan Lai, head of the Climate Change and Environment Department at the United Nations Development Programme Vietnam, in the long run, such investment will help save companies costs.
"In order to achieve net-zero targets by 2050, it is not enough for businesses to stop at corporate social responsibility (CSR). While it is mostly associated with voluntary actions, sustainability is now a responsibility," he explained. "Contrary to common belief, sustainability also presents opportunities, in terms of reputation, carbon credits and international cooperation."
Lai cited an example from the renewable energy sector, emphasising that along with Vietnam's sustainability commitment, the country can draw assistance from developed nations and international organisations, ensuring not only domestic energy security but also export opportunities.
"A notable example would be the recent cooperation between Vietnam and Singapore, allowing us to export renewable energy to this island. This also presents significant growth opportunities for Vietnamese businesses," he said.
In the same vein, Le Viet Anh, director general of the Department of Science, Education, Natural Resources, and Environment under the Ministry of Planning and Investment, believes that businesses should embrace the investment mindset towards sustainability.
"Once we are clear about the future, with recognition and persistent implementation, the outcomes will yield much greater returns than the initial expenses," he assessed.
Speaking from a business perspective, Bui Bich Lien, director of health and beauty suppliers EMcom JSC., explained that the cost-saving benefit can further be transferred to the consumer side of the equation.
"Compared to conventional cleaning products on the market, many people say ours are expensive. However, considering the price range of organic and imported bioproducts with multi-layered functions and benefits, we are quite affordable," Lien said.
As for Hoiana Resort & Golf, its sustainable development activities are based on the pillars of education, environment, healthcare, and improved living standards, as shared by CEO and chairman Steven Wolstenholme.
"It's not easy to cover all aspects, but we try as much as we can. We have been conducting many projects that have long-lasting influence besides regular green activities like picking up rubbish and cleaning surrounding areas," Wolstenholme said. "We have about 15,000sq.m of solar power panels to generate electricity, and an organic waste recycling machine to alter by-products from restaurants and leftovers into organic compost."
Dr. Le Thi Hong Na, director of Sustainable Development Strategy at Phuc Khang Corporation, said that the company's CSR activities have always gone hand-in-hand with its core business activities in the past 14 years.
"During the research and formulation of ESG strategies, we found that the company's CSR activities, to some extent, align with ESG indicators. That helped us in introducing relevant strategies, with specific activities clearly defined," Na said.
She emphasised that practising ESG did not entirely change the company's nature, strategy, or operations. Rather, it helped the company gain a clearer view of the direction and choose a suitable and sustainable development path.
"ESG serves both as a measure and a motivation to drive business development. In practice, businesses that have adopted the criteria have done so at various levels, not starting from scratch. However, it is a long-term process that requires substantial and serious investment from businesses. This is the right strategy to help businesses establish a common standard, sustainable development, and contribute to the community and society," she said.
---
Tran Quoc Phuong, Deputy Minister of Planning and Investment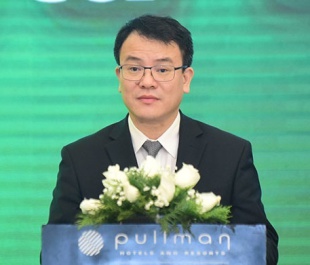 The digital economy, circular economy, and green growth are increasingly becoming the chosen development models globally, and sci-tech and innovation are becoming decisive factors in each country's competitive ability. Vietnam's socioeconomic development strategy for 2021-2030 reflects the nation's aspiration for a sustainable economy.
However, there are some upcoming challenges. The global economy is expected to change rapidly with complex developments. Domestically, economic growth confronts challenges including urbanisation pressures, environmental pollution, sustainable resource usage, and the escalating severity of natural disasters and climate change.
Resource mobilisation for future needs, especially in the post-pandemic context, is expected to be challenging. Compared to before the pandemic hit, the national budget revenue to GDP ratio has shown a declining trend. Post-2010, as Vietnam entered the lower-middle-income group, official development assistance significantly reduced. The domestic private sector's role in driving economic growth and sustainable development has not met our expectations.
In this challenging environment, achieving green growth and sustainable development is seen as both a challenge and an opportunity for the business community and its investors.
The Ministry of Planning and Investment proposes key solutions on the national focal point for green growth. To drive and transform the implementation of sustainable development goals, we need to improve and enhance the quality of our socialist-oriented market economy institutions and strengthen the effectiveness and efficiency of policy implementation through public administrative reform.
Emphasis must be on the need for continuous investment in human resources, sci-tech, innovation, and the completion of modern and synchronised economic and social infrastructure systems. These are essential to enhance productivity and promote sustainable economic growth.
Other focus areas include macroeconomic stability, post-pandemic recovery support, the efficient mobilisation and use of financial resources for sustainable development, and social security system reform. Environmental protection, climate change response, disaster prevention, and the promotion of green and circular economies are also key priorities.
Le Viet Anh, Director general Department of Science, Education, Natural Resources, and Environment Ministry of Planning and Investment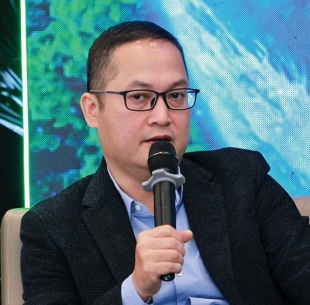 The Ministry of Planning and Investment (MPI) sees the improvement in responsibility and specific actions of businesses related to green growth and sustainable development. Our actions and responsibilities are not only for today's society but also for the future of all humanity.
Vietnam is appreciated for its commitment and deployment of the UN's Sustainable Development Goals (SDGs). The MPI is organising the implementation of the UN's latest initiatives to innovate the implementation of these goals. The prime minister issued Decision No.841/QD-TTg in July on the roadmap for the implementation of Vietnam's SDGs by 2030 to update and adjust the targets.
This is pivotal because there were many fluctuations and uncertainties last year, so the roadmap must be recalculated and become a foundation and reference for businesses to deploy.
We hope that businesses will learn more about existing policies related to green growth and sustainable development to receive support, and then propose additional policies for us to synthesise and consider in the time coming.
A specific standard that businesses can refer to is the national green economic sector system that the MPI is building and will submit to the prime minister for promulgation in the near future. After being integrated with the statistical economic industry system, this will be the green classification applied in investment, credit, and banking, and we will have a very obvious legal corridor to recognise the efforts of businesses and provide benefits and support for businesses.
With such a clear policy system, businesses can be more confident in making decisions on spending on green growth and sustainable development, which is not a cost but an investment for the future. If we are aware of the future, we will devote adequate resources to it, then the results received will be much greater than the initial costs spent.
Vu Minh Ly, Deputy director of the Communication Centre for Environmental Resources, Ministry of Natural Resources and Environment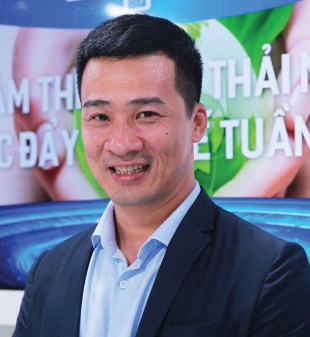 Every action of businesses will contribute to the Vietnam's net-zero journey to become closer to the goal set forth.
The journey to net-zero cannot be quick and easy: there is still a lot of work to transform technology and consumption, as well as transform from linear production processes to circular economy, which requires a lot of resources and capital. Reducing the use of natural resources and fossil fuels in production and business of every enterprises is contributing to the journey.
The Law on Environmental Protection and Decree No.08/2022/ND-CP detailing a number of articles of the law provided numerous instructions for businesses in the transition process. Moreover, businesses can access the Environmental Protection Fund to offer some funds for green projects.
After extended producer responsibility rules take effect from January 2024, more and more recycling businesses in many fields will be established and developed.
I hope there will be more projects aimed at environmental protection and sustainable development – issues that the whole world cares about. We have just worked with UNESCO Vietnam on implementing the national initiative on education for sustainable development, hoping to be paid attention by all of businesses.
Sustainable development must start from educating children, providing knowledge to teachers, and the entire community.
Le Anh, Sustainability director DuyTan Plastics Recycling
We have 36 years of operation in the industry, and the company currently invests in a high-tech factory to recycle every bottle after use. If before, these only had one life cycle, now they have a lifespan 50 times longer.
While many people think of recycling as a responsibility but, in reality, it is an opportunity and a market. The world over, waste has now become a resource. However, how to exploit and use it efficiently and effectively depends on us.
In Vietnam, there are associations that bring together recycling units such as those for packaging, metal, and plastic products. All of this is refreshing the recycling industry here and brings great expectations for a cleaner and greener environment that will benefit the whole society.
The current situation in Vietnam and elsewhere in other Southeast Asian countries is that the classification of waste at source is not carried out strongly enough. Of every 100 tonnes of plastic we collect, only half is suitable to be recycled into plastic bottles. The rest must be recycled into other products.
Poor classification causes a low recycling rate. By around 2025, we will apply classification at source completely. We hope that consumers who are still hesitant about recycled products will be educated and many programmes to raise awareness and recycle more products will also be implemented.
Wong Wai Foo, Head of Sustainable Urban Renewal in Vietnam, Keppel Corporation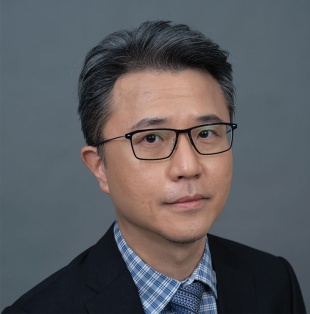 The Vietnamese government has set ambitious goals and sustainability standards for the construction and real estate industry, including reducing carbon emissions.
Our real estate division is undertaking various measures such as phasing out the use of non-essential diesel equipment, achieving high green building standards for all our new commercial developments, improving the energy efficiency of existing buildings through energy optimisation and digitalisation strategies, maximising on-site renewable energy, and purchasing renewable energy certificates. We are also looking at increasing the use of green-labelled and low-emission materials and products.
One notable project that exemplifies our commitment to green construction is The Estella, our residential development. It was the first project in Vietnam to receive BCA's Green Mark Gold Award in 2012. Some of the green initiatives at The Estella include solar roof panels, use of low volatile organic compound paint, and low emission formaldehyde composite wood.
As part of Keppel's sustainability strategy, we have increased our use of renewable energy. The photovoltaic panels installed on Keppel's residential and commercial developments in Vietnam have generated an energy yield of nearly 150,000kWh over the past three years. Celesta Avenue, the newest addition to CELESTA City, will also be developed with water-efficient drip irrigation controlled by rain sensors and solar lighting for the streets.
---
Linh Le