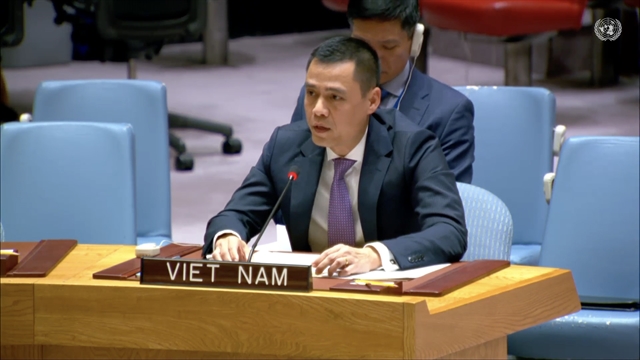 Peace was the prerequisite for development, Ambassador Đặng Hoàng Giang, Việt Nam's Permanent Representative to the United Nations (UN), has affirmed.
The United Nations Security Council (UNSC) held an open discussion session on promoting sustainable peace through common development on Monday in New York (local time) under the chairmanship of China, President of the UNSC this month.
The session had the participation of more than 80 UN member countries.
Speaking at the session, Giang said that the relationship between peace and development became even more important as war and conflict still existed in many places in the world, while the 2030 Agenda for Sustainable Development implementation was progressing slowly.
He said the UNSC needed to work more effectively in preventing conflicts, arms races and resolving conflicts by peaceful solutions.
The UNSC also needed to pay attention and prioritise addressing the root causes of development-related conflicts in both conflict prevention and post-conflict reconstruction.
Giang believed that the UN, including the UNSC, needed a comprehensive approach to promote peace and sustainable development, breaking the vicious cycle of conflict and poverty.
Activities of the UNSC, peacekeeping missions and special political missions needed to be placed in the overall context of the Sustainable Development Goals and related international initiatives.
He also emphasised that the UNSC should be involved in handling emerging and non-traditional challenges to common development and security, including climate change and rising sea levels.
The council should solve security risks from these issues, contributing more effectively to common efforts to prevent negative impacts on development.
From a war-torn country, Việt Nam had made many outstanding development achievements in the past 50 years, with a vision of becoming a high-income country by 2045 and achieving the target of net zero emissions by 2050.
More than anyone else, Việt Nam understood the importance of promoting socio-economic development and ensuring the welfare of the people in maintaining peace and stability, said Giang.
He affirmed that Việt Nam was always ready to share experiences and good practices with the international community on the issue.
In the opening speech, UN Secretary-General Antonio Guterres emphasised the connection between peace and development as the basis for the UN's foundation, the Vietnam News Agency correspondent in the US reported.
Peace building was a tool to ensure food security, access to education, health care and social services for all people, he said.
Rapporteurs and representatives of participating countries agreed on the importance of ensuring security along with development, resolving the root causes of conflicts and accelerating the implementation of the Sustainable Development Goals.
The UNSC plays an important role in ensuring international peace and security to create conditions for development.
(VNS)