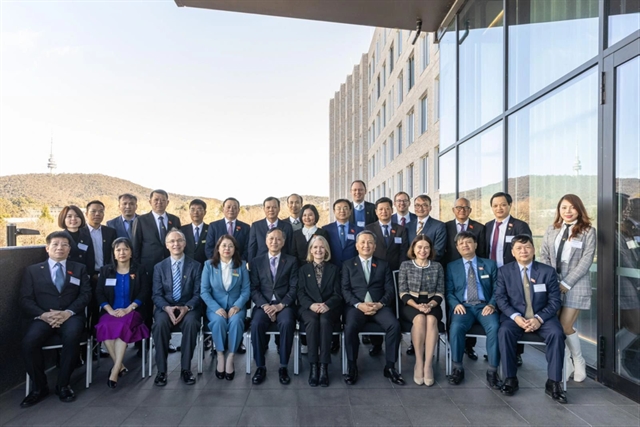 Dr Đỗ Nam Thắng, an expert in environment and climate change policies from Australian National University discusses with Việt Nam News the measures Việt Nam can adopt in its transition to cleaner energy sources​.​​​​​​
During the 26th United Nations Framework Convention on Climate Change Conference (COP26), Việt Nam, alongside almost 150 other nations, made a commitment to achieving net-zero emissions by 2050. Since then, the Government has launched an array of policies and programmes aimed at realising this ambitious target. In your assessment, what are the most significant challenges that Việt Nam must address in the immediate future to fulfil this objective?
The key challenge appears to be concerns about potential socioeconomic negative impacts of the energy transition. Therefore, it is crucial to elucidate the potential impacts and assess the feasibility of the energy transition. Employing evidence-based policy analysis to evaluate the socioeconomic aspects of various options would be instrumental in identifying optimal solutions. Sustained political prioritisation and robust social support will be essential moving forward.
Parallel to Australia, Việt Nam grapples with the imperative of transitioning towards cleaner energy sources. Historically, both countries have heavily relied upon coal-powered energy. However, Australia embarked on a determined trajectory by initiating the shutdown of several coal-fired plants, including its largest facility, in April of this year. From your perspective, what insights can Việt Nam glean from Australia's experiences in navigating this transition?
First and foremost, it's important to acknowledge that such a transition requires significant time and effort. Australia has grappled with climate policy for the past two decades, experiencing controversies surrounding the pace of transitioning to renewables. Climate policies have undergone fluctuations to align with changing priorities. For instance, a carbon tax was introduced in 2012 and abolished in 2014, illustrating the volatility in climate policy. The key takeaway is that climate issues are now receiving the attention they deserve, and debates and skepticism in the initial stages of such a transformation are inevitable.
Secondly, it is essential to prioritise the scaling up of renewable energy and firming capacity through measures like battery and pumped hydro energy storage before phasing out coal power. This approach helps mitigate the risk of power shortages and allows for more efficient management of renewable energy.
Thirdly, policy plays a pivotal role in facilitating this transition. Australia has effectively employed various policy instruments to promote renewable energy, including setting ambitious renewable energy targets, facilitating the trading of renewable energy certificates, and subsidising renewable energy projects through mechanisms such as the Australian Renewable Energy Agency and the Clean Energy Finance Corporation. Consequently, Australia has emerged as a leader in per capita solar and wind power generation.
Collaborative efforts in the realm of climate change constitute a pivotal aspect of the partnership between Việt Nam and Australia. Drawing from your role as an advisor specialising in environmental policy matters, what recommendations can you offer to advance the objective of fostering such cooperation between these two nations in the foreseeable future?
Both countries can initiate a comprehensive net-zero emission program. This programme could focus on capacity building for Vietnamese policymakers at both national and provincial levels, as well as within industries. It should also prioritise joint research to identify the most efficient pathways for Việt Nam's energy transition. This research could encompass socioeconomic assessments of the energy transition and facilitate technology transfer.
Cross-province collaboration would facilitate the exchange of experiences and best practices. For instance, provinces like Quảng Ninh could learn valuable lessons from regions like Latrobe Valley in planning for the phasedown of coal power and coal mines.
The collaborations could be built upon existing collaborations such as the recent masterclass on climate change and energy transition for Vietnamese Members of Parliament, which was funded by the Australian Department of Foreign Affairs (DFAT) and delivered by the Australian National University (ANU).
Việt Nam confronts the dual challenge of meeting escalating energy demands while upholding sustainability imperatives. A novel hurdle comes in the form of the carbon border adjustment mechanism (CBAM) introduced by the European Union. In this context, what counsel do you propose to the Government regarding supporting enterprises in ensuring the unobstructed export of their commodities to European nations? And what can enterprises do to ensure the seamless export of their products to European countries?
It is crucial to closely monitor the evolution of the CBAM due to the existing uncertainties surrounding its implementation and the strategies countries may adopt in response to it. In the short term, the government could engage in constructive dialogue with the EU to secure favourable conditions regarding CBAM. Additionally, Việt Nam's government and its development partners should consider supporting further research and comprehensive data collection on commodities that may be subject to CBAM in the near future.
Implementing a carbon price can help reduce CBAM certificate payments. The resulting revenues could be earmarked to support initiatives such as technological renovation to enhance energy efficiency and promote the adoption of renewable energy sources. Ultimately, accelerating the transition to renewable energy not only helps mitigate the impacts of CBAM but also contributes to fulfilling the country's climate commitments made at COP 26, including achieving net-zero emissions by 2050.
Vietnamese enterprises exporting to the EU should proactively plan for CBAM. Among the mitigation strategies, prioritising improvements in energy efficiency and adopting good housekeeping practices to reduce material inputs is advisable due to their relatively low costs. Other measures would include process optimisation, the adoption of cleaner technologies and practices, preparation for emission reporting requirements, and active engagement with the government in the context of decarbonisation policies such as carbon pricing.
(VNS)