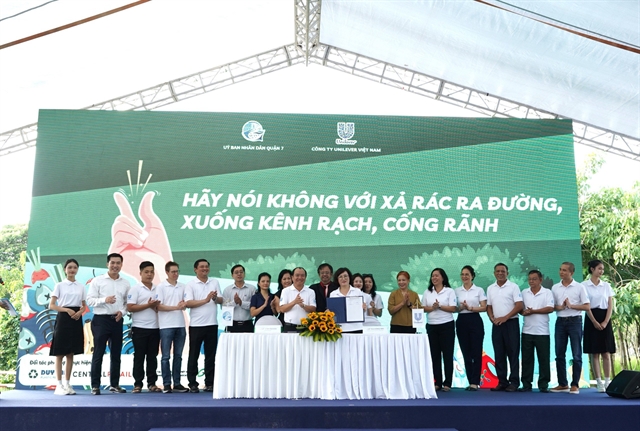 Low-carbon economic development is emerging as a prominent global trend, with Việt Nam also actively participating in this transformative movement.
An increasing number of countries are committing to achieving net-zero emissions by 2050, expanding the coalition. Currently, over 70 countries, including major polluters like China, the United States, and the European Union, have established net-zero targets, encompassing approximately 76 per cent of global emissions.
Moreover, more than 3,000 businesses and financial institutions are actively collaborating with the Science-Based Targets Initiative to align their emission reduction efforts with climate science. Beyond this, over 8,300 companies, nearly 600 financial institutions, and over 1,100 educational institutions have joined the UN-backed Race to Zero campaign, aiming to collectively reduce global emissions by half by the year 2030.
In Việt Nam, both domestic and foreign manufacturers are encouraged to adopt sustainable business practices to contribute tangibly to economic, environmental, and social well-being. This commitment aligns with Việt Nam's national policies on sustainable development and the country's commitment to emissions reduction at COP26.
Unilever pioneering carbon neutrality in Việt Nam
Unilever stands as a trailblazer in the race towards carbon neutrality both on global scale and in Việt Nam.
Since 2020, the company set a target to achieve a carbon-neutral value chain by 2039, aiming to address climate change issues. Unilever has devised a specific action plan for each year on this long-term journey.
Globally, the member of Race to Zero and The Climate Pledge, aims to reduce absolute emissions from its internal operations (Scope 1 and 2) by 70 per cent by 2025 and achieve a 100 per cent reduction by 2030. By 2039, the entire value chain is expected to reach a net-zero emissions goal (Scope 1, 2, and 3).
In Việt Nam, Unilever is implementing green initiatives within its operations and promoting a sustainable transformation across its entire value chain to fulfill emission reduction commitments.
For Fast-Moving Consumer Goods (FMCG) businesses like Unilever, addressing environmental concerns such as plastic waste and reducing CO2 emissions are top priorities.
In addressing plastic waste issue, Unilever is actively working towards solving plastic pollution by establishing a circular economy for plastic, ensuring its continuous flow within the economy. Its plastic management strategy includes improving packaging materials for enhanced recyclability, reducing the use of virgin plastic, and increasing the collection and recycling of plastic.
In Việt Nam, Unilever has achieved a 63 per cent of recyclability rate and a 52 per cent reduction in virgin plastic use through direct reduction and inclusion of post-consumed resin (PCR) plastics.
The company emphasises segregation-at-source initiatives, education, and communication on a large scale to change community behaviors, playing a crucial role in waste collection and recycling of plastic in Unilever Vietnam's packaging production.
This model demands collaboration from all business sectors and like-minded partners, emphasising the need for a collective approach.
In term of emissions, Unilever Việt Nam has already achieved its goal of net-zero emissions across its internal operations since 2021, surpassing the global commitment by nine years. This accomplishment results from various clean energy initiatives, energy efficiency measures, recycling, and circular economy practices.
Unilever's commitment extends to using biomass-based compressed pellets instead of fossil fuels (diesel) in all nationwide boiler operations. These innovations have eliminated nearly 10,000 tonnes of CO2 annually since 2007, contributing to substantial cost savings. Additionally, Unilever Vietnam is moving towards 100 per cent renewable energy usage, evident by obtaining the International Renewable Energy Certificate (IREC) for all factories, offices, and distribution centres.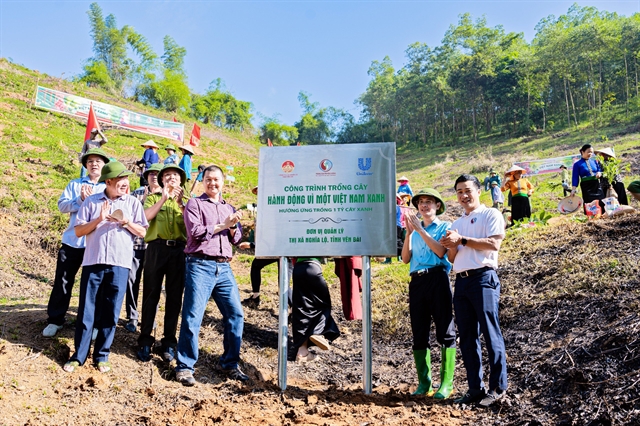 Collaborative efforts towards a carbon-neutral value chain
Achieving net-zero is a collaborative journey.  The Greenhouse Gas Protocol Corporate Standard classifies a company's GHG emissions into three scopes, with Scope 3 representing all indirect emissions occurring in the value chain, encompassing both upstream and downstream emissions. Addressing Scope 3 emissions is the most formidable aspect of attaining a science-based net-zero emissions, as these emissions typically contribute over 70 per cent to a business's carbon footprint, necessitating close collaboration with suppliers for any organisation committed to achieving net-zero.
Recognising that challenge, Unilever collaborates with over 200 partners across its supply chain to build a carbon-neutral value chain by 2039. These partnerships aim to create a value chain with zero carbon emissions.
In Việt Nam, Unilever actively collaborates with partners for  segregation-at-source plastic waste projects, focusing on promoting a circular economy in plastic waste management at the source.
A notable example is the collaboration between Unilever Vietnam and Central Retail Vietnam in the "Plastic Waste Segregation at Source" initiative, aiming to advance the circular economy model for managing plastic waste in Central Retail's retail chain stores in the southern region. This includes conducting communication and educational campaigns on source-based waste classification to ease the collection and recycling of plastic waste. Additionally, the optimisation of the collected plastic waste source is achieved through cooperative programs that recycle and provide PCR plastic granules for the nationwide packaging industry.
These collaborative efforts enhance the efficiency of the collection process, moving us closer to the goal of collecting and processing more plastic waste than the volume of product packaging introduced by Unilever to the market.
Unilever's commitment to sustainability goes beyond addressing plastic waste. Since 2021, the company has joined forces with the Ministry of Natural Resources and Environment in the "Action for a Green Vietnam" program. Through OMO brand, Unilever actively participates in nationwide tree planting initiatives. These efforts extend beyond ecological conservation and climate action, fostering community awareness about the indispensable role of forests. OMO aspires to plant 200,000 trees annually, with a grand target of reaching one million trees by 2025.
Nguyễn Thị Bích Vân, Chairwoman of Unilever Vietnam, emphasises that sustainable development is deeply embedded in the company's DNA. It serves as the driving force for business growth and the sustainable development of society. Over nearly three decades in Việt Nam, Unilever has consistently strived to improve health, living conditions, reduce environmental impact, and enhance the quality of life for Vietnamese people.
Sustainability is capturing growing consumer attention. New Harris Poll research commissioned by Google Cloud reveals 66 per cent of shoppers are now seeking out eco-friendly brands, with 55 per cent saying they would pay more for more sustainable products. Therefore, achieving goals related to greenhouse gas emissions and plastic waste reduction while enhancing environmental protection efforts underscore Unilever's leadership at the forefront of consumer trends.
Lê Thị Hồng Nhi, Head of Communications and Corporate Affairs of Unilever Vietnam, said "Consumers tend to support and purchase products from brands that have a positive impact on society and the environment. Pursuing sustainable development not only contributes to sustainable goals but also ensures product quality and enhances the value of the product.
In the long run, a sustainable business model can help companies save costs, especially in terms of energy consumption, and inspire trust and motivation among employees, particularly young talents seeking a career in visionary and purpose-driven companies that make positive impacts on the environment, society, and humanity. By that, we would like to call for consumers and businesses to invest in sustainable practices, so as to join hands with all stakeholders to sustain the livelihoods of generations to come."
(VNS)