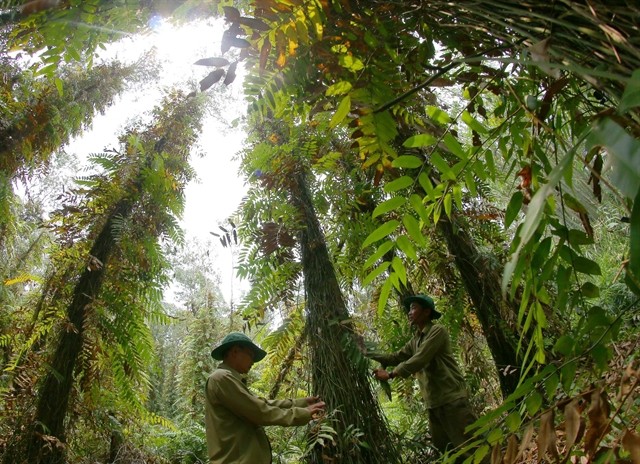 At a national event in Hà Nội on September 27, co-hosted by DoF and Emergent, the LEAF Coalition's co-ordinator, Bảo emphasised that Việt Nam has demonstrated a robust commitment to the global effort against climate change. Specific measures include signing the Paris Agreement on Climate Change in 2015, pledging to achieve net-zero emissions by 2050, and engaging in numerous climate initiatives such as REDD, the Declaration on Forests and Land Use, and the Leadership Partnership on Forests and Climate.
Regarding its pledge to curtail emissions as part of its nationally determined contribution (NDC), Việt Nam is targeting a reduction of emissions by 15.8 per cent (equivalent to 146 million tonnes of CO2) through domestic resources. Additionally, it seeks a 43.5 per cent cut (corresponding to 403 million tonnes of CO2) with the aid of international support by 2030, Bảo added.
Accordingly, the Vietnamese Government has assigned ministries to implement the emission reduction target by 2030, of which the agriculture and rural development sector is 129.8 million tonnes of CO2, Bảo said.
On that basis, the Ministry of Agriculture and Rural Development has assigned the forestry and land use sector to reduce a minimum of 39.31 and 79.1 million tonnes of CO2 by 2025 and 2030, respectively.
In Việt Nam, according to the provisions of the Forestry Law, forest carbon absorption and storage services are a type of forest environmental service. This is a new type of service with much potential and opportunities for Việt Nam to mobilise additional financial resources for the forestry sector, invest directly in forests, attract rural workers, create jobs, increase income, and improve livelihoods for forest owners and rural people. It also contributes to protecting existing forest areas, improving quality, and enhancing the protective function and ecological value of forests.
At COP26 in Glasgow, Emergent and the Ministry of Agriculture and Rural Development of Việt Nam (MARD) signed a Letter of Intent (LOI) under which they agreed to initiate negotiations for an emission reduction purchase agreement (ERPA) for Việt Nam to supply jurisdictional REDD+ credits to the LEAF Coalition.
Accordingly, Việt Nam aims to sell 5.15 million tonnes of CO2e to the LEAF Coalition at a guaranteed floor price of US$10 per tonne of CO2e between 2022-2026.
Such emission reductions are expected to be generated from 4.26 million ha of forest, including 3.24 million ha of natural forest and 1.02 million ha of plantation forest, in the Central Highlands and the Southern Central Coast regions.
The objective of the LEAF information-sharing event is to share information about LEAF with ethnic minorities, local communities, development partners, and other key stakeholders in jurisdictions, such as Việt Nam, which are preparing to negotiate and sign Emissions Reduction Purchase Agreements (ERPAs).
Information-sharing events are an opportunity for key stakeholders in credit-generating programmes to ask questions and provide feedback.
More than 100 participants, comprising representatives of ethnic minorities and local communities at the national and provincial levels, attended the LEAF information-sharing event.
The LEAF Coalition brings together forest nations, companies, and donor governments to facilitate transactions of high-integrity jurisdictional forest carbon credits, issued by the independent Architecture for REDD+ Transactions (ART) programme under the REDD+ Environmental Excellence Standard (TREES standard).
(VNS)