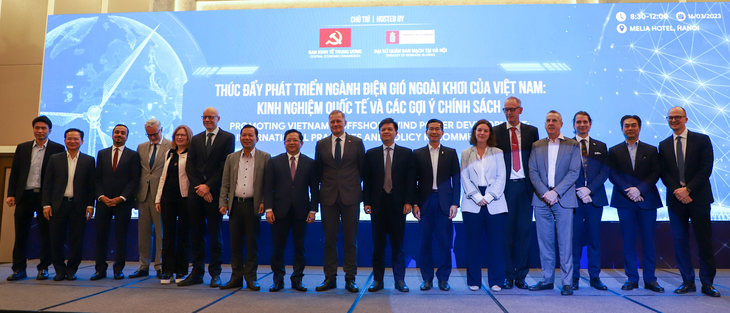 The seminar, entitled "Promoting Vietnam's offshore wind power development: International practices and policy recommendations", was co-held by the Vietnamese Party Central Committee's Economic Commission and the Embassy of Denmark in Vietnam.
Offshore wind power seen double opportunity for Vietnam
Around 8 percent of Vietnam's territory is greatly potential for wind power development, said Nguyen Duc Hien, deputy head of the Central Party Committee's Economic Commission.
The country in its draft 8th power master plan is set to generate roughly 16GW of onshore and nearshore wind energy plus around 7GW of offshore wind power by 2030.
Wind power would account for some 15.8 percent of the country's total power capacity, including 4.8 percent of offshore wind power.
Developing offshore wind power could bring about significant opportunities for Vietnam. However, the country could encounter some obstacles on this journey, such as highly technical requirements, a huge amount of investment, regulations on power planning, among others, Hien added.
Addressing the event, Danish Ambassador to Vietnam Nicolai Prytz described offshore wind power development as a double opportunity for Vietnam, as it will not only provide a green and cost-effective source of energy for this Southeast Asian nation's robust economic growth, but will also enable the country to fulfill its commitment, made at the the 26th United Nations Climate Change Conference (COP26), toward net zero emissions by 2050.
The Danish ambassador said Demark pledged its strong support for Vietnam over the issue, but hoped that the Vietnamese government will soon introduce a specific and consistent legal framework to pave the way for offshore wind power growth.
Awaiting offshore wind farm projects to be piloted
Experts at the event echoed an opinion that Vietnam is at its best time to develop the wind power industry to achieve its goals in the draft 8th power master plan.
A well-established supply chain is one of Vietnam's pluses that is expected to enable the country to quickly mobilize resources to serve the infrastructure development for offshore wind farms.
Henrik Scheinemann, co-CEO at Copenhagen Offshore Partners, also agreed that Vietnam should complete a legal framework for wind power development.
Besides learning from international practices, Vietnam should promote and give green light to pilot projects on wind power in order to build a supply chain in the industry, he continued.
Echoing the above viewpoint, Mark Hutchinson, chairman of the Global Wind Energy Council's Southeast Asia Task Force, suggested Vietnam pilot 2-3GW offshore wind power projects using mixed financial sources to lower costs.
Benefits of offshore wind power development

In comparison with onshore and nearshore wind farms, or solar farms, developing offshore wind farms could see fewer disputes between the projects' developers and local residents, adding that the area of offshore wind farms is infinite.

Vietnam and Denmark signed a long-term cooperation agreement in 2013, of which the European nation will provide support for Vietnam in the transition to a low-carbon economy.

Copenhagen Infrastructure Partners and its sister company Copenhagen Offshore Partners are the main developers of the 3.5GW La Gan offshore wind farm in Vietnam's south-central province of Binh Thuan. This is among the first largest offshore wind farms in Vietnam.
Minh Duy – Duy Linh