Climate change is an urgent problem for humanity in the 21st century, and its importance was reinforced by the presence of 197 heads of state at the Climate Change Conference in Glasgow in 2021 (COP26).
Vietnam has made strong commitments and issued its National Strategy on Climate Change for the period to 2050.
Time for business action
According to the World Bank, Vietnam is one of the most vulnerable countries to climate change.
In 2020 alone, Vietnam has suffered a loss of $10 billion, equivalent to 3.2 per cent of GDP. Without a green transformation strategy, it is estimated that the nation could be losing 12-14 per cent of GDP every year by 2050.
Green transformation describes the process of applying advanced processes and technologies to reshape business operations, ensuring economic growth, environmental sustainability, and social development. From an enterprise perspective, a common management solution is through a set of environmental, social and governance (ESG) measurement standards.
The report Readiness to practice ESG published by PwC shows that 80 per cent of businesses have committed to, or are planning to, practice ESG in the next 2-4 years.
While 57 per cent of foreign-invested enterprises have established clear commitments on ESG, 58 per cent of Vietnamese firms are taking a watch-and-wait approach, mainly due to limited resources and outdated technology, knowledge, and practical experience.
"Over the past two years, ESG and sustainable development have become keywords discussed in many business forums in Vietnam," said Ryohei Oda, managing director of ABeam Consulting.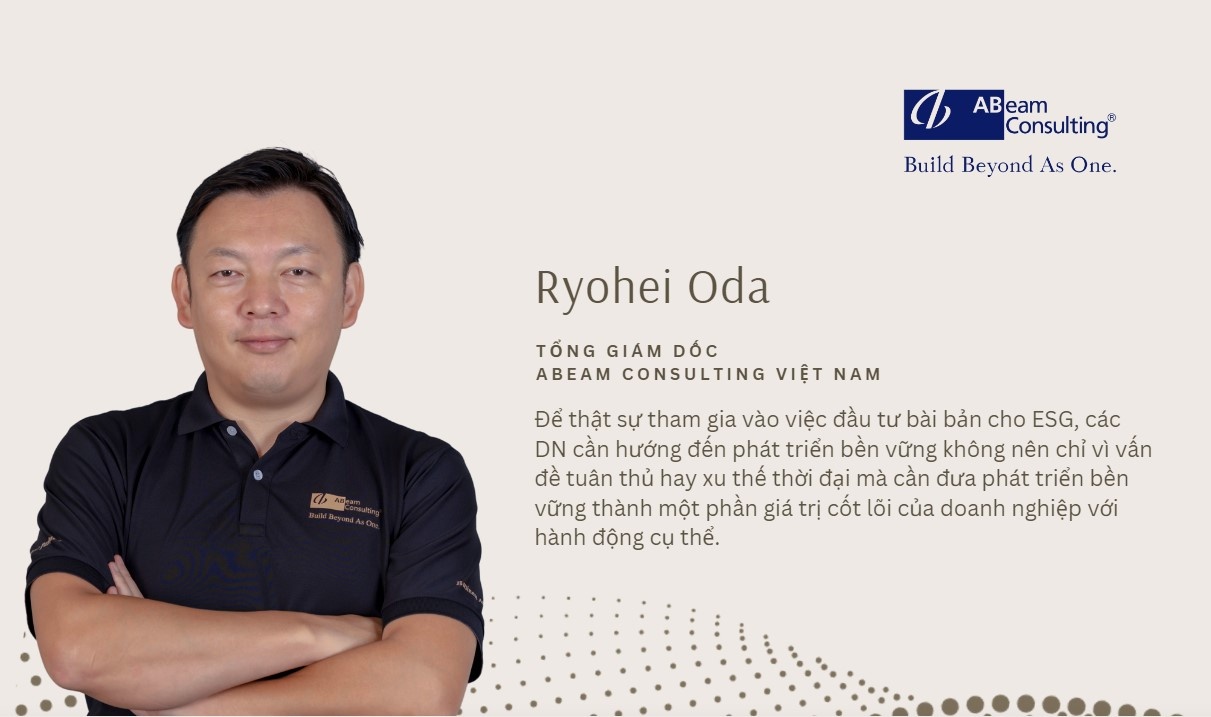 "To embrace ESG, not only because of compliance issues or the trends of the time, businesses need to make sustainable development a part of their operation with specific actions. Investors, partners, and customers should look at the actual results achieved – through reported ESG indicators – to evaluate and support their businesses and products," Oda continued.
Vietnam has become an attractive destination in the eyes of many foreign enterprises. The Lego Group from Denmark has forged ahead with a billion-dollar project to build a carbon-neutral factory fully buoyed by solar energy at the VSIP 3 industrial park in Binh Duong.
One of the main reasons behind Lego's decision to make the investment was Vietnam's commitment at COP26.
The push in the net-zero race
According to ABeam Consulting, Vietnamese enterprises must quickly seize the golden opportunity for green transformation.
The ability to adapt quickly and comprehensively will bring long-term financial benefits, sustainable competitive advantages, increased operational efficiency, and an enhanced customer experience.
Enterprises need determination and consensus from the top to realise their net-zero goals.
Throughout the transformation journey, it is necessary for firms to focus on aspects that have the potential to have the largest impact, such as innovative operational processes, rebalanced supply chains, and well-trained human resources.
Headquartered in Tokyo, ABeam Consulting is a pioneer in consulting solutions for green transformation and sustainable development in Vietnam and Asia.
In Vietnam, the company has a team of experts with broad expertise in deploying the latest SAP tool, Sustainability Control Tower (SCT), for measuring enterprises' level of sustainable development, which has been deployed in factories across Japan.
SAP SCT is deemed the optimal tool to help businesses overcome difficulties when managing risks through 37 ESG metrics and a pre-set reporting framework.
SAP SCT also allows flexible expansion and automatic synchronisation with the SAP S/4HANA enterprise resource planning software package, thereby providing an accurate and transparent panorama of the current situation.
In addition to consulting, ABeam Consulting's team of experts goes directly to factory sites to efficiently measure and analyse system data, allowing them to craft a suitable green business model strategy.
ABeam Consulting has also developed its Digital ESG Platform system to collect and analyse information and enhance competitiveness.
The Digital ESG Platform includes three core elements including Connect to collect ESG data, Data Analysis to measure enterprise performance, and Test to check the data and analyse results.
With a wealth of experience in helping many organisations in Vietnam to successfully transit to a green development model, ABeam Consulting's customised ESG solutions can help businesses shorten their green transition and gear them up for sustainable development.
Anh Duc