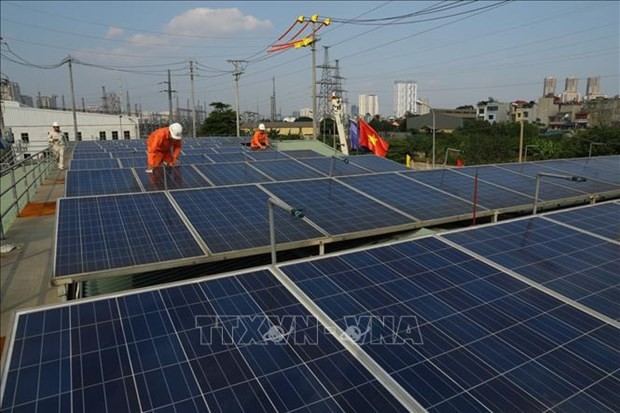 The recently issued National Power Development Plan VIII is considered a breakthrough in the energy sector as it shows Vietnam's determination to gradually eliminate coal and gas-fired power generation and promote renewable energy to achieve the target of net zero emissions by 2050.
Under the plan for 2021-2030 with a vision to 2050, approved by the Prime Minister on May 15, only the coal-fired power projects listed in the adjusted Plan VII and those currently under construction will be continued, and there will be no new coal-fired power projects after 2030.
Vietnam targets that by 2050, coal will have no longer been used for power generation but biomass and ammoniac instead. Coal-fired power plants aged over 40 years will be closed if they are unable to switch to other fuels.
Meanwhile, renewable energy will receive special priority, expected to account for some 70% of all electricity generation by 2050. Rooftop solar power for self-use will also be facilitated to cover 50% of the roofs of office buildings and civil houses.
Hoang Tien Dung, Director of the Electricity and Renewable Energy Authority at the Ministry of Industry and Trade, said Plan VIII prioritises renewable and new energy, which is a chance to develop the energy industry, promote national industrialisation and modernisation, and reinforce an independent and self-reliant economy with intensive integration into the world.
Besides, he noted, it also looks to develop a competitive electricity market to diversify power investment and business methods, encourage all economic elements to engage in power development, promote research and application of the Fourth Industrial Revolution to all segments of the power sector, and boost digital transformation. Under this plan, Vietnam will work to master modern technologies so as to become able produce the majority of devices used in the sector internally.
The plan enables the country to adapt to the context that its major partners are levying carbon taxes on imports, Dung added.
Assoc. Prof. Dr Ngo Tri Long, former Director of the Price and Market Research Institute at the Ministry of Finance, said Plan VIII is significant to ensuring national energy security by 2030, with a vision to 2050.
First, it will help major power generation projects and transmission ones be carried out on schedule. Second, it targets guaranteed national energy security and sufficient power supply for domestic use to help achieve the annual GDP growth target of about 7% for 2021 – 2030 and 6.5 – 7.5% for 2031 – 2050, he elaborated.
Experts said Plan VIII aims at concurrently meeting national energy security, socio-economic development, industrialisation, and modernisation requirements; along with successfully conducting just energy transition in accordance with the global trend of cutting emissions.
Deputy Minister of Industry and Trade Dang Hoang An noted the plan provides an important basis for Vietnam to sustainably developing energy, keep up with the green growth trend around the world, and effectively respond to climate change.
The approval of Plan VIII is highly important but it is just the initial step, Minister of Industry and Trade Nguyen Hong Dien said, adding that to reach the set targets, he has ordered that the Electricity and Renewable Energy Authority chair and coordinate with related agencies to quickly draft and submit an implementation plan that should specify responsibilities and deadlines for task performance of the parties concerned.
(VNA)