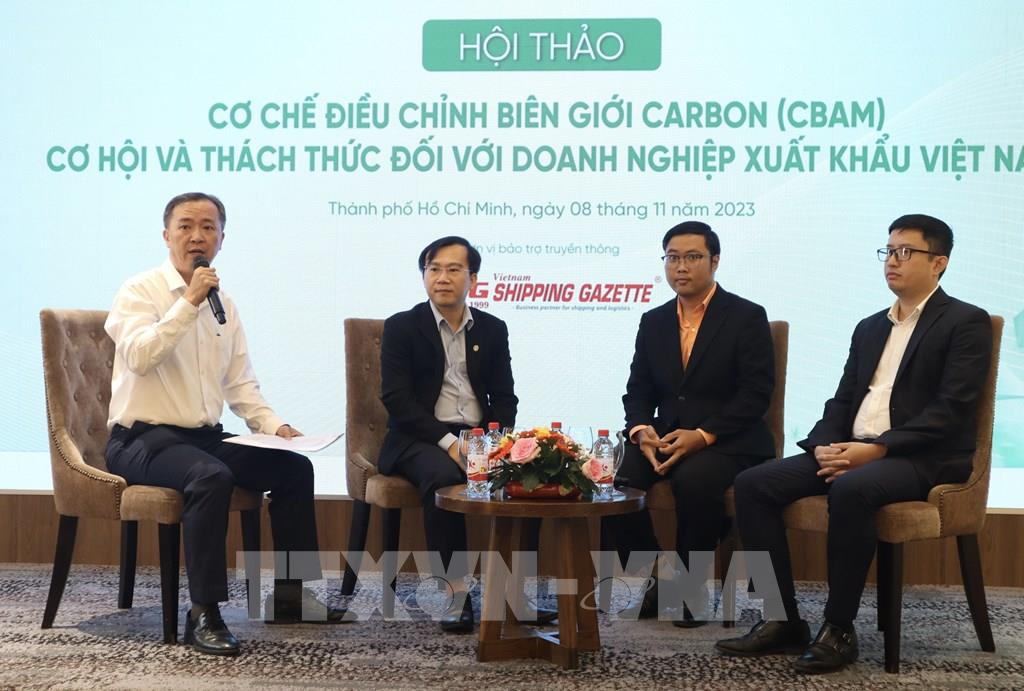 The European Union (EU)' Carbon Border Adjustment Mechanism (CBAM) is a challenge for many sectors of Vietnam but also a motivation for businesses to speed up green transition to meet sustainable production standards, heard a conference in Ho Chi Minh City on November 8.
Huynh Minh Vu, Deputy Director of the Ho Chi Minh City Centre of International Integration Support (CIIS), underlined that the EU is one of the most important trade partners of Vietnam and stressed that import policies of the union will have a certain impact on Vietnamese exporters.
The CBAM, a policy of the European Green Deal (EGD), is expected to help the EU reduce carbon emission by at least 55% by 2030 compared to 1990. It is forecast to directly affect the goods supply chain of businesses.
Do Huu Hung from the Europe-America Market Department under the Ministry of Industry and Trade said that the CBAM will impact Vietnam's exports, initially steel and cement. At the same time, it is currently impossible to tell whether the EU will expand the group of products applying the CBAM mechanism or not, he said, adding this mechanism, therefore is also a trend that businesses need to consider from the beginning in the process of designing their production strategies.
The official held that in order to adapt to the common global trends, including the CBAM, sectors with export products should be clearly aware of regulations and requirements of import markets. He advised businesses to green up their production by investing more on clean technologies and power sufficient solutions.
Businesses and stakeholders should coordinate with and conduct dialogues with the EU to ensure the CBAM is implemented in a fair and equal manner, he stated.
Dang Bui Khue, Training Manager at Bureau Veritas Vietnam, said that although so far only the EU has announced the CBAM, the greening up of production is an indispensable requirement to protect the living environment and maintain sustainable development.
As Vietnam has announced the commitment to net-zero emission by 2050, strengthened the replacement of fossil fuels with renewable and developed green industry, sustainable agriculture and circular economy, businesses should actively build their own quality management system and renovate their management and production process, he underlined.
Khue held that the application of taxes on carbon-intensive products will prompt enterprises to speed up green transition but also motivate them to join the carbon credit market, a promising market that will help firms create more added values./.
(VNA)