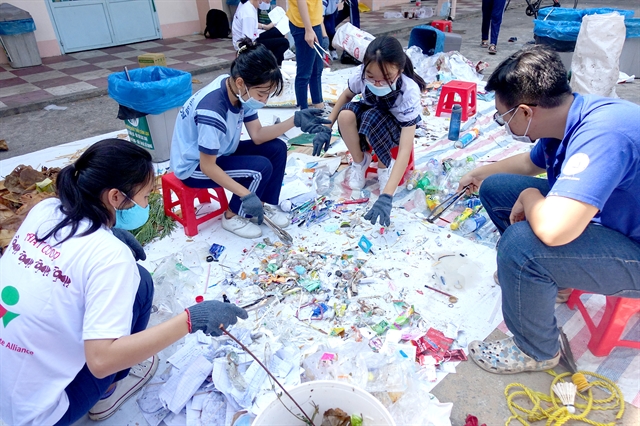 In a bid to combat plastic waste, the central city has been developing a crucial strategy for sustainable plastic waste management in three districts: Thanh Khê, Sơn Trà, and Ngũ Hành Sơn. This plan involves linking 125 waste disposal depots and increasing the plastic waste collection rate from 15 to 35 per cent.
According to the city's sub-department of environment protection, the plastic waste recycling formula is part of a project funded by the Danish International Development Agency (Danida) and implemented through International Development Enterprises between 2021 and 2024.
The project has already enlisted 150 households to sort plastic waste at the source, providing additional income for 750 local environmental workers, 500 of whom are women, by classifying the waste. Furthermore, the project launched an online application called Track & Trace in 2022 to monitor plastic waste.
It also set up a reform site, which processes low-value plastic waste for reusable and salable products.
An amount of 7.5 tonnes of low-value plastic waste was recycled for sale, reducing the risk of plastic leaking into the ocean, the sub-department reported.
Deputy Director of the sub-department, Nguyễn Thị Kim Hà said the project would be continuing for a second year in Hòa Vang District and Hòa Nhơn Industrial Park to build a network of 300 waste collectors and 100 waste recycle depots, increasing more 10.5 per cent of plastic recycle ratio in 2023.
The city discharged more than 1,100 tonnes of waste daily, of which 74 per cent was food, garden and park waste, and more than 11 per cent was plastic. Only 10 per cent of total waste is recycled.
The application of the 3Rs (reduce, reuse and recycle) has been carried out in the city since 2012, boosting awareness among the community in sorting recyclable waste (including paper, metal and plastic) from hazardous waste (batteries and light bulbs) and solid waste.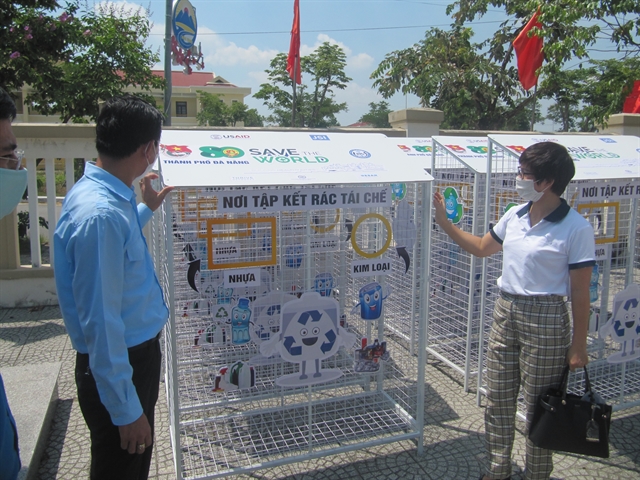 Meanwhile, neighbouring Thừa Thiên-Huế Province has launched a promotion campaign to encourage the community and businesses to find sustainable solutions to plastic waste in the area.
The province aims to reduce 30 per cent of plastic leaks into the environment and increase plastic waste recycling.
It said a feasible initiative solution in plastic waste reduction would be given a cash award of VNĐ500 million (US$20,000).
Huế City, a tourism hub in central Việt Nam, aims to cut its plastic waste by 30 per cent before 2024 and will be a 'zero plastic waste' destination by 2030.
The plastic reduction project, funded by the World Wildlife Fund (WWF-Việt Nam), will help build Huế City into a plastic-smart city in Việt Nam, where 70 per cent of solid waste will be classified 'at source' for recycling in 2021-24.
Huế City's urban and environmental unit reported that 63 tonnes of plastic waste are released each day, while 3.13 per cent of plastic waste is still leaking back into the environment.
Plastic pollution was found in the Tam Giang-Cầu Hai Lagoons – the largest wetland ecosystem in Southeast Asia, the Hương River and lakes.
(VNS)