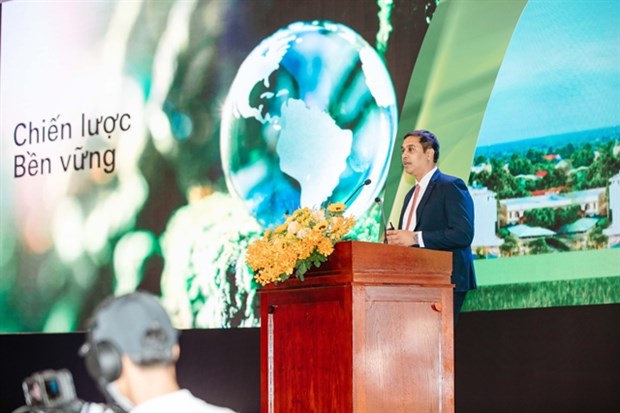 Agriculture has long been the backbone of Vietnam's economy for a number of comparative advantages, such as cultivated land, forest cover, sea territories, tropical climate, and available and cost effective labour, according to Surajit Rakshit, Head of Global Trade and Receivables Finance, HSBC Vietnam.
Rakshit made his comments during a business forum on investing and developing the high-tech agricultural ecosystem in Tay Ninh province. The forum aims at introducing and promoting the potential, strengths, investment incentives and policies of Tay Ninh province while also helping domestic and foreign investors to access key projects, especially ones in economic zones, tourist resorts and agricultural projects, especially in high-tech agriculture.
Surajit told the forum that agriculture contributes roughly 12.5% of Vietnam's GDP. Last year, Vietnam's agricultural sector experienced its highest growth in recent years of 3.3%. Breaking it down to sub-sectors, farming increased by 2.8%, fisheries increased by 4.4% and forestry increased by 6.1%. The export turnover of the whole industry was over US$53 billion, up 9.3%. Vietnam currently exports a broad range of agricultural products all over the world. Its key exports are walnuts, coffee, cashew nuts, rice and rubber, accounting for over $10 billion worth of agricultural exports. Many of Vietnam's agricultural products have gained access to new markets.
Role in global agriculture
Also, Vietnam's plant-based agriculture is experiencing rapid growth and Vietnam is becoming a key player in global agriculture. The country was selected by the United Nations to host the 4th Global Conference of the One Planet Network's Sustainable Food Systems Programme in April this year. This conference brought together experts from around the world to discuss how best to develop 'sustainable, resilient, healthy, and inclusive food systems'. At the same time, the World Economic Forum (WEF) selected Vietnam as one of the first three countries to pilot the Food Innovation Hub, a flagship initiative of the Food Action Alliance designed to improve sustainability in food production.
Vietnam has also signed 15 Free Trade Agreements (FTAs), with one more FTA negotiation completed in April and three others under negotiation. After implementing the Vietnam-Korea Free Trade Agreement (VKFTA), Vietnam has become the third largest mango supplier for the Republic of Korea, reaching 1,700 tonnes in the January – November period, 2022. This is equal to 7.4 million USD. On the back of the EU-Vietnam Free Trade Agreement (EVFTA), Vietnam has become the largest source of cashew nuts for the EU. In the first 10 months of 2022, the country exported 98,900 tonnes of cashews to European markets, worth 699 million USD. This represents an increase of 9.8% over the same period in 2021. The EU was also the biggest importer of Vietnamese coffee and accounted for 39% of the exports.
Government support
For Vietnam's agriculture to shine and thrive and for it to continue contributing to the country's sustainability as well as net zero goals, the Government has a critical role to play. Indeed, the country's policymakers have already been quite active in this space. To support the agricultural sector and rural development, in 2018, the Ministry of Agriculture and Rural Development (MARD) issued a list of key national products, which includes rice, coffee, rubber, cashews, pepper and tea. They are eligible for preferential support measures including exemptions from or reductions in land or water surface rents, preferential credit and human resources training. Vietnam continues to implement policies to support the agricultural sector and the restructuring of agricultural production to improve competitiveness, increase added value and promote sustainable development. In 2019, the Government introduced Resolution No 53/NQ-CP to facilitate access to credit, the agricultural insurance programme, and preferential support measures for enterprises to encourage more investment into the agricultural sector and rural areas.
The Government is also focusing on tackling one of the most pressing challenges – climate change – to help the agriculture sector to thrive sustainably. Due to Vietnam's geographic exposure, it is particularly susceptible to climate change, which has a serious effect on agriculture. In 2016, Vietnam ratified the Paris Agreement on Climate Change, committing to reduce greenhouse gas (GHG) emissions by 8% between 2021 and 2030, and up to 25% depending on international support. To realise these goals, the Government issued Decision 2053/QD-TTg, including activities for adaptation and mitigation in the agricultural sector.
Following Vietnam's bold net zero commitment at COP26, the Government approved the National Green Growth Strategy 2021-2030 with vision to 2050, which is an important policy document for the country's economic growth and sustainable development, with specific goals related to greenhouse gas emission reductions.
The commitment to reduce agricultural GHG emissions has also been affirmed in MARD's Action Plan to implement the National Strategy on Green Growth for the 2021-2030 period which was approved in 2022. It is projecting GDP growth of 2.5-3% per year for the agriculture sector. The proportion of organic fertiliser products among total fertiliser products produced and consumed is expected to be over 30%. There is a plan to increase the number of biological pesticides used to over 30%. Also, at least 30% of total shallow crops are expected to apply advanced and water-saving irrigation methods./.
(VNA)